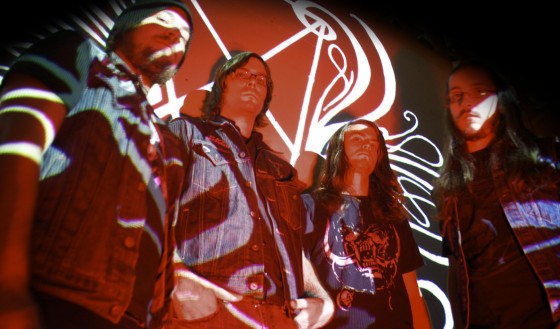 As Reflection Of The Negative, the split album between Richmond, Virginia outfits COUGH and WINDHAND draws near, today another massive slab of doom metal from the record has been made public. Pitchfork today unleashes the album-opening "Athame," and while it is the sole track from COUGH to be found on the split album, the beast bears over eighteen-and-a-half-minutes of dynamic and devastating slow-motion sludge-persuaded disastrous riffage.
Let "Athame" loose via Pitchfork HERE.
Cvlt Nation recently released the first of two mighty contributions from WINDHAND the split beholds, so after you blast "Athame" check out "Amaranth" RIGHT HERE.
Reflection Of The Negative acts as a precursor for the upcoming full-lengths from both COUGH and WINDHAND, both slated for release via Relapse later this year. The split will see release on April 16th in North America, preceded by international street dates of April 12th (Germany/Benelux) and April 15th (UK/World). Preorders for the album including digital and CD formats, as well as a super-limited mailorder-only black/white vinyl combo can be placed here.
COUGH will embark on a brutal month-long European tour in just over two weeks in conjunction with the split album's release. The majority of the dates will see the band joined by Witch Mountain, while several later dates will instead be with Grime, the entire trek leading up to Heavy Days in Doomtown. The festival, an international DIY doom/stoner/sludge festival in Copenhagen, Denmark, runs from May 2nd through the 5th, and will see COUGH sharing the stage alongside Graves At Sea, Pagan Altar, Samothrace, Moss, Bell Witch, Dark Buddah Rising, Lecherous Gaze, Mournful Congregation and many others.
COUGH European Tour 2013:
4/08/2013 Fonobar – Warsaw, Poland w/ Witch Mountain
4/11/2013 Nuclear Nightclub – Oulu, Finland w/ Witch Mountain
4/12/2013 Klubi – Turku, Finland w/ Witch Mountain
4/13/2013 Studioravintola Paksu – Helsinki, Finland w/ Witch Mountain
4/15/2013 Klub Püssy A Go Go – Stockholm, Sweden w/ Witch Mountain
4/16/2013 Truck Stop Alaska – Gothenburg, Sweden w/ Witch Mountain
4/18/2013 Schaubude – Kiel, Germany w/ Witch Mountain
4/19/2013 O13 @ Roadburn Festival – Tilburg, Netherlands w/ Witch Mountain
4/20/2013 DNA – Brussels, Belgium w/ Witch Mountain
4/21/2013 Raymond City – Clermont-Ferrand, France w/ Witch Mountain
4/22/2013 Saint Des Seins – Toulouse, France w/ Witch Mountain
4/23/2013 Combustibles – Paris, France w/ Witch Mountain
4/24/2013 Bastard Club – Osnabrück, Germany w/ Witch Mountain
4/26/2013 Desertfest – Berlin, Germany w/ Witch Mountain
4/27/2013 De Pit – Terneuzen, Netherlands w/ Witch Mountain
4/28/2013 Desertfest – London, England w/ Witch Mountain
4/29/2013 Péniche Inside Out – Liege, Belgium w/ Grime
4/30/2013 Halle 14. – Karlsruhe, Germany w/ Grime
5/04/2013 Ungdomshuset – Copenhagen, Denmark @ Heavy Days in Doomtown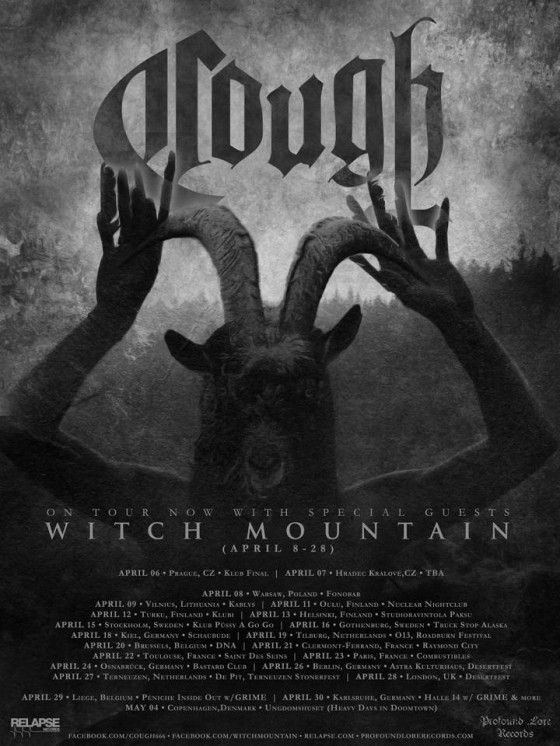 http://www.facebook.com/Cough666
http://windhandva.bandcamp.com
http://www.relapse.com
http://relapserecords.bandcamp.com