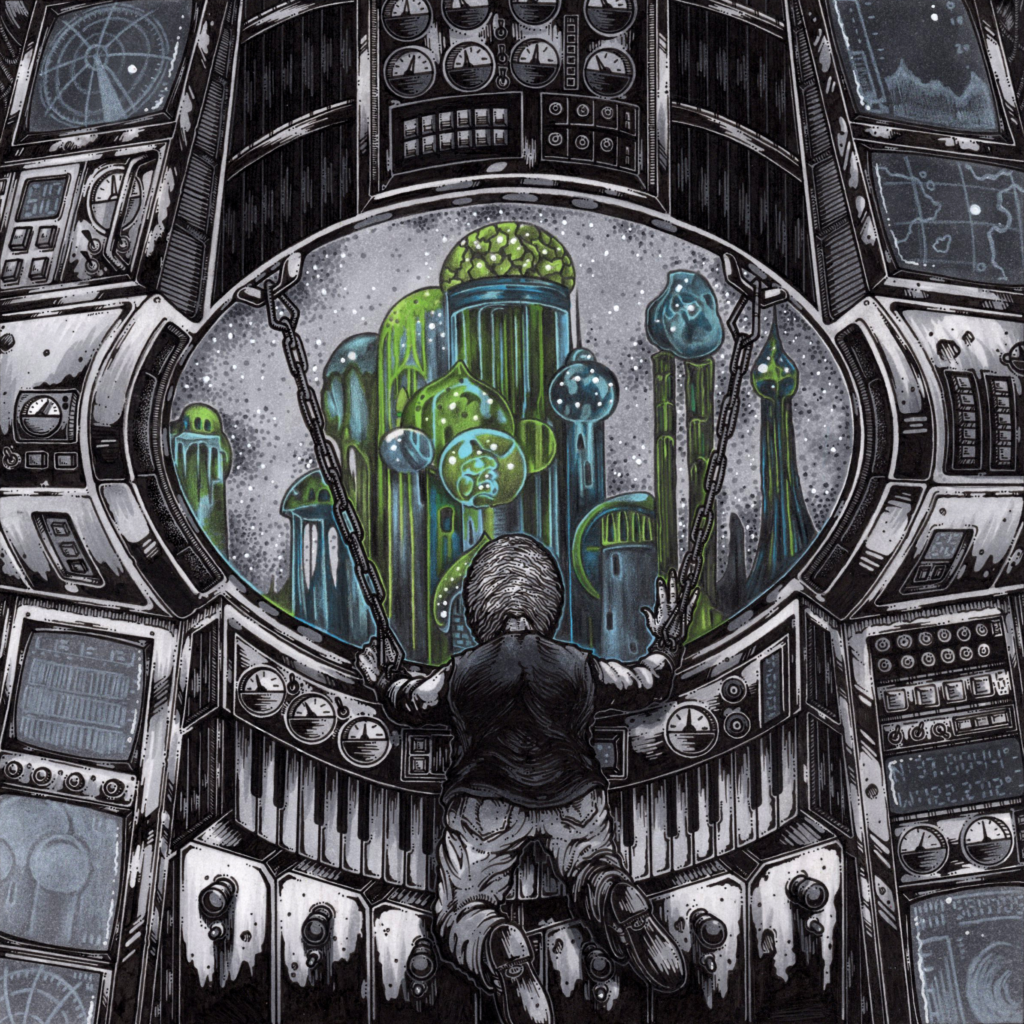 Heavy psychedelic space surf collective COSMIC REEF TEMPLE and twisted sci-fi punk/new wave outfit SHRINKWRAP KILLERS have joined forces to release a three-song split of otherworldly proportions. Set for release on October 2nd via Wave Guardian Records and swathed in the cover art of Santos Illustration, all tracks were captured, mixed, and mastered by Greg Wilkinson at Earhammer Studio in Oakland, California.
In advance of the split's release, today COSMIC REEF TEMPLE is pleased to unveil their video for "Wave Constellation," now playing at Toilet Ov Hell. Comments the band, "Sonic oscillations from beyond the Wave Constellation are being projected through our first visual output. 'Wave Constellation' delves deeper into surf rock territory, melding the classic with the future. Drop into the edge of the sea and head out of the solar system with this brief pilgrimage of the Temple."

View COSMIC REEF TEMPLE's "Wave Constellation" video, courtesy of Toilet Ov Hell, at THIS LOCATION.
View SHRINKWRAP KILLERS' previously released video for "It's Not A Dead Body Inside This Bag" HERE.
The COSMIC REEF TEMPLE/SHRINKWRAP KILLERS split will be released as a limited-edition seven-inch (300 black vinyl and 200 translucent blue vinyl with glow in the dark 45RPM adapters) and digitally. Find preorders HERE.
Self-described as, "a gathering of the Cosmic wizard-priests to worship Cod through streams of space-time, exiled to the inverted desert, wandering the plains of psychedelia…," COSMIC REEF TEMPLE emerged to the Known Universe circa 2014-2015 A.D. in Santa Cruz, California. The band began as a two-piece guitar and drums act, forged from the ashes of Folivore. The duo wanted to fuse surf music with heavy metal. After composing some solid songs, more members of the TEMPLE were recruited, adding synthesizers and saxophone to expand the melodic atmosphere and finally bass guitar to provide the welcomed heaviness.
Once the original goal of creating surf metal was achieved, the band's sound began evolving traveling further into extreme metal, prog, psych, and Middle Eastern tones and rhythms. The sounds can invoke images of the crushing surge of any planet's ocean, the mindfulness of drifting into space, bending the very laws of physics and beyond. Drawing influences from John Zorn, Aluk Todolo, Kayo Dot, Secret Chiefs 3, The Astroglides, and Oranssi Pazuzu as well as local Santa Cruz heavies The Mermen and Mammatus and of course legends such as Melvins, Hawkwind, Dick Dale, Pink Floyd, and Black Sabbath, the end result is expansive and cohesive (when it means to be). The band has release one full-length, Age Of The Spaceborn, via Transylvanian Tapes as well as several splits, all tracked at Earhammer in Oakland, with a sophomore long player currently in the plotting stages.
"Visqueen, plastic, and shrinkwrap help distort the visions. Don't stare or you will destroy both retinas. Conspiracies and folklore in past, present, and future are all truths. It's best to hide our identities while delivering these messages. We are SHRINKWRAP KILLERS…" Created in October of 2018, Greg Wilkinson twisted punk, new wave, and garage rock into a contorted blend of catchy tunes under the moniker SHRINKWRAP KILLERS. Initially influenced by the Spits, Wall Of Voodoo, Devo, Dick Dale, and Ennio Morricone, the sound rapidly unraveled into its own animal. The project never abandoned its initial concept, only expanded upon it. Sprinkles of death rock, post punk, even pop all ensnared by a unique heaviness not common to this genre of music often appear. One may attribute the fact that all songs are composed in C Standard across all instruments. Some may consider his background in music.
All compositions are created and recorded by Wilkinson himself at his own Earhammer Studio. He is best known for working with bands such as Necrot, Autopsy, Graves At Sea, Annihilation Time, High On Fire, Vastum, Iron Lung, Acephalix, Lecherous Gaze, Mortuous, Undergang, and his own bands Brainoil and Deathgrave to name just a few. The goal was to create a project able to record consistently in the down time even if only for an hour at a time. This would require the ease of a "plug and play" mentality in lieu of laboriously working on tones. Being a fan of punk, garage, and new wave music, this would be a perfect medium to execute songs with such limitations.
COSMIC REEF TEMPLE:
Wave Guardian Of The Reverberatory – guitar
Sub-Frequency Fractal Emitter – bass
Celestial Wind Talker – saxophone
Summoner of Galactic Storms – synthesizer
Interstellar Time Keeper – drums
SHRINKWRAP KILLERS:
Greg Wilkinson – all instruments
http://waveguardianrecords.bandcamp.com/
http://www.facebook.com/waveguardianrecords
http://www.instagram.com/wave_guardian_records
http://cosmicreeftemple.bandcamp.com
http://www.facebook.com/cosmicreeftemple
http://www.instagram.com/cosmic_reef_temple
http://shrinkwrapkillers.bandcamp.com
http://www.instagram.com/shrinkwrapkillers