CORROSION OF CONFORMITY will kick off the next leg of their A Quest To Believe, A Call To The Void North American live takeover this week. Support will be provided by The Skull, Mothership, and Witch Mountain. The trek begins September 21st at Heavy Mountain 2 Music And Beer Fest in Asheville, North Carolina and winds its way through over a dozen more cities, concluding October 11th in Pomona, California. Later that month, the band will appear on the inaugural MegaCruise alongside Megadeth, Anthrax, Testament, Overkill, and so many others. The latest tour follows the band's summer run with Crowbar, Lo-Pan and Quaker City Night Hawks. See all confirmed dates below.
CORROSION OF CONFORMITY's latest full-length, No Cross No Crown, was released early last year via Nuclear Blast Entertainment. Recorded with longtime producer John Custer, the record marks the first studio recording with vocalist/guitarist Pepper Keenan in over a decade and, earning the #67 spot on the Billboard Top 200 Chart, #12 on the Billboard Top Current Albums Chart, and #3 on the Top Hard Music Albums Chart upon its first week of release, is the highest charting album of the band's career.
No Cross No Crown is available on CD, digital, vinyl, and cassette formats. Various order bundles are available at nuclearblast.com/coc-nocrossnocrown. View the band's video for "The Luddite" HERE as well and the animated clip for "Wolf Named Crow" HERE.
In related news, CORROSION OF CONFORMITY was recently given the honorable task of dispersing a deceased mega fan's ashes. Relays the band, "So occasionally crazy things happen. We were in Sauget, Illinois, and a couple of dudes complimented us on the show and making small talk when they pulled out a plastic bag of powder, which turned out to be the ashes of one of the dudes' stepfather, who apparently was a fan. They requested that Gary's remains come on tour with us. We said that we were honored, but since we didn't know Gary, that we might not be up to the responsibility of properly dispersing even a portion of his final remains. Reluctantly they took the bag back, but later threw it in the nose of our trailer, where we discovered it a few days later. So, we put Gary's ashes in a cup holder up in front of the bus and he rode up there for a couple of thousand miles. The crew had a few drinks with Gary as well. With the tour winding down that week, we took Gary to the ocean at Virginia Beach, and watched the tide take his last remains away. Fly on, Gary."
Read the detailed account on the band's Facebook page at THIS LOCATION.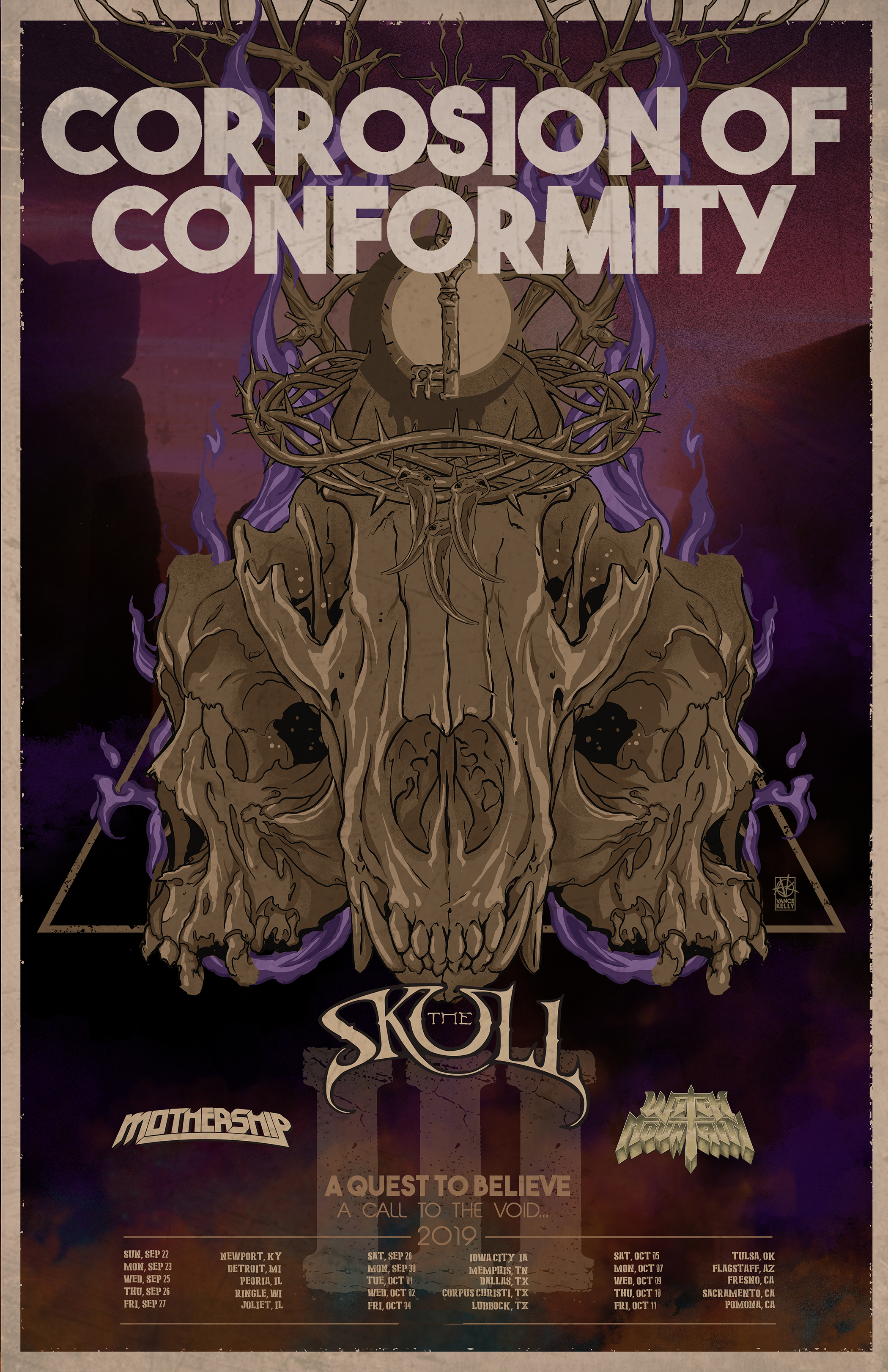 CORROSION OF CONFORMITY:
9/21/2019 Heavy Mountain 2 Fest @ The Orange Peel – Asheville, NC w/ Pallbearer, Windhand, Torche, The Skull, Mothership
w/ The Skull, Mothership, Witch Mountain:
9/22/2019 Riverfront Live – Cincinnati, OH
9/23/2019 St. Andrews Hall – Detroit, MI
9/25/2019 Monarch Music Hall – Peoria, IL
9/26/2019 Q + Z Expo Center – Ringle, WI
9/27/2019 The Forge – Joliet, IL
9/28/2019 Wildwood – Iowa City, IA
9/30/2019 Growlers – Memphis, TN
10/01/2019 Canton Hall – Dallas, TX
10/02/2019 House Of Rock – Corpus Christi, TX
10/04/2019 Jakes Sports Café – Lubbock, TX
10/05/2019 Cain's Ballroom – Tulsa, OK
10/07/2019 The Green Room – Flagstaff, AZ
10/09/2019 Strummers – Fresno, CA
10/10/2019 Holy Diver – Sacramento, CA
10/11/2019 Glass House – Pomona, CA
End Tour:
10/13/2019 MegaCruise 2019 – Los Angeles, CA *
* CORROSION OF CONFORMITY only
"The record is filled with the kind of Sabbath-meets-Black Flag-meets-Lynyrd Skynyrd jams that were so infectious and wildly influential back when Bill Clinton seduced interns…COC doesn't try to change direction but instead revisits the approach that made the Keenan-fronted version so successful: powerful hooks, instrumental asides that will remind you of Sabbath's 'Planet Caravan' and a rich use of textures and dynamics." – Decibel
"…from the thundering sludge-doom of 'The Luddite,' to the amped-up biker metal of 'Cast The First Stone,' to the heavy southern-boogie blues of 'Wolf Named Crow,' No Cross No Crown in many ways picks up right where the foursome left off a dozen years ago." – Guitar World
"…burly, surly and southern-fried – basically, everything fans could hope for." – Revolver
"…undoubtedly one of finest releases in CORROSION OF CONFORMITY's storied career." – PopMatters
"…No Cross No Crown positively erupts with anthemic vitality…" – Louder Sound
"…powerful and unstoppable as an avalanche." – Kerrang!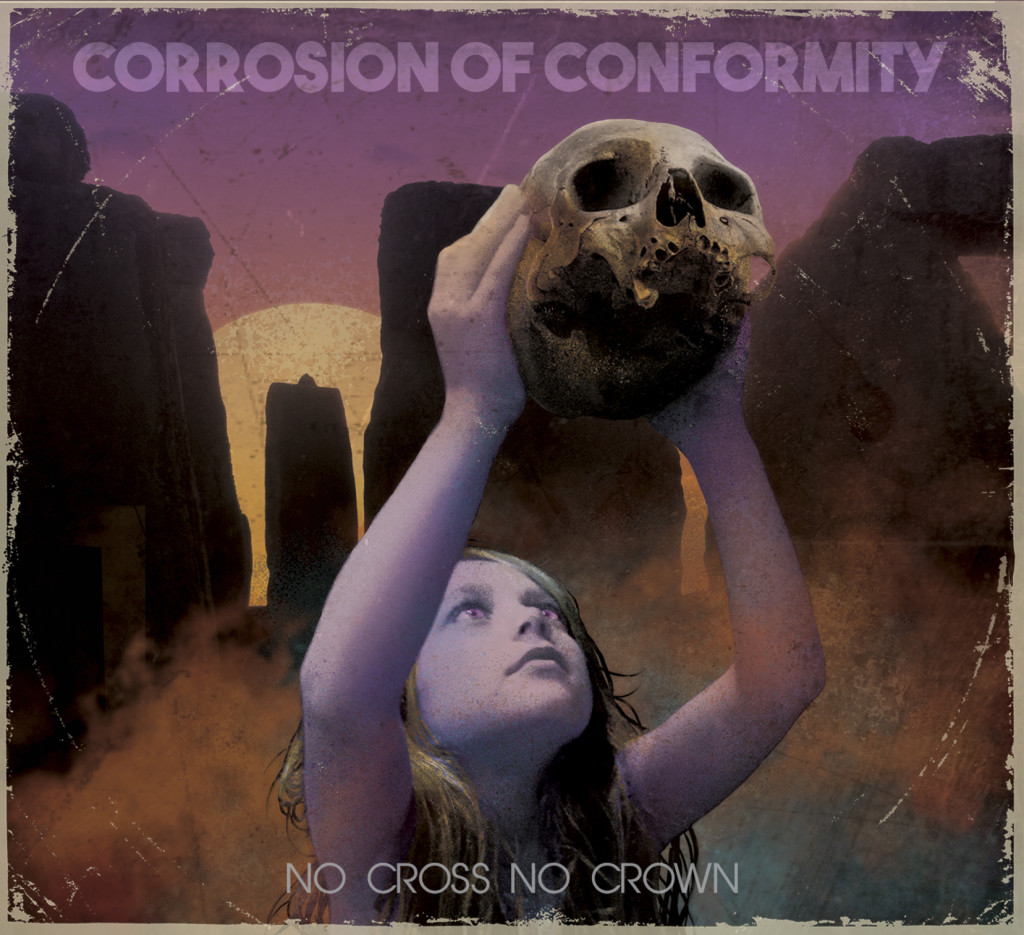 http://www.coc.com
http://www.facebook.com/corrosionofconformity
http://www.twitter.com/coccabal
http://www.nuclearblast.com
http://www.facebook.com/nuclearblastusa