CORROSION OF CONFORMITY's self-titled new studio offering is out NOW. Released via Candlelight Records, Corrosion Of Conformity was recorded at Dave Grohl's Studio 606 in Los Angeles, produced by the band in cooperation with long-time collaborator John Custer, mixed by John Lousteau (Foo Fighters) and features artwork by Seldon Hunt (Melvins, High On Fire). Featuring the esteemed Animosity lineup of vocalist/bassist Mike Dean, guitarist Woody Weatherman, and drummer/vocalist Reed Mullin, the album's release closes a six year recording gap and completes over a year of concentrated writing and recording for the band.
Said Pitchfork in their review of the record: "CORROSION OF CONFORMITY is what you want out of a comeback record: not just reclamation of lost vigor but a meaningful update on a vintage sound. If Animosity seemed like an ugly duckling back in the mid 1980s — too punk for the metal crowd and vice versa— Corrosion Of Conformity registers similarly today. In an era when doom metal keeps growing bleaker and artier, and hardcore skews ever more dire, the album serves as a reminder that swagger, soul, and songcraft still have a place in the heavy-rock underground. CORROSION OF CONFORMITY, indeed."
In conjunction with the record's release, the Raleigh, North Carolina legends will embark on a full U.S. headlining tour beginning this Thursday at the Gramercy Theatre in New York City. The trek will hit 16 cities including two performances at this year's SXSW Music Conference in Austin. The band will be joined by Torche, Valient Thorr and A Storm Of Light unless otherwise noted.
And the fun doesn't end there! Coinciding with the tour kick off, a video for "The Moneychangers" will make its worldwide premiere via Headbangers Ball on Thursday, March 1. The video was filmed in Raleigh by Charles Cardello and features the band in a storyline that brings the song's lyrics out visually (even Jesus makes an appearance). Check out video stills from the shoot below. To check out the video, visit Headbangers Ball at THIS LOCATION Thursday!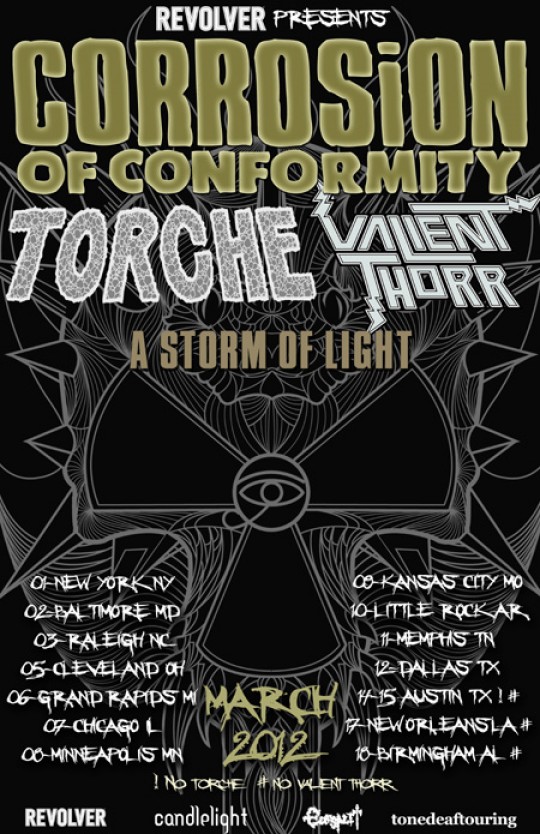 CORROSION OF CONFORMITY
w/ Torche, Valient Thorr, A Storm Of Light
3/01/2012 Gramercy Theatre – New York, NY [TICKETS]
3/02/2012 Sonar – Baltimore, MD [TICKETS]
3/03/2012 Lincoln Theatre – Raleigh, NC [TICKETS]
3/05/2012 Grog Shop – Cleveland, OH [TICKETS]
3/06/2012 Pyramid Scheme – Grand Rapids, MI [TICKETS]
3/07/2012 Double Door – Chicago, IL [TICKETS]
3/08/2012 Triple Rock – Minneapolis, MN [TICKETS]
3/09/2012 Beaumont Club – Kansas City, MO [TICKETS]
3/10/2012 Downtown Music Hall – Little Rock, AR [TICKETS]
3/11/2012 Hi-Tone Café – Memphis, TN [TICKETS]
3/12/2012 Trees – Dallas, TX [TICKETS]
3/14/2012 SXSW – Austin, TX ! #
3/15/2012 SXSW – Austin, TX ! #
3/16/2012 The Big Spill @ Korova – San Antonio, TX # w/ Saviours, Zoroaster, more [TICKETS]
3/17/2012 One Eyed Jacks – New Orleans, LA ! # w/ Zoroaster [TICKETS]
3/18/2012 Zydeco – Birmingham, AL ! # w/ Zoroaster [TICKETS]
! = No Torche
# = No Valient Thorr
To order Corrosion Of Conformity (and to nab the limited edition autographed bundle), point your browser HERE or HERE.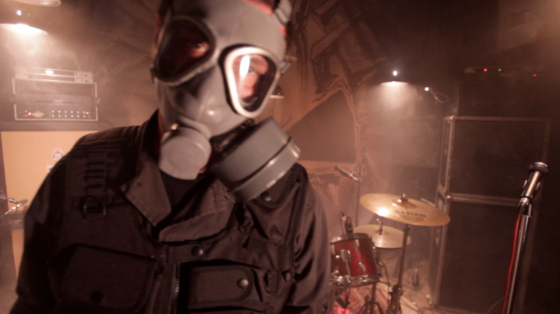 "While mastery isn't unusual in metal, CORROSION OF CONFORMITY is fully baked enough to make us wish another 29 years on these fuckers." – Decibel
"…as Corrosion of Conformity draws from the past, it refuses to replicate it here. These tracks are too mid-paced and riff-dominated to be punk, too gruff and volatile for the bluesy hard-rock of the band's latter days. And yes, there's no Keenan, giving Dean's higher register the chance to replace the departed vocalist's smooth confidence with welcome tension–more Ozzy than Dio, in other words." – Independent Weekly
"C.O.C. weren't following any trends. They just incorporated all the things they liked about thrash, punk and '70s metal originators Black Sabbath into their constantly evolving sound. It secured them artistic and commercial credibility." – Allmusic.com
"Corrosion of Conformity not only brings back one of heavy rock's most seminal and defining bands, but it pushes that band into new ground it's never yet known. The achievement is substantial, the performances crisp, the production clear but organic, but sure enough, these elements and the varied aesthetic of the band come together to create something wholly stronger than its parts." – The Obelisk
"…this is a triumphant return by the band, and should find instant admiration among fans old and new. C.O.C. are well and truly back!" – Metal Assault
http://www.coc.com
http://www.facebook.com/corrosionofconformity
http://candlelightrecordsusa.com