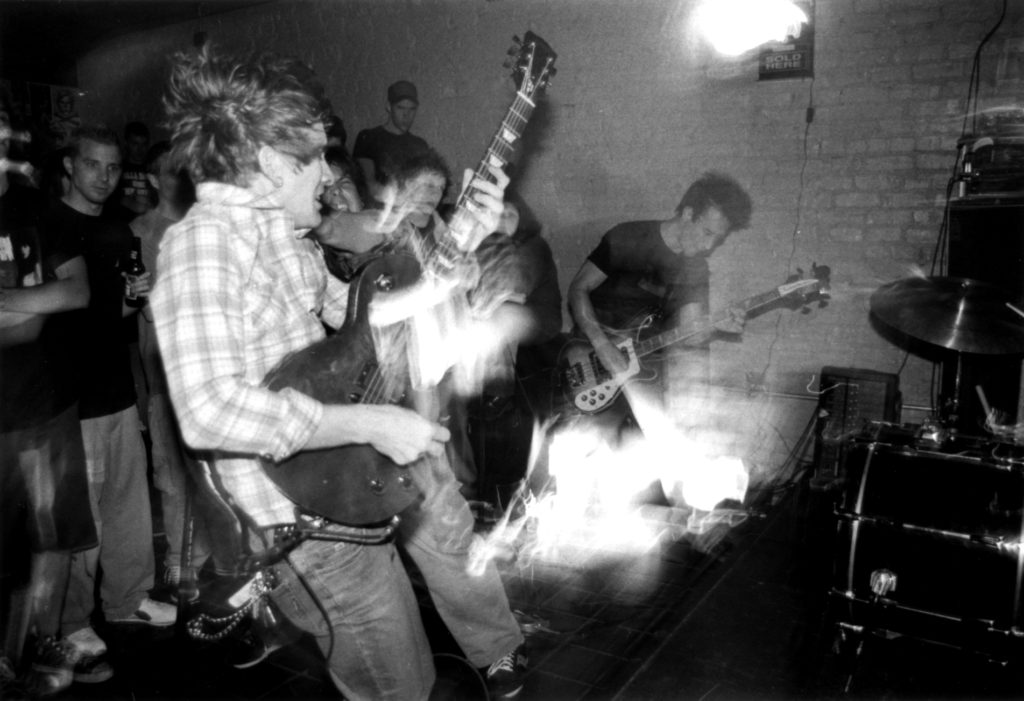 photo by Chris Boarts-Larson
Bandcamp is using this Friday, June 19th, as a day of charity and donating their cut to the NAACP. In a similar spirit, Pax Aeternum is going to formally reissue the discography from defunct Washington, DC-based horror grindcore/horror outfit, CORN ON MACABRE. The band's collected works, Discographic Violence, will be re-unveiled with all proceeds going to the National Alliance On Mental Illness.
Originally recorded in 2001 by Brian McTernan, CORN ON MACABRE existed between 2001-2003 and featured Andy Gale (Shoutbus), Billups Allen (Darkest Hour, Shoutbus), Brent Eyestone (Highness, Bleach Everything), and Cory Stevenson (Pg.99, Enemy Soil).
Songs 1-6 originally comprised the Chapter One 7″ (Magic Bullet, 2002). Songs 7-12 originally comprised the Chapter Two 7″ (Magic Bullet, 2002). Song 13 originally appeared on the Two Legs Bad, 38 Legs Good compilation 7″ (Magic Bullet, 2004). On Record Store Day 2013 (4/20), Magic Bullet issued Discographic Violence on LP, featuring all thirteen songs the band ever recorded. It saw three pressings on split color vinyl, clear vinyl, and red vinyl. The cover art was handled by Daniel Danger.
Pax Aeternum is now happy to reissue the entire discography on June 19th, 2020 as part of Bandcamp's day of charity. All proceeds benefit the National Alliance on Mental Health.
Offers Brent Eyestone, "Even though we haven't been a band for seventeen years, the guys and I still keep in touch and are compelled to do what we can to stand with the positive spirit of care and change that will mark Juneteenth 2020. Bandcamp has been absolutely outstanding in their response to the urgency created by both COVID-19 and recent Black Lives Matter protests. In solidarity, we have dedicated all proceeds of our digital discography on the platform toward the National Alliance On Mental Illness, who have also shown a strong initiative toward helping communities in need amidst trauma. If one truly believes that Black Lives Matter, then one must understand that black mental health matters."
Snag CORN ON MACABRE's Discographic Violence this Friday at Bandcamp RIGHT HERE.
Discographic Violence Track Listing:
1. Trojan Clown
2. When Will Man Learn?
3. I Watched Friday the 13th at My Grandmother's House and She Wasn't Into It (But She Let Me Watch It Anyway)
4. Shut Up and Play Something Evil
5. Bad Lieutenant
6. Pterodactyl Shutdown
7. Who Wants to Be an Alien?
8. You're Okay, I'm Undead
9. Boris Karloff is Dead
10. Madballs
11. Specially Made Sunglasses
12. Kentucky Fried Genetically Altered Bird-Type Animal
13. Deleted Scene
https://www.facebook.com/cornonmacabregrind
https://www.facebook.com/paxaeternumdigital
https://www.instagram.com/paxaeternum
https://twitter.com/pax_aeternum