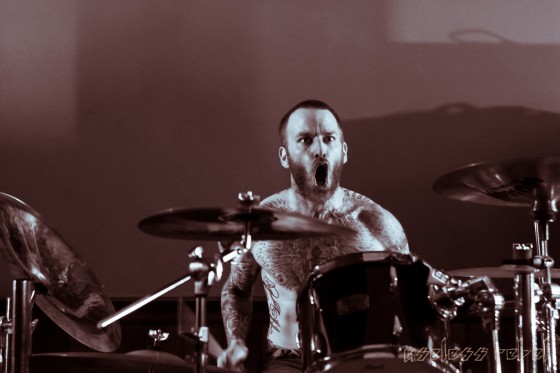 As Philly-based COP PROBLEM prepares to release their new Buried Beneath White Noise EP this week, Cvlt Nation today hosts the white-knuckled bombast and venomous lyrical content of the opening track, "Bear Witness."
Immediately delivering some of the most breakneck riffage and spinemangling drumrolls of the entire EP, the track is as invigorating as it is empowering, with Cvlt Nation stating, "I'm a firm believer that music can be used as a weapon of protest against the fuckers that want to downpress the poor of all colors around the world. In the world of corporate greed and apathetic youth, it's rad to know that bands like COP PROBLEM have not given up the good fight."
Listen to "Bear Witness" now at Cvlt Nation RIGHT HERE
Pitchfork also recently unloaded "American Spring" HERE.
Recorded with engineer/producer Will Yip (Paint It Black, Circa Survive, Balance & Composure) at Studio 4 in Conshohocken, Pennsylvania, Buried Beneath White Noise will see a digital release through COP PROBLEM's Bandcamp page this Thursday, October 24th, followed by a 7″ version to be issued as a split release between Earsplit's new label division, The Compound, in North America, and Prejudice Me Records in Europe, by the end of the year.
COP PROBLEM has confirmed a ten-day November tour planned for the Midwest, followed by a series of East Coast performances before additional dates are announced for next year. Stay tuned for more updates on the EP and additional tour dates in the coming days.
COP PROBLEM Tour Dates:
11/01/2013 Charm City Art Space – Baltimore, MD @ Earth First! Benefit
11/02/2013 The Murder Room – Pittsburgh, PA w/ Complete Failure, Unstitched, Meth Quarry
11/03/2013 Now That's Class – Cleveland, OH w/ Grin And Bear It, Youth Forgotten
11/04/2013 Center Street Free Space – Milwaukee, WI W/ No Brainer
11/05/2013 The Sound Cellar – Chesterton, IN
11/06/2013 The Owl Farm – Nashville, TN W/ Old Lines
11/07/2013 AL's Sidecar – Lexington, KY w/ Old Lines
11/08/2013 The Poison Lawn – Knoxville, TN
11/09/2013 Café Bourbon Street – Columbus, OH w/ Old Lines, Webrain, Bastards
12/06/2013 Heirloom Arts Theatre – Danbury, CT w/ Old Lines, Bad Decisions
12/07/2013 The Acheron – Brooklyn, NY w/ Old Lines
http://www.copproblem.com
https://www.facebook.com/CopProblem
http://music.copproblem.com
http://www.earsplitdistro.com