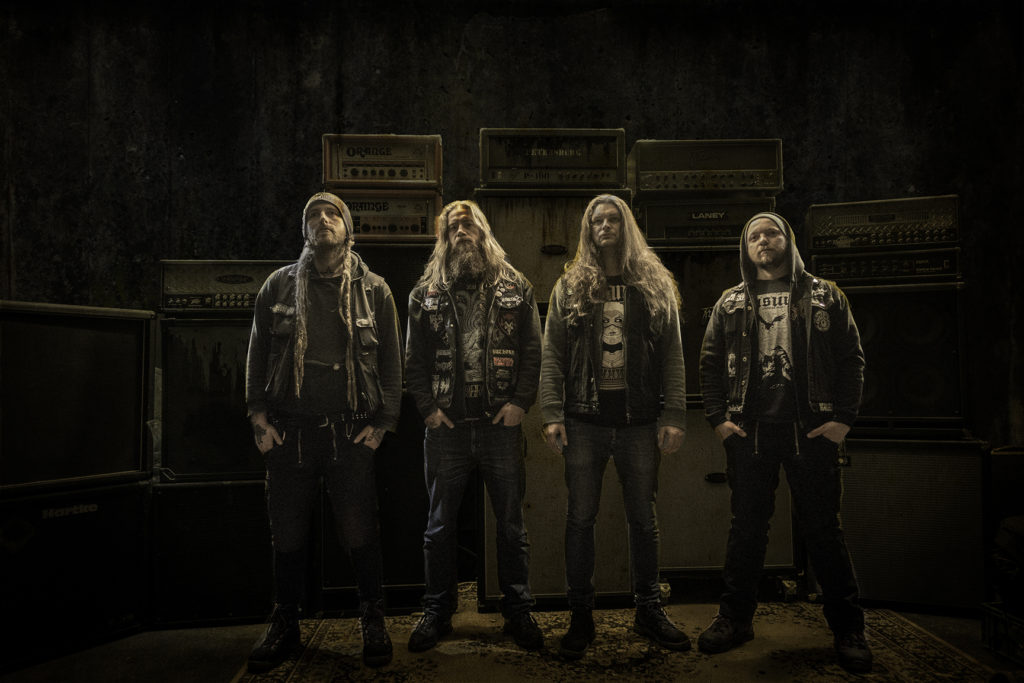 Exile On Mainstream presents the debut album by German doom outfit CONFUSION MASTER, confirming Awaken for release on April 27th. A video for the album's lead single, "Reaper's Fist," has been premiered through PureGrainAudio as the label posts preorders for the record.
Dubbing themselves as "Electric Sabbath action doom, deep-down soaked in a time-spiral measuring equal parts '70s 'Sabbath proto-rock riffage in a loop scheme backbeat groove formula and tritonous stoner weed," CONFUSION MASTER was brought to life in Autumn 2015 on the northern misty Baltic Sea shores of Rostock, Germany. A quartet, drawn from punk and metal circuits, sharing their love for sound, misanthropy, D.I.Y. values, and vintage gear, the members have earned merits in underground stalwart hordes such as Cyness, Wojczech, Bad Luck Rides On Wheels, and Aequatorkaelte – this alone should give you a hindsight towards the fact that we are not talking a bunch of greenhorns here but a band that has vision and attitude.
In 2016 CONFUSION MASTER started touring in support for bands like Dopethrone, Crowskin, Bongzilla, Beehoover, and labelmates Black Shape Of Nexus. To date the band has played well over forty shows and has many more already booked for 2018 in company with Southern Lord recording artists Like Rats, among others.
CONFUSION MASTER now prepares to release their debut album Awaken, its focus representing the band's attitude: condensation and reduction to what is really important and, musically, creates a well-focused sound: existentialism and escapism – manifesting the personal horrors in tone drawing from these inspirations. Awaken features four tracks delivered over forty minutes. The LP will contain a CD version of these tracks and three additional bonus songs which will later be released on vinyl as limited edition split records with other bands to keep the band's release politics an ongoing venture.
PureGrainAudio is now playing Awaken's thundering "Reaper's Fist" video, offering of the song, "the riff-heavy offering is oozing with low-end and lumbers along like a battle-hardened tank ready for war."
See the "Reaper's Fist" video via PureGrainAudio at THIS LOCATION.
CONFUSION MASTER's Awaken LP/CD pack and digital release will be brought to life by Exile On Mainstream on April 27th, in close connection with Japanese label Bonten Records who will release a CD only-version on their own.
Preorders for the LP have been made available through Exile On Mainstream's webshop HERE, and the digital through iTunes, Amazon, and all other major providers.
Awaken Track Listing:
1. Witch Pollution
2. Northern Midnight Ghoul Dance
3. Reaper's Fist
4. Goner Colony
5. In The Shadow Of The Bong *
6. False Dawn *
7. Awaken *
* CD bonus track
In support of Awaken, CONFUSION MASTER will tour across Europe and beyond, leading with a hometown record release show on May 5th. This will be followed by a run of tour dates in Japan scheduled for May 21st through 26th, with shows in Tokyo, Fujisawa, Gifu, Nagano, Niigata, and Tokyo. Stand by for additional dates to be announced.
CONFUSION MASTER Tour Dates:
5/05/2018 Plattnfischn Record Fair – Rostock, DE *Awaken release show
5/21/2018 Tokyo, JP
5/22/2018 Fujisawa, JP
5/23/2018 Gifu, JP
5/24/2018 Nagano, JP
5/25/2018 Niigata, JP
5/26/2018 Tokyo, JP
CONFUSION MASTER:
Mathias Klein – bass
Stephan Gottwald – drums
Gunnar Arndt – guitars/effects
Stephan Kurth – guitars/effects/vocals
https://www.facebook.com/confusionmasterdoom
http://www.mainstreamrecords.de