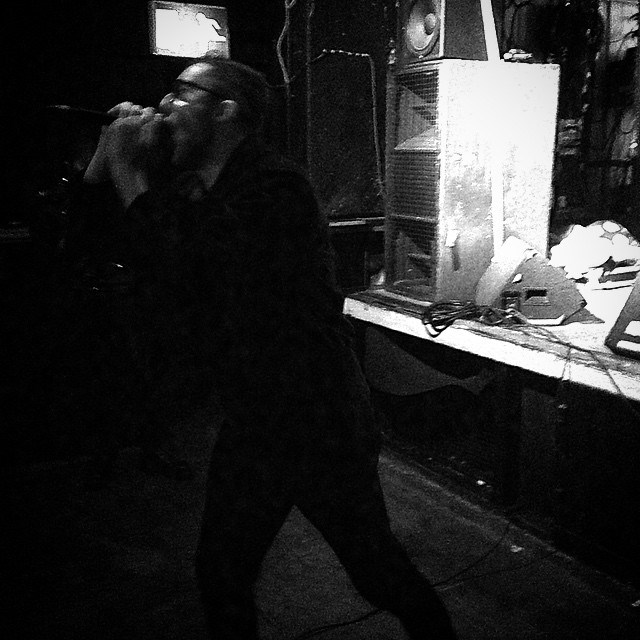 Irwell, the debut LP by Manchester, UK-based back metal outfit COLD FELL is playing in its entirety at Noisey, as the album sees release through Argento Records.
Offers Noisey in a glowing write-up of the album, "Irwell marks the first proper releases from the band, which is steered by one Laurence Taylor, who's also known for his work with Noisey faves Caïna. Here, Taylor sticks to vocals, and is joined by guitarists Karl Sveinsson and Giovanni Infantino, drummer Callum Cox, and Oliver Edward Turner on bass. Together, their take on the genre is more orthodox than one might expect, offering predominantly straightforward though heavily atmospheric (think plague miasma rather than gossamer Cascadiana) black metal, with a heavy, stinking tinge of decrepit death metal."
Experience COLD FELL's Irwell in its tortured entirety at THIS LOCATION.
Irwell is out now on Argento Records, digitally and on vinyl, with 150 copies of the LP pressed on clear/black color-in-color, and 150 copies on solid black. Direct Argento preorders will come in a special wax-sealed edition with extra artwork created by Mark Mc Coy and wrapped in rusty metal wire, limited to only 50 copies HERE. Argento titles are now distributed in the US through Deathwish; find stateside preorders HERE.
COLD FELL, named after a mountain in the Northern Pennines, musically reflects the outsider spirit and abrasive landscape which surrounds them. In the image of the crumbling provincial towns and hostile moors of the North of England, COLD FELL deliver these visions through heavy and ugly black metal, influenced as much by contemporary death metal as the black metal greats of old on Irwell, the band's first proper full-length. Over the course of seven tracks, the album focuses on the grim truth of dead-end satellite towns and weekend violence, painting a depressing picture of England in the modern age, and exploring how humanity's baser instincts and neuroses manifest in this setting.
http://www.facebook.com/coldfellmanchester
http://coldfell.bandcamp.com
http://www.argentorecords.com
https://www.facebook.com/argentorecords
https://twitter.com/argentorecords
https://argentorecords.bandcamp.com
https://soundcloud.com/argento-records