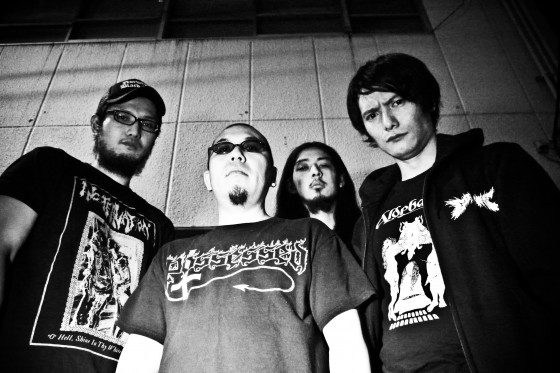 Following their most widely-received LP to date with the 2013-released, The Fleshland, Tokyo, Japan's COFFINS have confirmed a new American invasion this Spring.
COFFINS will bring their diseased, suffocating death-doom decimation back to this side of the Pacific once again in May with a special mini-tour, marking a four-year gap since their previous stateside visit. Bringing forth bulldozing hymns from The Fleshland in addition to their brutal back-catalog of mid-paced gravedigging metal, in addition to their recently revamped lineup, beginning May 18th, COFFINS will plunder Chicago, Cleveland, Brooklyn and Philadelphia before closing down the run with their return to Maryland Deathfest in Baltimore on May 22nd, their first time storming MDF since their set at the 2010 edition of the event. COFFINS will be provided with support from Chicago death'n'rollers, Bones, on the tour dates leading up to Deathfest.
COFFINS 2014 U.S. Tour Dates:
5/18/2014 Reggie's – Chicago, IL w/ Bones
5/19/2014 Now That's Class – Cleveland, OH w/ Bones
5/20/2014 Saint Vitus Bar – Brooklyn, NY w/ Bones
5/21/2014 Kung Fu Necktie – Philadelphia, PA w/ Bones
5/22/2014 Maryland Deathfest – Baltimore, MD
Their first LP for Relapse Records, The Fleshland shows COFFINS smashing down everything in their path with nine new grisly tracks, laying down over forty-five minutes of low-end, sludge-infiltrated, plodding, doom, captured with some of the best production values in the band's meaty catalog of carnage, recorded at Tokyo's Noise Room Studio with engineer Shigenori Kobayashi, and produced by Bungo Uchino and the rest of COFFINS. The Fleshland is available on CD, download and 2xLP. Stream the entire album and order all versions HERE.
"Tokyo's Coffins have been at it steadily for nearly two decades, never bringing the tempos above a deathly lurch and unironically keeping it sick/staying brutal." – Decibel
"…Japanese death metal yakuza Coffins have carved out a long and fruitful career by out-Autopsying Autopsy." – Pitchfork
"The nine tracks on The Fleshland have a knack of crawling their collective carcass toward listeners to smear faces with their pus, making the whole thing quite fascinating…" – Terrorizer
"…their absolutely-no-frills approach is essential to what's best about them: most Coffins songs are among the finest death/doom you'll ever hear with nary more than the basics of the genre necessary." – MetalSucks
http://www.coffins.jp
https://www.facebook.com/intothecoffin
http://www.youtube.com/CoffinsJP
https://www.twitter.com/CoffinsJP
http://www.relapse.com
http://relapserecords.bandcamp.com
http://www.facebook.com/RelapseRecords