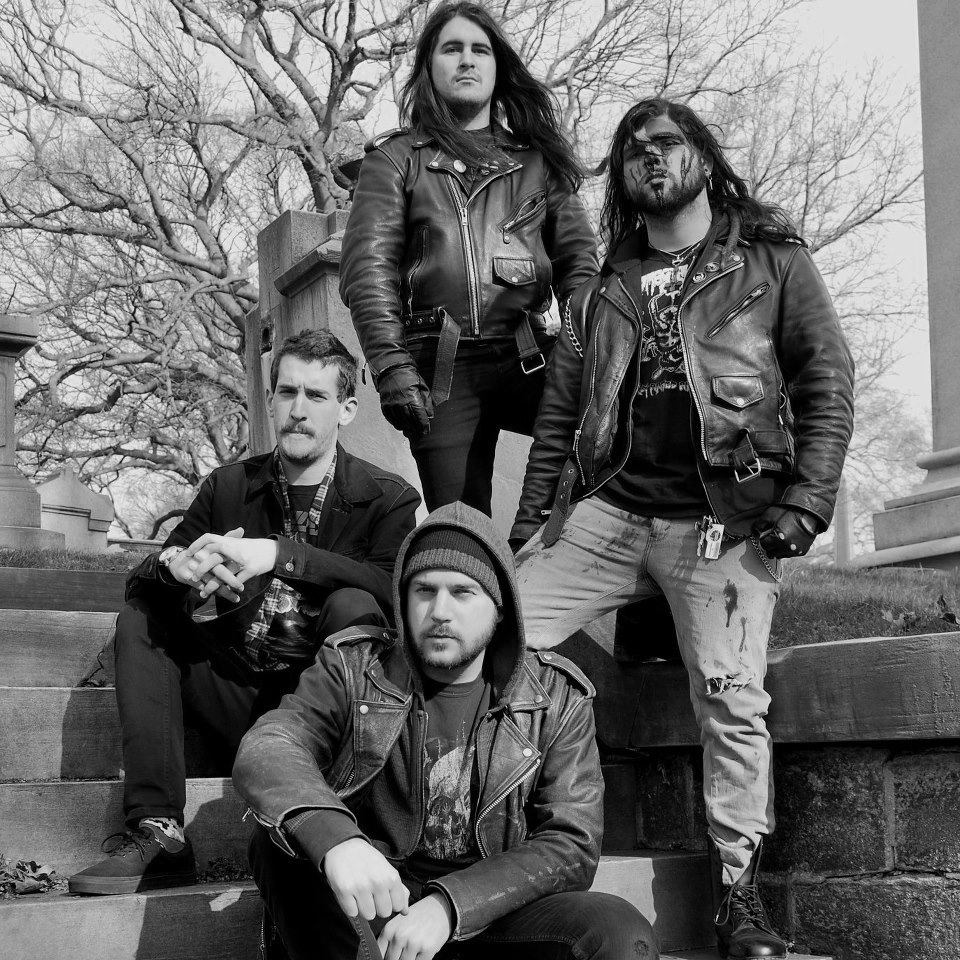 Philadelphia-based cemetery metal unit COFFIN DUST — which features within its repugnant ranks former Exhumed bassist Matt Slime — today disentomb the vile fruits of the Everything Is Dead full-length. Out now on Unholy Anarchy Records, Everything Is Dead was recorded and mastered by Ryan Reed at Creep Records Recording Studio in Philadelphia, Pennsylvania and delivers seven tracks of deliciously abhorrent death thrash including a cover of Slayer's "Metal Storm/Face The Slayer."
In celebration if its official release, today Loudwire offers up an exclusive stream the record hailing "thirty-five minutes of sewage-spew," and further warning, "COFFIN DUST play an inspired brand of gore-loving death metal, straying from the sonic stereotypes with a delightfully crunchy and discernible guitar tone (think Ghoul) that should see your local cemetery empty out in relatively quick fashion – the undead never seem to walk fast do they?"
Get gruesome with Everything Is Dead now playing courtesy of Loudwire at THIS LOCATION.
Decibel notes, "COFFIN DUST have no need for subtlety, as it gets in the way of their self-described 'nightmare thrashing terror death.' If you combine this with a band roster that includes Slime on 'pick axe and mucous,' Bone Daddy as 'cellar dwellar,' Eerie Steve on 'chainsaws and garrot wire,' and Danny Disgustor as "casket pounding," it's clear the debauchery and gore will be a-flying." MetalSucks notes, "When it comes to classic Autopsian death metal, Pennsylvania's COFFIN DUST delivers the goods. They hit that awesome middle ground between burbling pus-bubble nastiness and wonky seasick riffiness, so that the music is still interesting even as it sounds like a festering wound." Metal Insider concurs, "Everything Is Dead is filled with giddy madness from start to finish. For an album so swamped in death metal's gore-soaked aesthetics, COFFIN DUST are able to help resurrect the animated corpses of about thirty-plus years of heavy metal's finest thrashers as well. Fans of both genres and all the acts before them that purposely or inadvertently crossed the streams should find plenty to sink their teeth into on this record." Adds Glacially Musical, "COFFIN DUST writes riffs that forcibly bang your head. It would be impossible to listen to these tracks without a physical reaction."
Order Everything Is Dead today at THIS LOCATION.
In related news, COFFIN DUST will spread their filth and debris live at Shadow Woods Metal Fest this Fall with additional live infiltrations to be announced soon.
COFFIN DUST:
9/15-18/2016 Shadow Woods Metal Fest – White Hall, MD [info]
COFFIN DUST was forged in in 2008 with founding members Slime (ex-Exhumed) and drummer Danny Disgustor conjuring a concept of death thrash with injections of other influences. By late 2010 the band's first recorded release would come in the form of a crushing split with fellow Philly miscreants Cape Of Bats titled Unimaginable Horror (Grim Winds). Over the next few years, COFFIN DUST released three EPs, and finally unleashed their long awaited debut full-length, This Cemetery, My Kingdom in 2014 via Unholy Anarchy Records.
For all COFFIN DUST coverage contact liz@earsplitcompound.com.
http://www.coffindust.bandcamp.com/
http://www.facebook.com/CoffinDust
http://www.facebook.com/Unholy-Anarchy-Records-Distro