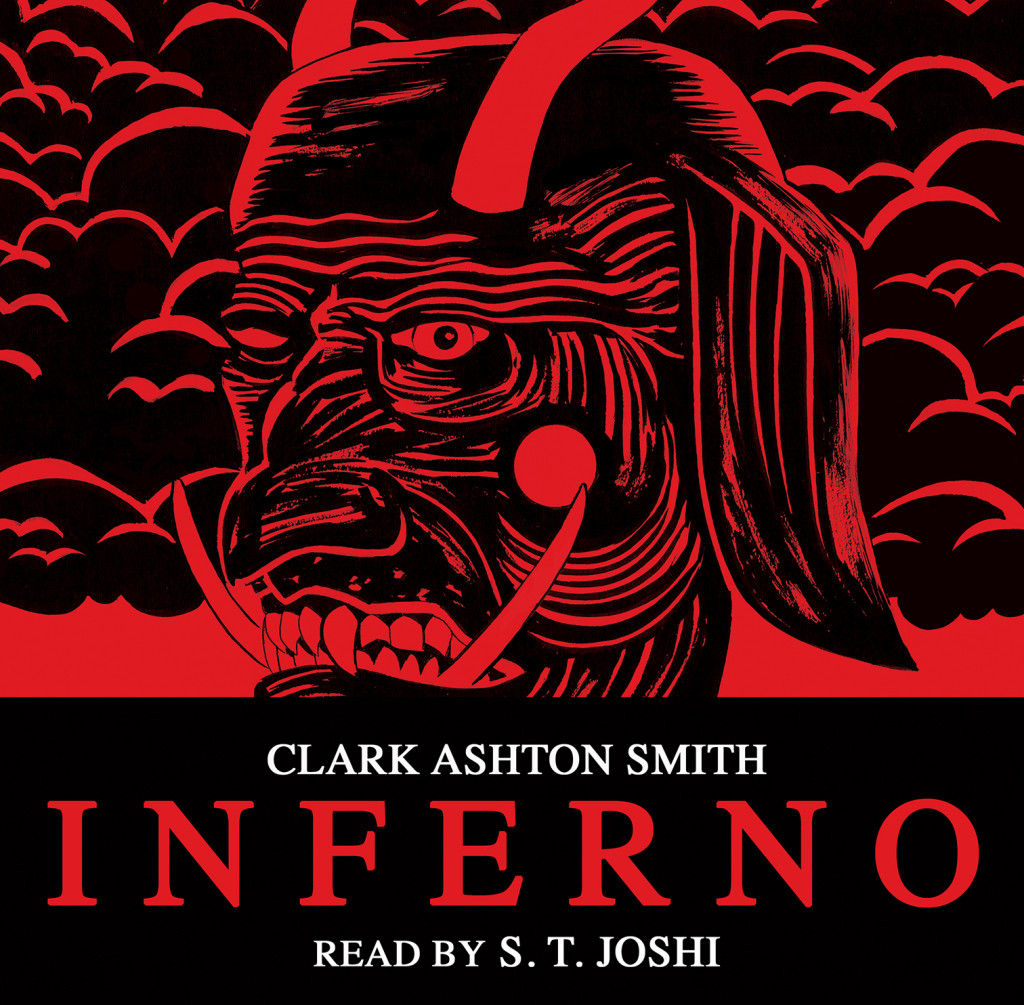 Spoken Arts label, Cadabra Records, announces the looming release of Inferno, an incredibly ominous limited 7″ release, featuring the convoluted horror poetry of celebrated American writer CLARK ASHTON SMITH.
The Inferno EP marks the very first time any of CLARK ASHTON SMITH's works have been set to audio, bringing five of his intensely visceral and pictorial poems writhing to life. For this macabre venture, the author's words are delivered with gripping conviction through the voice of renowned horror literary scholar S.T. Joshi, whom here delivers his first of such readings, the release scored with appropriately horrifying tones by dark ambient/industrial outfit Theologian.
A sampling of Inferno is playing courtesy of the analog connoisseurs at Modern Vinyl, with an exclusive stream of the poems "The Eldritch Dark" and "Nyctalops." A write-up accompanying the premiere offers in part, "Personally, I've been blown away by what I've seen from Cadabra Records so far and I'm sure moving forward will feel the same. Spoken word horror was huge in the 60's and 70's with releases like Famous Monsters Speak and Disney's Chilling, Thrilling Sounds Of The Haunted House, and while the Cadabra releases are definitely a bit darker in tone they hearken back to a time when horror was something to be experienced not only in the theater but on the turntable as well."
Hear a portion of Inferno now at Modern Vinyl; enter the portal RIGHT HERE.
Inferno will see release through Cadabra Records on June 3rd in an edition of 500 copies with three color variants, packaged in a six-panel gatefold sleeve featuring in-depth liner notes on the life and works of CLARK ASHTON SMITH written by S.T. Joshi, and strikingly dark artwork by Cadabra founder Jonathan Dennison. Preorder links for this limited release will go live on May 6th.
Inferno Track Listing:
Side A
Inferno
The Eldritch Dark
Nyctalops
Side B
Nightmare
To Howard Phillips Lovecraft
Born on January 13th, 1893, in Long Valley, California, CLARK ASHTON SMITH was wholly home-schooled, and heavily engaged himself in a remarkable course of self-education, teaching himself Latin and reading all the way through Webster's unabridged dictionary. He began writing as early as 1904, producing both prose and poetry, but it was when he got in touch with George Sterling in 1911 that his career as a writer–and especially as a poet–took off. He had come into contact with H. P. Lovecraft in 1922, when Lovecraft wrote him a fan letter in which he waxed enthusiastic about some of his early poetry volumes. SMITH, in turn, read a lot of Lovecraft's short stories, both in manuscript and as they were published in the pulp magazine Weird Tales, founded in 1923. Around 1925, SMITH felt he needed to find a new direction in his writing, since his poetry wasn't gaining him much recognition. So he wrote the story "The Abominations of Yondo." He was stunned that Sterling didn't like it (the older poet said that "All highbrows think the 'Yondo' material outworn and childish. The daemonic is done for, for the present"), but Lovecraft and others loved it. In 1929 he began writing fiction in great quantity: he would produce more than 100 stories over the next six years. These stories made SMITH's reputation as a writer of fantasy, appearing in such venues as Weird Tales, Wonder Stories, and Strange Tales.
These five works represented on Inferno are only a tiny sampling of the nearly one-thousand poems CLARK ASHTON SMITH wrote over a period of nearly fifty years. Like all his poetry, they are written with supreme care and craftsmanship, as Smith carefully weighs the imaginative impact of every word and pays great attention to the poetic rhythm that can create an atmosphere of weirdness, fantasy, and cosmic menace. And yet, we also find pathos, melancholy, and poignancy in these poems. SMITH could express the full range of human emotions in his verse, and we are fortunate that he so often chose to focus on the emotions of terror and strangeness in poems that will endure for as long as English verse is read.
CLARK ASHTON SMITH's fiction has demonstrably influenced the work of both his contemporaries (such as Lovecraft, who incorporated some elements from Smith's stories into his own tales of the Cthulhu Mythos) and successors, such as Jack Vance, Roger Zelazny, and Neil Gaiman.
http://www.facebook.com/cadabrarecords
http://www.cadabrarecords.com
http://www.twitter.com/cadabra_records
http://www.instagram.com/cadabrarecords