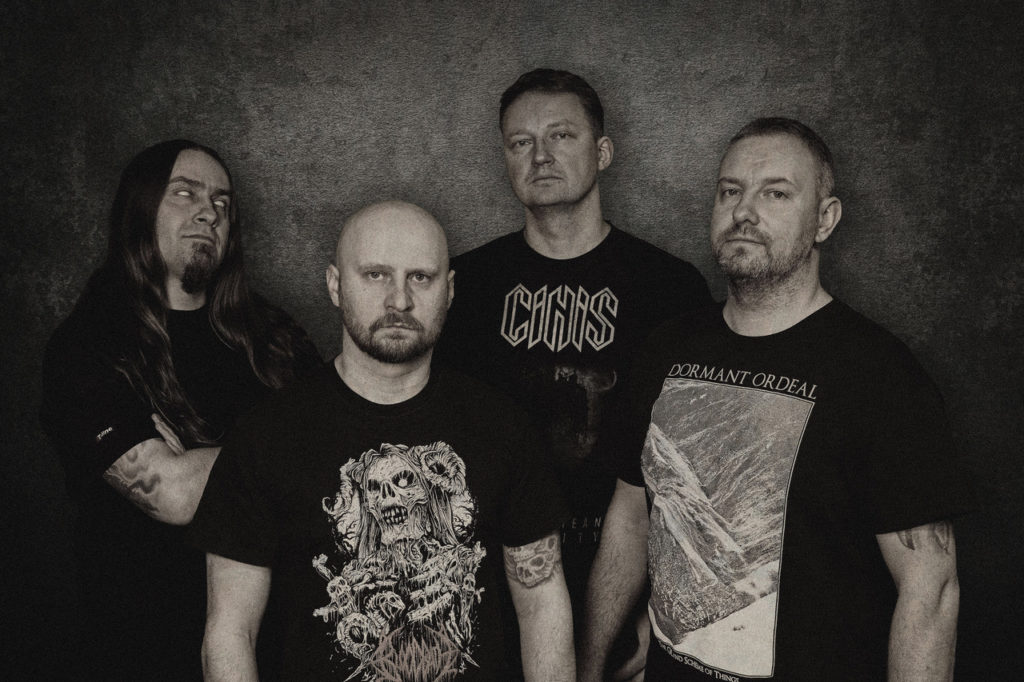 photo by Ewa Bielemuk
Selfmadegod Records welcomes Polish death metal henchmen CINIS for the release of their third album, Lies That Comfort Me, now confirmed for September release. Alongside the album's details, a lyric video for the single "Witness" has also been issued through a premiere hosted by New Noise Magazine.
Based in Bialystok, Poland, CINIS was formed in 2003 by Robert Danielski and Lech Szuszkiewicz, recording their Vile Angel demo at Bloodline Studio in 2005. At the end of 2007, the band recorded its first full-length album, The Last Days of Ouroborus, at Hertz Studio and released it through the label Old Temple. 2014 saw the band return to Hertz for the recording of their second album, Subterranean Antiquity, which also saw release via Old Temple.
In 2022, nearly twenty years into their craft, CINIS signed with Selfmadegod Records for the release of their newly completed third album, Lies That Comfort Me, delivering nine pummeling tracks of tumultuous death metal with massive homage paid to Florida legends and forerunners of the genre, Morbid Angel, Deicide, and Cannibal Corpse, as well as more technical influence from countrymates Vader and Decapitated. Lies That Comfort Me was recorded between October 2021 and March 2020, engineered by Lukasz Bielemuk, then mixed and mastered at Hertz Studio (Behemoth, Vader, Trauma, Decapitated). The album is completed with artwork and layout by Tomasz "Hal" Halicki (Vader, Dead Infection) and photography by Ewa Bielemuk.
A lyric video for CINIS' first Lies That Comfort Me single, "Witness," was created by Radek Grabinski. Michał Pawłowski, who writes lyrics for the band, offers, "Seeing people as objects – new items for your private collection of trophies. Or maybe it's about a stalker choosing the next target fitting his sick desires? Or maybe it's all about the psychopath nesting in the heads of each and every one of us?"
Watch CINIS' "Witness" lyric video playing at New Noise Magazine RIGHT HERE.
Selfmadegod Records will release Lies That Comfort Me on CD and digital formats on September 23rd.
Stand by for preorders, additional previews of the record, and more to post over the weeks ahead.
Lies That Comfort Me Track Listing:
1. Witness
2. Maladies
3. Confirmation Bias
4. Aegis
5. Cutie
6. Life Distribution
7. Inundation
8. Lorem Ipsum
9. Assembly
CINIS:
Lech Fiedorczyk – voc./bass
£ukasz Bielemuk – guitar
Maciej Jakoniuk – guitar
Konrad Zubrzycki – drums
https://www.cinis.pl
https://facebook.com/cinisofficial
https://cinis.bandcamp.com
https://www.youtube.com/cinisofficial
https://www.instagram.com/cinisofficial
https://www.selfmadegod.com
https://www.facebook.com/selfmadegod
https://www.selfmadegod.bandcamp.com
https://www.instagram.com/selfmadegod_records
https://www.soundcloud.com/selfmadegodrecords