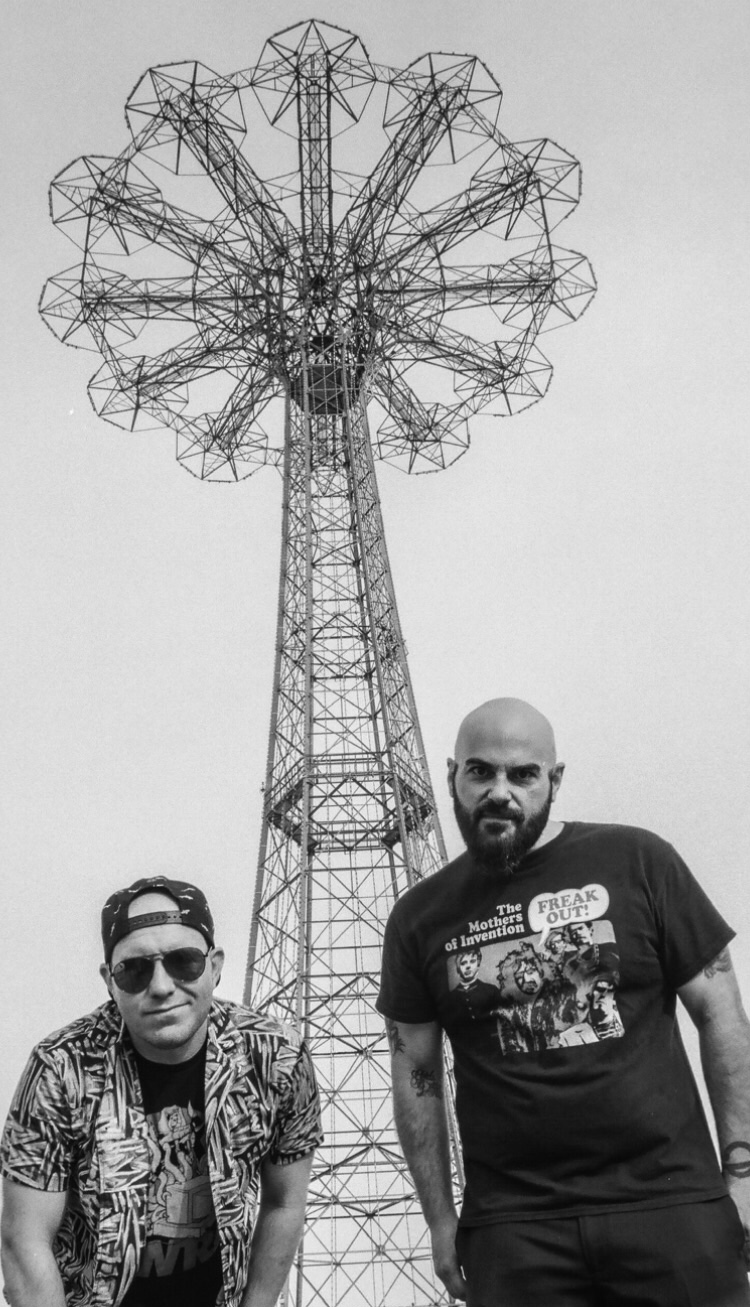 "Cloud 2" is the new single from New York City-based experimental art punk duo CINEMA CINEMA, now playing exclusively at New Noise Magazine. The song precedes the band's sixth album, CCXMDII, nearing release in August through Nefarious Industries.
CINEMA CINEMA was established in 2008 by Brooklyn-born cousins, vocalist/guitarist Ev Gold and drummer Paul Claro. They've been described as "experi-metal punks" by the Village Voice, a "jolt of adrenaline" by BrooklynVegan, and "feral and unrelenting" by Big Takeover.
In 2019, the duo joined with Nefarious Industries to release their fifth album, CCXMD. Taking a stylistic left turn from any previously recorded output, they found themselves delving into ambient and atmospheric free-jazz territories. CINEMA CINEMA invited reed aficionado Matt Darriau – best known for his work with Grammy award-winning world-music ensemble The Klezmatics – to join the group for the collaborative, entirely improvised affair. Darriau had been a guest on the band's 2017 LP Man Bites Dog, providing saxophone on a handful of tracks. The album was described as, "no-holds-barred punk-jazz," by Brooklyn Rail, and, "as intelligent as it is unintelligible," by Invisible Oranges.
CINEMA CINEMA now presents their sixth full-length, CCXMDII, which serves as companion and conclusion to 2019's CCXMD. Woodwind expert Matt Darriau returns, bringing along more tools from his repertoire as the trio submerge themselves in the strange beauty of chaotic sound, found together in the moment. CCXMDII was engineered, mixed, and mastered by Vin Cin at Electric Plant Studios in Brooklyn, New York, with artwork, design, and layout by Lauren A. Kelley.
With the premiere of "Cloud 2," Ev Gold writes, "We took an entirely improvised approach in the studio for this album. Not much literal conversation at the start of recording, only speaking with our instruments during the first hour or two. During a break, we decided the remainder of the session should have some focused pieces. Matt (Darriau) suggested that we try to play something weightless and buoyant. We felt our way through a series of jams in that fashion, 'Cloud 2' came about attempting to achieve that theme."
CINEMA CINEMA's "Cloud 2" is now playing exclusively at New Noise Magazine RIGHT HERE.
Nefarious Industries will release CCXMDII on CD and all digital platforms on August 20th. Find preorders including merch bundles HERE and watch for additional audio previews and more to post over the weeks ahead.
CINEMA CINEMA is currently booking Fall tour dates surrounding the release of their new record. Expect updates to be posted shortly.
Touring extensively through the past decade, CINEMA CINEMA has performed over four hundred fifty shows across eleven countries. The duo has toured numerous times alongside SST Records founder Greg Ginn, including a fifty-plus-date 2014 North American tour opening for Black Flag, select dates supporting Black Flag in 2013, and shared dates in 2010, 2011, and 2012 with Ginn's other outfits The Royal We and The Taylor Texas Corrugators. In addition, the band has half a dozen European tours to their credit, including a 2013 stint in support of Martin Bisi Band and a run of Summer festivals in 2016.
CINEMA CINEMA appears in and has contributed music to the critically acclaimed 2014 documentary Sound And Chaos: The Story Of BC Studio. The band was also included on BC35, a celebration of the 35th anniversary of BC Studio – alongside members of Swans, Sonic Youth and other studio alumni, released via Bronson Recordings in 2018.
https://www.cinemacinemaband.com
https://cinemacinema.bandcamp.com
https://www.facebook.com/cinemacinemaband
https://www.instagram.com/cinemacinemaband
https://twitter.com/cinemacinema
http://nefariousindustries.com
http://www.facebook.com/nefariousIndustries
http://www.twitter.com/nefariousInd
https://nefariousindustries.bandcamp.com