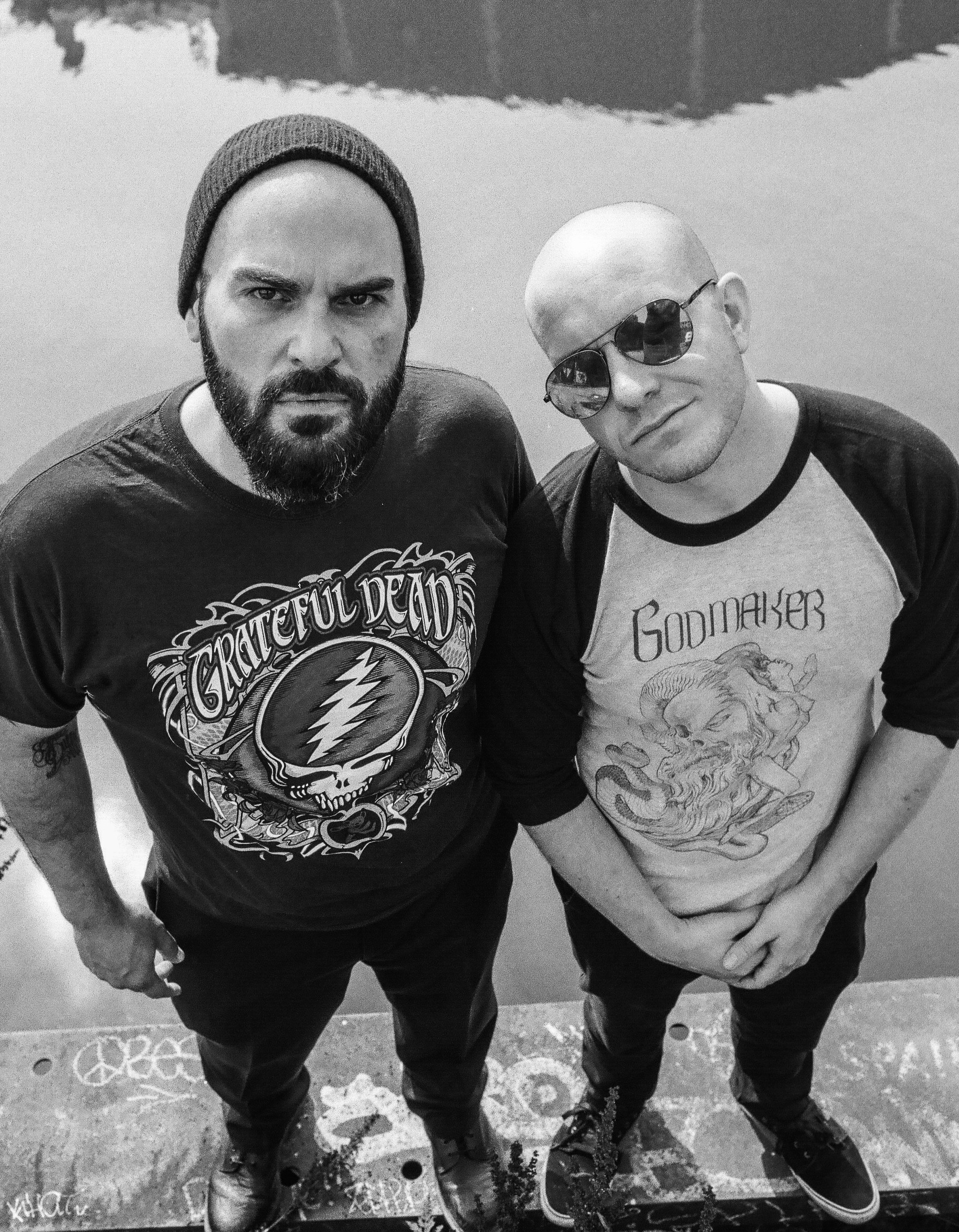 [photo by Alex Bershaw]
New York experimental art punk duo CINEMA CINEMA has partnered with Nefarious Industries for the upcoming early November release of their new album, CCXMD.
CINEMA CINEMA was established in 2008 by Brooklyn-born cousins Ev Gold (vocals/guitar) and Paul Claro (drums). They've been described as "experi-metal punks" by the Village Voice, "a jolt of adrenaline" by BrooklynVegan, and "feral and unrelenting" by Big Takeover.
Touring extensively through the past decade, the duo has performed over four-hundred-fifty shows across eleven countries, including Austria, Canada, Czech Republic, Germany, Hungary, Italy, Poland, Slovakia, Switzerland, United Kingdom, and most of the continental US. CINEMA CINEMA has toured alongside Greg Ginn seven times with various SST Records projects, including a fifty-plus-date 2014 North American tour opening for Black Flag, and has toured Europe six times including a 2013 stint in support of Martin Bisi Band and a run of summer festival dates in 2016. The band appears in and has contributed music to the critically acclaimed 2014 documentary Sound And Chaos: The Story Of BC Studio.
Record Store Day 2018 saw CINEMA CINEMA's inclusion on Crooked Beat Records' Recutting The Crap, Volume Two, with a track produced by Don Zientara (Inner Ear Studios, Fugazi, Bad Brains). Also, BC35, a celebration of the 35th anniversary of BC studio – with members of Swans, Sonic Youth, Cop Shoot Cop, Alice Donut and many more, was released via Bronson Recordings in April 2018, including a musical contribution from the band.
CINEMA CINEMA now presents their fifth full-length, CCXMD. The duo takes a left turn from any previously recorded output, delving into ambient and atmospheric free-jazz territories, and inviting reed aficionado Matt Darriau – best known for his work with Grammy award-winning world-music ensemble The Klezmatics – to join the group for a collaborative, entirely improvised affair. Darriau had been a guest on the band's 2017 LP Man Bites Dog, providing saxophone on a handful of tracks, and this time he brings more tools from his repertoire as the trio submerge themselves in the strange beauty of chaotic sound, found together in the moment.
Nefarious Industries will release CCXMD on November 1st. Watch for cover art, audio samples, preorders links, and more to be posted in the days ahead.
As always, CINEMA CINEMA is busy booking regional runs of tour dates surrounding the release of their new record, including one-off New York and Pennsylvania dates in October and November, ahead of a Western US tour which begins the week of the album's release and takes the band through California, Nevada, and into Texas through the middle of November. Expect additional tour dates to be posted throughout the months ahead.
CINEMA CINEMA Tour Dates:
10/19/2019 BC Studio – Brooklyn, NY
11/02/2019 Mcstews's – Levittown, PA
11/08/2019 Jerry's Pizza & Pub – Bakersfield, CA
11/09/2019 Old Towne Pub – Pasadena, CA
11/10/2019 Jub Jub's Thirst Parlor – Reno, NV
11/11/2019 El Rio – San Francisco, CA
11/12/2019 Elbo Room JL – Oakland, CA
11/13/2019 Sun Space – Shadow Hills, CA w/ Mike Watt & The Missingmen
11/14/2019 TBA
11/15/2019 Rubber Gloves – Denton, TX
11/16/2019 Tradewinds Social Club – Dallas, TX
https://www.cinemacinemaband.com
https://cinemacinema.bandcamp.com
https://www.facebook.com/cinemacinemaband
https://www.instagram.com/cinemacinemaband
https://twitter.com/cinemacinema
http://nefariousindustries.com
http://www.facebook.com/nefariousIndustries
http://www.twitter.com/nefariousInd
https://nefariousindustries.bandcamp.com