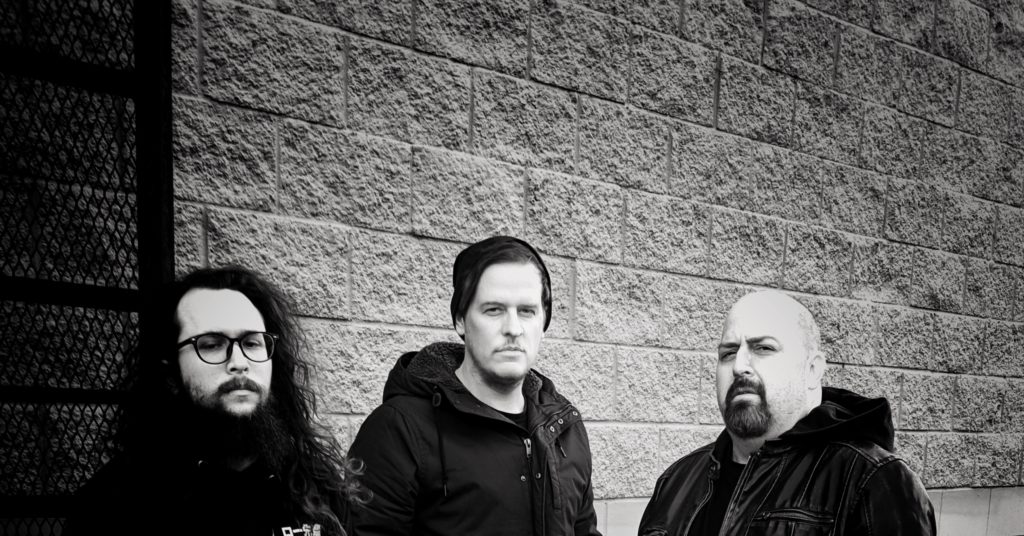 [photo by Melissa Atwood]
Revolver Magazine is hosting the premiere of "Predatory Animals," the new single from CHROME WAVES and their impending debut LP, A Grief Observed, set for release through Disorder Recordings on March 1st.
CHROME WAVES, formed by former members of Wolvhammer, Nachtmystium, Abigail Williams, The Gates Of Slumber, Amiensus, and more, makes its return with a new lineup and their first full-length album, A Grief Observed. The record was engineered by Niko Albanese and the band's James Benson and Jeff Wilson and finished with artwork by Wilson.
With their premiere of "Predatory Animals," Revolver Magazine writes in part, "Despite the cathartic, scream-oriented vocals, CHROME WAVES strive to be more Catherine Wheel than Darkthrone, and even the focus of the latest track 'Predatory Animals' is on the melody. Utilizing the tough vocals as another layer in the multi-dimensional approach rooted in metal, CHROME WAVES explore what it means to be emotional while maintaining muscularity and grace. It's a beautiful track that delves into both sides of despair at once, calling out into the void while keeping a modicum of inner strength."
The band offers, "While not everyone is interested in eight-minute, fuzz and reverb drenched epics, most people can enjoy the catchier tune. Since we do as well, we added a couple shorter and more to the point bangers on the record. This one has it all, your verse/chorus/verse structure, your vocal hook, and it's even got a guitar solo. This is 'Predatory Animals.'"
Hear CHROME WAVES' "Predatory Animals" only through Revolver at THIS LOCATION.
A Grief Observed will be released on Disorder Recordings label on LP, CD, and digital formats on March 1st. Find digital and CD preorders HERE and watch for vinyl preorders to post alongside new audio and video previews of the album in the coming days.
Also hear the previously-released "Burdened" single and the non-LP cover of Slowdive's "When The Sun Hits" RIGHT HERE.
CHROME WAVES has announced a run of tour dates through the Midwest at the end of February into early March. Running from February 27th through March 3rd, with shows in Minneapolis, Chicago, Indianapolis, Louisville, and Milwaukee, the five-city trek sees the band joined by Without Waves.
CHROME WAVES w/ Without Waves:
2/27/2019 Hexagon – Minneapolis, MN
2/28/2019 Livewire – Chicago, IL
3/01/2019 Black Circle Brewing – Indianapolis, IN
3/02/2019 Open Community Arts Center – Louisville, KY
3/03/2019 Cactus Club – Milwaukee, WI
After departing Wolvhammer and Abigail Williams in 2018, Jeff Wilson set out to finally make CHROME WAVES a full-time endeavor and brought in new guitarist/vocalist James Benson (Amiensus) alongside the returning Bob Fouts on drums. With a renewed sense of inspiration, the revamped lineup began recording immediately, with their sights set on completing their long-awaited debut full-length, A Grief Observed. In October, the trio issued the first new CHROME WAVES track in six years with "Burdened," the first single from the impending LP. Several weeks later, the outfit released a non-album cover of Slowdive's "When The Sun Hits" while continuing to wrap-up production on A Grief Observed.
https://www.facebook.com/chromewavesofficial
https://chromewaves.bandcamp.com
https://www.instagram.com/chromewavesofficial
http://disorder-recordings.com
https://disorder-recordings.bandcamp.com
http://disorder-design.com