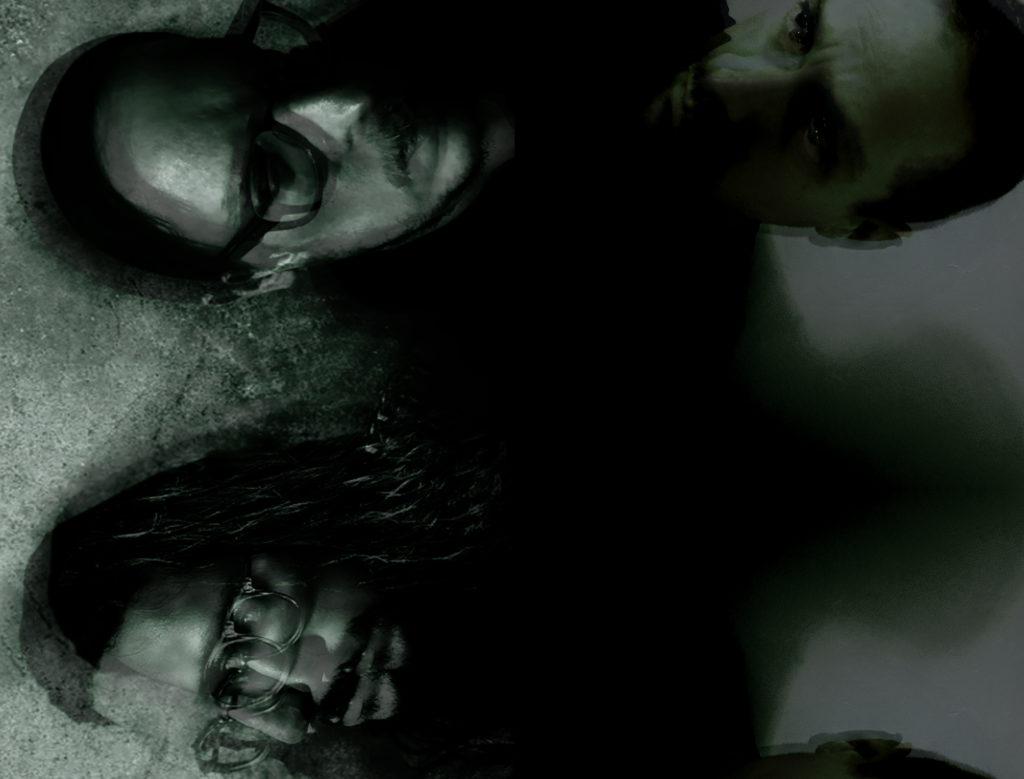 Tomorrow, Midwestern US black/shoegaze outfit CHROME WAVES and New York City-area's apocalyptic experiment GRIDFAILURE will independently co-release their split album. On the eve of its release, BrooklynVegan is now streaming CHROME WAVES' Joy Division cover and GRIDFAILURE's Today Is The Day cover.
CHROME WAVES' Jeff Wilson offers on their rendition of gloom rock antiheroes Joy Division, and their track "The Eternal," "Doing our own renditions of other artist's songs has come to be something I really enjoy over the last year or so and it's most likely been a nice gateway for folks who wouldn't have heard us otherwise. This version of 'The Eternal' is what we'd consider a good representation of Ian Curtis's utter desolation and injected it with a good amount of steroids. We've added some new layers, new instrumentation and this is personally my first foray into solo vocal territory for the band. We hope you enjoy it, or in the case of the vibes presented here… don't. Be safe out there."
GRIDFAILURE's David Brenner writes of his cover of "Temple Of The Morning Star" by experimental metal act Today Is The Day, "Not only is this one of my favorite songs from one of my favorite bands since the 90s, its creator Steve Austin is also a personal friend. Out of the nearly two-dozen GRIDFAILURE titles I've released over the past four years, this is the first cover song. I wanted to coalesce elements of both the acoustic and electric versions of the original song into a hypnotic but brutalizing direction with layered, spiraling, vocal madness and ultimate demoralization; a reflection of how TITD's visionary sound has influenced me."
BrooklynVegan writes, "CHROME WAVES did Joy Division's 'The Eternal,' and that atmospheric song is already pretty within CHROME WAVES' wheelhouse so they don't change it up too much, but they do it well and still find ways to make it their own. GRIDFAILURE did Today Is The Day's 'Temple Of The Morning Star,' and this one's a more drastic rework. As GRIDFAILURE's David Brenner says, he used elements of both the acoustic and electric versions of the original song, but Brenner's version is a static-y harsh noise track that doesn't sound much like either version of the original."
Stream CHROME WAVES' cover of Joy Division cover and GRIDFAILURE's Today Is The Day cover at BrooklynVegan RIGHT HERE.
The split album will see digital release via Bandcamp this Friday, March 27th with a limited physical version to follow. Find preorders via CHROME WAVES HERE and GRIDFAILURE HERE.
CHROME WAVES delivers nearly thirty minutes of their ominous, blackened rock, with two original tracks and their rendering of the bleak classic "The Eternal" by Joy Division, recorded and mixed at Disorder Recordings in Indianapolis, Indianapolis, with James Benson providing vocals, Jeff Wilson performing bass, guitars, programming, synth, and vocals, and guest Roman Pinter of Nott providing saxophone. GRIDFAILURE's David Brenner deploys an assault of instrumentation infused with field recordings and layers of confrontational vocals, offering five originals and a harrowing rendition of the seminal Today Is The Day hymn "Temple Of The Morning Star," which he performed and recorded at The Compound in Valley Cottage, New York. The record was mastered by Dan Emery at Black Matter Mastering in Nashville, Tennessee (Kool Keith, Benjamin Tod, Krieg) and the cover art designed by Brenner with photography of Wilson's and his own.
The split serves as a precursor for CHROME WAVES' impending second LP. The band has completed recording and will release the album this summer following its mixing and mastering by Billy Anderson.
GRIDFAILURE will release the second installment in its five-album Sixth Mass-Extinction Skulduggery series through Nefarious Industries this spring, with collaborative releases with Fyrhtu, Pornohelmut, Feel Happiness, Interstitia, Rack, Megalophobe, and more to follow.
Both band's upcoming live dates have been canceled or postponed.
https://www.facebook.com/chromewavesofficial
https://chromewaves.bandcamp.com
https://www.instagram.com/chromewavesofficial
https://www.youtube.com/channel/UCB17eizC5-BzxJE2xrtcEtg
http://www.facebook.com/gridfailure
http://www.gridfailure.bandcamp.com
https://twitter.com/GRIDFAILURE
https://www.instagram.com/gridfailure
https://www.youtube.com/channel/UCRbk4oQvuhLgZmUZ1hyceog