With the imminent release of their Strange Waste EP now less than two weeks away, today the gate keepers at Invisible Oranges hurl forth the tumultuous sounds of "Molestation Of The Arts" from Detroit punk/metal marauders, CHILD BITE.
Captured at Russian Recording in Indianapolis, Indiana and produced by CHILD BITE, Strange Waste fuses all walks of extreme from metal, noise, and hardcore without falling squarely into any of one those genres. A wholly bastardized hybrid of the Melvins, Dead Kennedys, Big Black and System Of A Down, CHILD BITE's self-proclaimed "music for losers" is ugly, anxious and dangerously habit-forming.
Elaborates vocalist Shawn Knight of "Molestation Of The Arts," "I am an artist and a designer. I often have internal debates about where the line is between the two; what is pure art, the difference between art and design, and is it ok for the two to blend. Sometimes it's clear, sometimes not so much. This song is a very cynical critique on the art director/ad agency side of things, coming from an artist's point of view. One way of looking at advertising is that it's pure manipulation; a commercial's job is to sell you a product or service; to make you want it more than the other options available. One tactic agencies use is hijacking whatever the latest trends are to seem hip… This way whatever they are selling comes off as 'cool.' Cool sells. That's what this tune is about; major corporations attempting to appear trendy in order to trick people out of their money."
Adds Invisible Oranges, "This band could go anywhere, in the best way, and also have an uncanny ability to attract non-metal listeners, if their live shows are any indicator. I've seen people come in from the street and pay entry to see CHILD BITE sight unseen, only to watch the arty garage band they thought they were seeing devolve into a savage grindcore outfit before their eyes – and stay put. I'm not sure I've seen a band with as much potential to surprise people and cross over genre boundaries since I first heard Mastodon. That said, Strange Waste ain't Remission. But it might just be Lifesblood. I'm psyched to see where CHILD BITE take their career after this."
Get mind fucked with "Molestation Of The Arts," RIGHT HERE.
And if you were asleep at the wheel, don't forget to peep the band's video for "Ancestral Ooze." Written and directed by ex-Dillinger Escape Plan guitarist Jeff Tuttle and featuring the Melvins' Buzz Osborne, the clip is a tribute to the 1987 underground horror flick Street Trash and is still playing at Decibel at THIS LOCATION.
CHILD BITE recently wrapped up a US live invasion alongside King Parrot and Acid Witch on select dates. The trek included a stink on this year's Housecore Horror Film Fest. CHILD BITE will play a special record release show on their home turf on November 21st before holing up in their practice cave for the winter to compose their next full-length, to be produced by Philip H. Anselmo. Further details to be announced in the coming weeks.
CHILD BITE:
11/21/2014 PJ's Lager House – Detroit, MI record release show w/ Acid Witch
Strange Waste will be released on CD, double vinyl seven-inch and digitally via Housecore Records November 25th, 2014. Preorder your copy today at THIS LOCATION.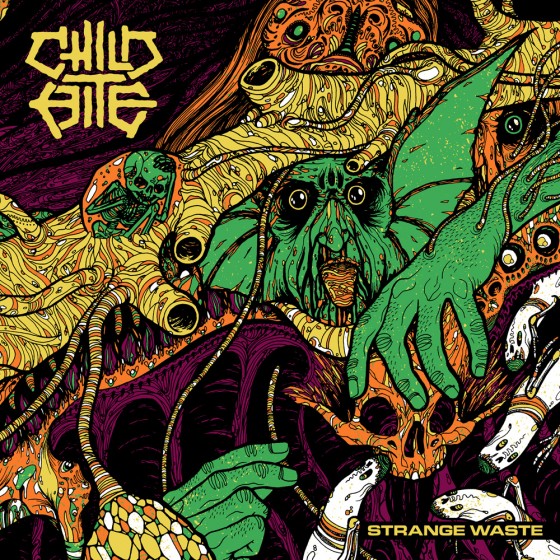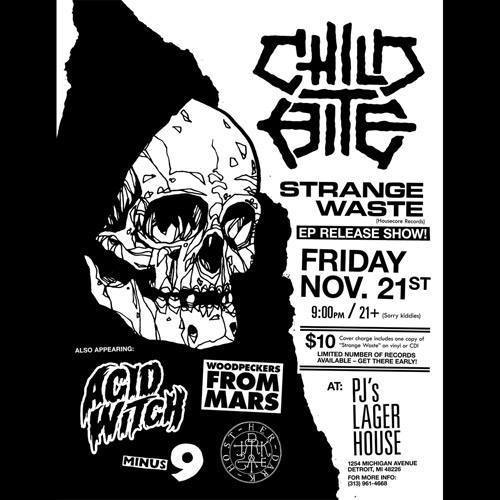 http://www.childbite.com
http://www.childbite.bandcamp.com/
http://www.facebook.com/childbite
http://www.thehousecorerecords.com