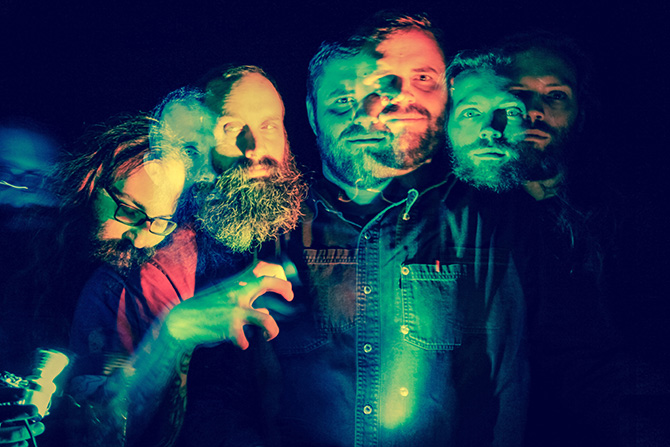 "…it sounds sorta like someone stuffed Mr. Bungle/Fantomas, Voivod, old Clutch (especially in Shawn Knight's husky baritone and seemingly extemporaneous delivery), Black Flag and The Jesus Lizard into a blender, pushed 'grind' and then forget to turn it off." – KNAC.com
Negative Noise is the long-awaited new full-length from Detroit noise rock oddballs, CHILD BITE. Out today on Housecore Records, the traumatizing, forty-seven-minute offering was produced by label head Philip H. Anselmo, mastered by Scott Hull (Pig Destroyer) and is where the Venn diagram of Black Flag, Voivod and The Jesus Lizard truly overlaps. With twelve tracks of the bands distinct brand of chaotic, noisy apocalyptic sound Negative Noise represents all the weirdness that has made CHILD BITE so great over their hard years on the road.
In celebration of its release, today New Noise Magazine, is pleased to host a stream of the record in its entirety, calling it, "an adventurous slice of loud rock," in a 4.5/5 review. "CHILD BITE plays on the outskirts of several different scenes. They have the aggressive force of hardcore, but it's filtered through grimy noise rock, which means the songs all take interesting twists and turns. They can get right in your face, but they can also go off on proggy tangents, while retaining their impact…Negative Noise showcases a band firing on all cylinders."
For various order bundles, visit the Housecore Store HERE.
Raising the eyebrows of critics nationally, KNAC.com likens CHILD BITE's Negative Noise to an, "all-over-the-place shitstorm of punk/hardcore, metal, noise/post rock, prog and even surf music in Brandon Sczomak's shrill guitar jangle," appropriately adding, "it sounds sorta like someone stuffed Mr. Bungle/Fantomas, Voivod, old Clutch (especially in Shawn Knight's husky baritone and seemingly extemporaneous delivery), Black Flag and The Jesus Lizard into a blender, pushed 'grind' and then forget to turn it off." Among the first to review the offering, No Clean Singing notes, "Negative Noise possesses a brilliance and individuality all its own and is a refreshing breath of fetid air in an era saturated with a d-beat-only approach to punk and hardcore." Two Guys Metal Reviews crowns CHILD BITE, "one of the most exciting bands in rock and roll today," further elaborating, "the simple fact of the matter is that no one out there really sounds anything like CHILD BITE. They have managed to cultivate a very distinct aesthetic – one that feels almost Arthur Todd Brown-esque at times. CHILD BITE certainly aren't for everyone, but they never really tried to be. Instead, the band's Mike Patton-y magic and weird arrangements make fans of all that is bizarre go wild. The balance between dark and light, madness and restraint and all that that entails becomes overwhelmingly powerful. CHILD BITE are revolutionizing metal in their own small way and the sooner you acknowledge this the quicker you will fall in love."
In support of Negative Noise, the perpetually road-bound sound misfits have over three dozen live shows confirmed with additional dates to be announced in the weeks to come. The onstage bedlam will begin next week with a handful of shows with The New Trust. From there, the band will play four home state shows including an appearance at the Detroit Music Awards and two record release shows in Detroit on May 6th and 7th. Later that month, CHILD BITE will defile Mexico with four performances before kicking off a month-long-plus trek opening for the mighty Voivod alongside labelmates King Parrot. See all confirmed assaults below.
CHILD BITE w/ The New Trust:
4/06/2016 Louie's Backroom – Kalamazoo, MI
4/07/2016 The Wisco – Madison, WI
4/08/2016 The Reverie – Minneapolis, MN
4/09/2016 The Venue – Dubuque, IA
4/10/2016 Quenchers – Chicago, IL
End Tour
4/23/2016 Pyramid Scheme – Grand Rapids, MI w/ Shiner
4/29/2016 The Fillmore- Detroit, MI Detroit Music Awards
5/06/2016 Majestic Cafe – Detroit, MI Record Release Show
5/07/2016 Sanctuary – Detroit, MI Record Release Show
5/12/2016 Bar El Confesionario – Saltillo, CO
5/13/2016 Patio Café Iguana – Monterrey, NL
5/14/2016 TBA – Ciudad de México, DF
5/15/2016 Foro Independencia – Guadalajara, JA
w/ Voivod & King Parrot:
5/19/2016 Gas Monkey – Dallas, TX
5/20/2016 The Rock Box – San Antonio, TX
5/21/2016 Barracuda – Austin, TX
5/23/2016 Scout Bar – Houston, TX
5/25/2016 Aggie Theatre – Ft. Collins, CO
5/26/2016 Marquis Theatre – Denver, CO
5/27/2016 Liquid Joes – Salt Lake City, UT
5/28/2016 Vinyl / Hard Rock Café – Las Vegas, NV
5/30/2016 The Rebel Lounge – Phoenix, AZ
5/31/2016 Green Room – Flagstaff, AZ
6/01/2016 Brick By Brick – San Diego, CA
6/02/2016 The Whisky A Go Go – Los Angeles, CA
6/03/2016 The Underground – Santa Ana, CA
6/04/2016 Strummers – Fresno, CA
6/07/2016 The Ritz – San Jose, CA
6/08/2016 Slims – San Francisco, CA
6/09/2016 WoW Hall – Eugene, OR
6/10/2016 Dante's- Portland, OR
6/11/2016 El Corazon – Seattle, WA
6/12/2016 Distrikt – Victoria, BC
6/13/2016 Rickshaw Theatre – Vancouver, BC
6/15/2016 Dickens – Calgary, AB
6/16/2016 Starlight Room – Edmonton, AB
6/17/2016 The Exchange – Regina, SK
6/18/2016 Good Will Social Club – Winnipeg, MB
6/19/2016 Crocks – Thunder Bay, ON
6/21/2016 Call The Office – London, ON
6/25/2016 Amnesia Rockfest – Montebello, QC
w/ King Parrot (no Voivod):
6/27/2016 Nectar's – Burlington, VT
6/28/2016 Once – Somerville, MA
6/29/2016 St Vitus Bar – Brooklyn, NY
6/30/2016 Kung Fu Necktie – Philadelphia, PA
What began as a thoughtful-yet-spazzy art rock band in a Detroit suburb has now fully mutated into an aggressive, dissonant blend of all things punk, hardcore, sludge, surf, prog rock, noise rock and metal; a truly unique voice in a sea of copycats. Indeed, CHILD BITE have succeeded in creating a singular expression, therefore carving out their own place in the current musical landscape. They are perfectly comfortable not fitting in… and are beginning to realize that they never had a choice.
For all CHILD BITE coverage inquiries contact liz@earsplitcompound.com.
http://www.childbite.com
http://www.childbite.bandcamp.com
http://www.facebook.com/childbite
http://www.thehousecorerecords.com