photos by Erin Severson
Seattle death metal henchmen CEREBRAL ROT declare a Summer assault on the populations of North America. The Drowned In Excretion Tour 2023 will see the band brutalizing concertgoing humans across the Southern and West Coast US into Canada for two weeks, the trek running from Nashville to Vancouver between August 11th and 26th. See the confirmed routing below and stand by for updates.
CEREBRAL ROT Drowned In Excretion Tour 2023:
8/11/2023 Disctrix – Nashville, TN
8/12/2023 The Earl – Atlanta, GA
8/13/2023 Saturn Bar – New Orleans, LA
8/14/2023 Black Magic Social Club – Houston, TX
8/15/2023 Rubber Gloves – Denton, TX
8/16/2023 13th Floor – Austin, TX
8/18/2023 89th Street – Oklahoma City, OK
8/20/2023 The Nile Underground – Mesa, AZ
8/21/2023 Soda Bar – San Diego, CA
8/22/2023 Knucklehead Bar – Los Angeles, CA
8/23/2023 Stork Club – Oakland, CA
8/23/2023 The High Water Mark – Portland, OR
8/25/2023 Substation – Seattle, WA
8/26/2023 Wise Hall – Vancouver, BC
CEREBRAL ROT released Excretion Of Mortality through 20 Buck Spin in June of 2021. The band's tumor-like growth on the album bludgeons with a hammering heaviness that few can manage or survive. A methodical focus on attaining maximum barbarism through every aspect of the production, from the meaty, dripping guitars to the immense rhythm section and Schwab's nuclear travesty vocals, to the deceptively straightforward bludgeoning of the songs, exposes a scalpel-like cutting precision to this seemingly base display of horrid malevolence.
Recorded by Detto at Jack Endino's Soundhouse Studio, mixed by Detto at Sentinel Recording Studio, and mastered by Dan Lowndes at Resonance Sound Studio, Excretion Of Mortality was completed with artwork by Karina Monzon, photography by Erin Severson, and design by Dan Fried. A must-hear for fans of Fetid, Undergang, Cenotaph, Caustic Wound, Bolt Thrower, Cianide, Impetigo, and Autopsy.
Find CEREBRAL ROT's Excretion Of Mortality on LP, CD, CS, and digital formats anywhere 20 Buck Spin wares are mongered including the label webshop HERE and Bandcamp HERE.
"CEREBRAL ROT's mist-covered Northwest metal is a masterclass in shadowy death/doom composition… Some albums are objectively good, and this forty-eight-minute cesspool steam bath + limb-rending beatdown is an instant classic… 9/10" – Decibel Magazine lead review
"…a juggernaut demolition machine belching toxic fumes, all gears grinding and screaming, with a monster at the controls who bellows commands in truly abyssal gutturals. Along the way, this rampaging machine runs into a tar pit, and shrieks and moans as it attempts to extricate itself, but somehow still manages to shake the earth as it does so." – No Clean Singing
"While you can hear the cavernous and Incantation-y vibes creeping in at times, CEREBRAL ROT does their best work by avoiding any straight-up comparisons. Instead, they dunk their death metal straight into an ooze that doses it with additional flavorings of doom and melody in such a way that keeps them more memorable and engaging than many of their current brethren." – Dead Rhetoric
"Body horror is certainly not outside the norm for death metal, but CEREBRAL ROT commits to the theme with unparalleled extremity. Excretion of Mortality lurches and heaves with a throbbing animalistic rhythm—borne less of bestial instinct and more of involuntary muscular movement, like a malevolent spurting artery." – Treble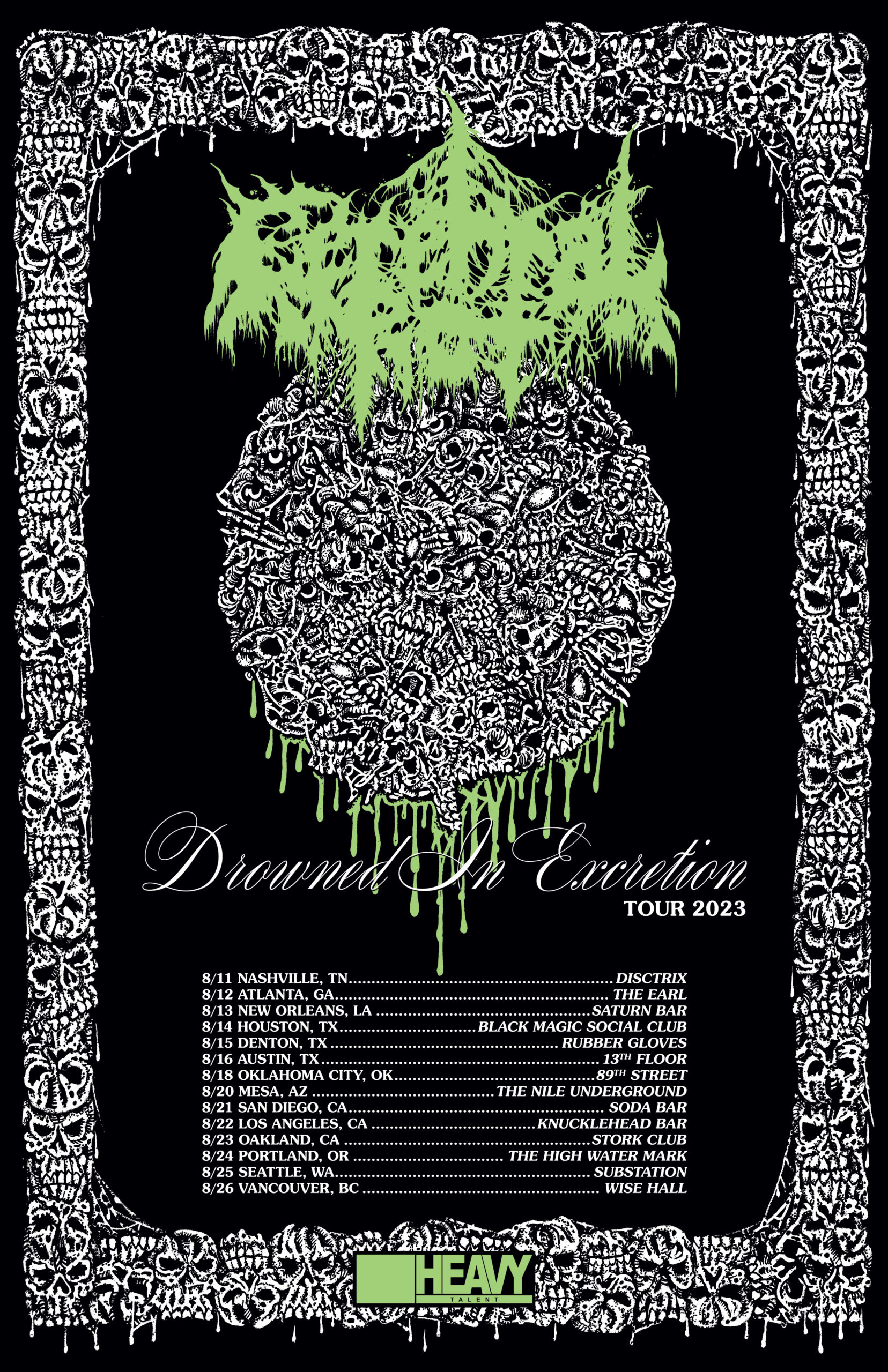 https://www.facebook.com/cerebralrotdm
https://www.instagram.com/cerebralrot
https://cerebralrot.bigcartel.com
http://www.20buckspin.com
https://listen.20buckspin.com
http://www.facebook.com/20buckspin
http://www.twitter.com/20buckspinlabel