Maryland-based atmospheric post-rock trio CAVERN will release their fourth full-length, Powdered, August 28th.
The six tracks comprising Powdered were recorded at GodCity Studio in Salem, Massachusetts with the legendary Kurt Ballou (Converge) and Zach Weeks and mastered by Magnus Lindberg (Cult Of Luna). Elaborates drummer Stephen Schrock, "The writing process for CAVERN has always been a very collaborative effort which normally results in [guitarist] Zach Harkins and I getting angry at one another over very minuscule elements of songs. [Bassist/vocalist] Rose [Heater] provided a very cool headed voice and approach when it came to getting the songs finished. We decided to record with Kurt at GodCity while we were driving back from a Canadian tour in 2019. We had already recorded a few songs at a different studio but wanted to take things to the next level. We had talked to Kurt before about recording when we were a two-piece but thought that he could really help us achieve the sound we wanted with this new material… We want our sound to be abrasive and loud but also groovy and bright at times. We all have such different influences and come from different backgrounds musically so we're constantly trying to keep things interesting and have fun while also remaining thoughtful and heartfelt."
In advance of the record's release, CAVERN is pleased to unveil first single, "Dove." Notes Heater of the track, "'Dove' was one of the last songs I wrote lyrics for on the record. The words that kept popping up created images of my own experience with anxiety. The song ended up being my representation of a panic attack."
Powdered will be released independently on digital and vinyl formats. For preorders and to stream "Dove," visit the CAVERN Bandcamp page at THIS LOCATION. Fans of Mazzy Star, Hum, and the like, pay heed.
Powdered Track Listing:
1. River
2. Grey
3. Powdered
4. Red Moon
5. Dove
6. Fade Before The Flood
CAVERN was forged in 2012 by best friends Zach Harkins and Stephen Schrock. Over the span of eight years they've toured North America and recorded four albums.
While the band's first two offerings — their self-titled 2013 debut and 2014 EP Tales Of Ruin — were a fusion of heavy progressive-leaning instrumentals and abrasive post-hardcore vocals often compared to the early work of Mastodon and Baroness, their third record — 2015's Outsiders — was the band's first instrumental effort. Teeth Of The Divine hailed a record that was, "harder than Russian Circles, more energetic than Pelican, and more progressive than anything post-American Don Caballero."
Following the release of Outsiders, CAVERN spent a few years touring and writing their fourth record, Eater, which was unveiled in 2018. Teeth Of The Divine again weighed in championing the band's, "untouchable melodies, tough musical turns, and unpredictable songwriting," that, "wraps its arms around you and take you for the ride." Shortly thereafter, the band saw the addition of Rose Heater on vocals/bass in late 2018. This updated lineup spent nearly two years writing and touring their newest material. This year welcomes their first full-length as a trio with Powdered. In an ever-changing world, CAVERN continues to challenge themselves and their listeners with a sound that keeps people guessing.
CAVERN:
Rose Heater- bass/vocals
Stephen Schrock – drums
Zach Harkins – guitars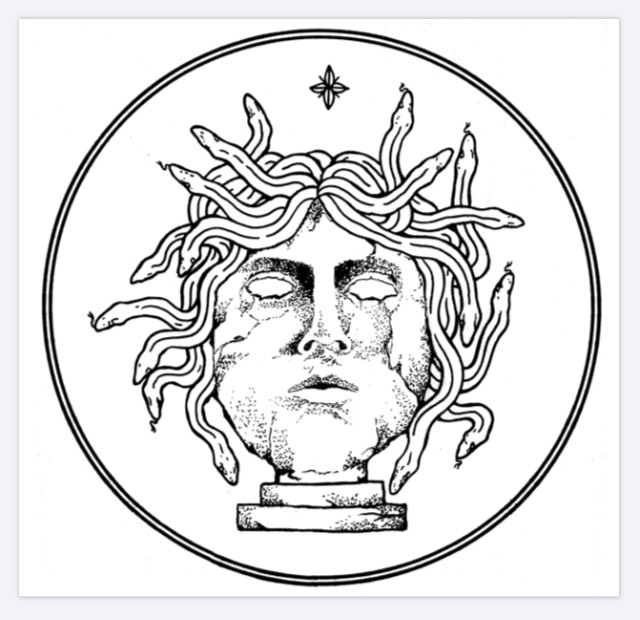 http://www.cavernband.com
http://www.facebook.com/cavernmd
http://www.instagram.com/cavernband
http://cavern.bigcartel.com