Monolith Of Inhumanity, the latest slab of sonic annihilation from California progressive grind tyrants CATTLE DECAPITATION, landed at #32 on the Billboard Top Independent Album Chart, #23 on the Billboard Top Hard Music Albums chart, #6 on the Billboard New Artist Chart and #177 Billboard Top Current Albums Chart upon its first week of release! In Canada the record ranked in at #41 on the Hard Music Chart as well as #4 in the metal category and #71 in the rock category on iTunes.
The Dave Otero–produced Monolith Of Inhumanity was released on May 8, 2012 via Metal Blade Records. Conceptually, the record revolves around a potent distaste for contemporary civilization and the damage wrought in the name of progress. In addition, Monolith Of Inhumanity features guest appearances by Mike Majewski of Devourment (guest vocals on "Projectile Ovulation"), Lenard Leal of Cephalic Carnage (backing vocals by on "A Living, Breathing Piece of Defecating Meat"), The Cephalic Carnage Community Men's Choir, consisting of all current Cephalic members and alumni Jawsh Mullen and Zac Joe (gang choir vocals on "The Carbon Stampede"), and ambient and noise interludes by Los Angeles' most extreme decimator of sound, John Wiese.
An apocalyptic gem among fans and critics stateside and abroad, Blistering calls Monolith Of Inhumanity "…arguably the quartet's strongest effort to date," Stereokiller champions the band calling the record "another solid CATTLE DECAP release that proves again that they are not to be fucked with," Revolver notes that that band here "shred harder than ever but with lots of cool twists…" while About.com boasts: "CATTLE DECAPITATION have merged into an intoxicating death metal group, doing what is necessary to slam faces into the wall, but doing so in a tender and passionate manner." Metal Injection agrees: "…the diversity present here will stand the test of time as well as anything the Cali quartet have ever done. As icing on the cake, Otero gives the album a virtually flawless production: everything sounds fantastic, from Travis Ryan's pliable vocals to the tight snap of the drums."
CATTLE DECAPITATION are currently finishing up the Occupation Domination 2012 tour alongside Origin, Decrepit Birth, Aborted, Rings Of Saturn, Battlecross and more. They'll continue their onstage takeover with some one-off shows before heading out on this Summer's Shockwave Festival Tour 2012, announced earlier this month. CATTLE DECAPITATION will be joined by Fear Factory, Voivod, Misery Index, Revocation, Havok, Dirge Within, Last Chance To Reason, Vildhjarta, The Browning and Forged In Flame. Tickets are on sale NOW at THIS LOCATION.
CATTLE DECAPITATION – Occupation Domination 2012
w/ Origin, Decrepit Birth, Aborted, Rings Of Saturn, Battlecross [remaining dates]
5/17/12 Station 4 – St. Paul, MN
5/18/12 The Granada Theater – Lawrence, KS
CATTLE DECAPITATION
w/ Rings Of Saturn
5/20/2012 Black Sheep – Colorado Springs, CO
5/22/2012 Orpheum Theater – Flagstaff, AZ
CATTLE DECAPITATION – Shockwave Festival Tour 2012 Presented By Full Metal Jackie
w/ Fear Factory, Voivod, Misery Index, Revocation, Havok, Dirge Within, Last Chance To Reason, Vildhjarta, The Browning, Forged In Flame
7/06/2012 Studio Seven – Seattle, WA [TICKETS]
7/07/2012 Vogue Theatre – Vancouver, BC [TICKETS]
7/09/2012 The Republik – Calgary, AB [TICKETS] ***
7/11/2012 Pyramid Cabaret – Winnipeg, MB [TICKETS]
7/12/2012 Station 4 – St Paul, MN [TICKETS]
7/13/2012 The Rave – Milwaukee, WI [TICKETS]
7/14/2012 Kool House – Toronto, ON [TICKETS]
7/15/2012 The Armouries – Windsor, ON [TICKETS] ***
7/17/2012 Imperial Theater – Quebec City, QC [TICKETS]
7/18/2012 National – Montreal, QC [TICKETS]
7/20/2012 Northern Lights – Clifton, NY [TICKETS]
7/21/2012 Town Ballroom – Buffalo, NY [TICKETS]
7/22/2012 Reverb – Reading, PA [TICKETS]
7/24/2012 Revolution – Amityville, NY [TICKETS] ***
7/25/2012 Palladium – Worcester, MA [TICKETS]
7/27/2012 Empire – West Springfield, VA [TICKETS]
7/28/2012 Mojoe's – Joliet, IL [TICKETS] ***
7/29/2012 Tebala Shrine – Rockford, IL [TICKETS]
8/02/2012 Nakai Hall – Window Rock, AZ [TICKETS]
8/03/2012 The Marqee Theater – Tempe, AZ [TICKETS]
8/04/2012 House Of Blues – Hollywood, CA [TICKETS]
*** – New Date Added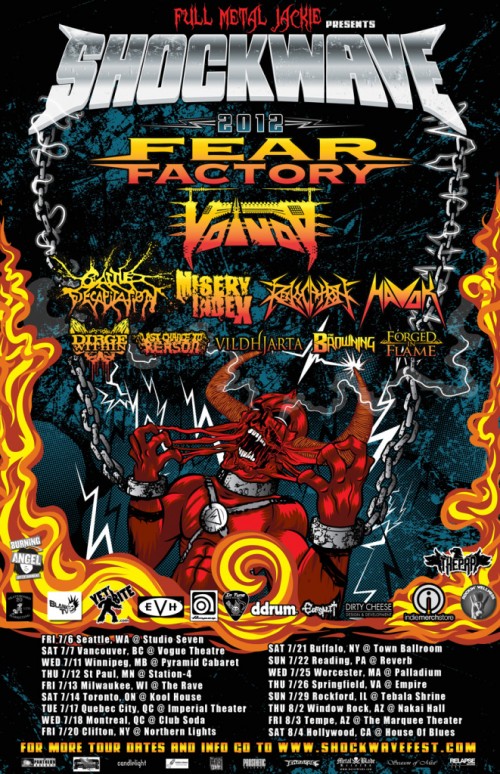 http://www.metalblade.com/cattledecapitation
http://twitter.com/cattledecap
http://www.facebook.com/cattledecapitation
http://www.youtube.com/officialcattledecap
http://www.myspace.com/cattledecapitation