West Coast occult rockers CASTLE are pleased to unveil the official new music video for "Flash Of The Pentagram." The tune comes by way of the band's recently issued Welcome To The Graveyard full-length.
Elaborates guitarist Mat Davis, "Our director for 'Flash Of The Pentagram,' Brian J. Davis (who also directed CASTLE's 'Evil Ways'), mentioned he didn't think anyone had ever captured what it's like to watch CASTLE live, so his idea was to use the gig flyer as a the kind of perfect medium to do that. He filmed us in a studio and printed the frames out on a cheap photocopier. Then he re-photographed the photocopies on an animation table over a month. We think the result is close to CASTLE live: intense, raw, and trancelike."
The video initially premiered worldwide via Team Rock/Metal Hammer who issued, "If you're partial to an inverted pentagram, you can thank the 19th-century occult author Éliphas Lévi for making them the metalhead's symbol of choice. When he wasn't popularizing tarot decks in the western world and inspiring the likes of Aleister Crowley, he was declaring that pentagrams pointed down represented evil, and thus bequeathing the metal scene's most potent of emblems…. CASTLE have unveiled a tribute to the great man in the riff-flinging form of their lead-off single, 'Flash Of The Pentagram' …An irrepressible combination of '70s doom, NWOBHM, musty-yet-in-your-face production courtesy of famed Neurosis/Melvins producer Billy Anderson, and the smoky, whiskey-stained vocals of Liz Blackwell, 'Flash Of The Pentagram' pays tribute to Lévi's theory of Transcendental Magic while rocking out with an unforgettable groove and basically soundtracking a party populated by motorcycle clubs, magicians and bottles of absinthe while sigils adorn the walls."
Watch "Flash Of The Pentagram" below:
Captured by Billy Anderson (Sleep, Neurosis, Brothers Of The Sonic Cloth, Eyehategod, Ommadon et al) at Type Foundry Studios in Portland, Oregon this past Winter, Welcome To The Graveyard is currently available at THIS LOCATION.
CASTLE is currently road-bound on a massive North American live takeover. The mammoth trek, which commenced on June 15th, included a three-week run of tour dates surrounding their appearance at the Maryland Doom Fest followed by a month-long headlining tour that began July 17th and will run through August 20th. From there, CASTLE will take a week-long pause before taking to the streets yet again for a month's worth of Canadian dates through September 29th. In October, the band will make their way to Europe including a stop at Desertfest Belgium and Old Grave Fest V in Bucharest. In December CASTLE will return to the stage, this time in Japan with Guevnna! More dates will be added in the coming weeks. Stay up to date and visit heavycastle.com or facebook.com/CastleSF.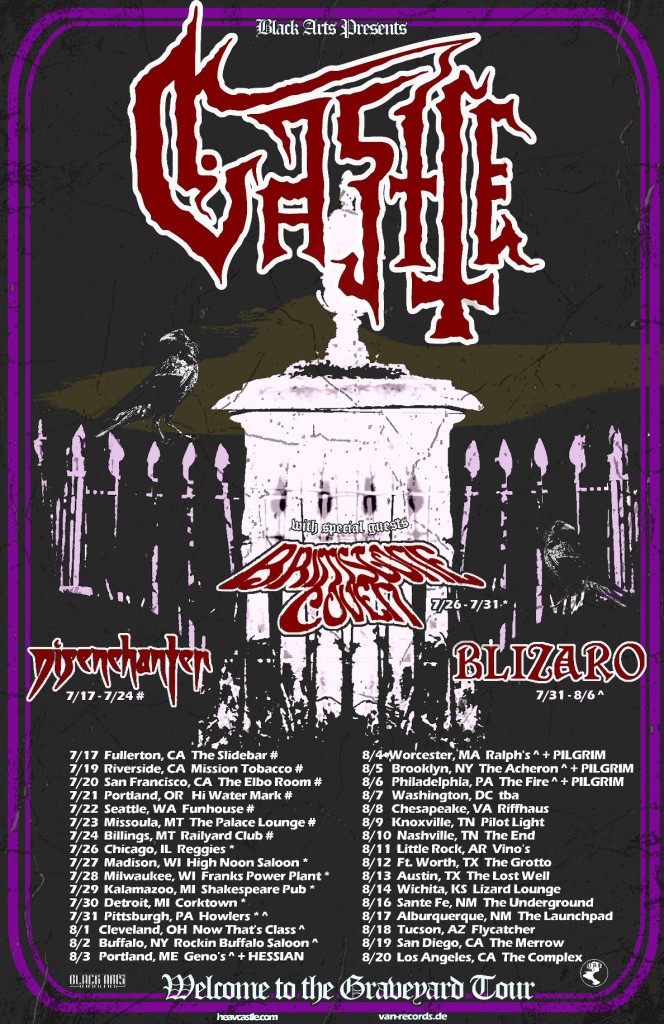 CASTLE:
8/05/2016 Trans Pecos – Brooklyn, NY ^ w/ Pilgrim
8/06/2016 The Fire – Philadelphia, PA ^ w/ Pilgrim
8/07/2016 1984 – Wilmington, DE
8/08/2016 Riffhouse Pub – Chesapeake, VA
8/09/2016 Pilot Light – Knoxville, TN
8/10/2016 The End – Nashville, TN
8/11/2016 Vino's – Little Rock, AR
8/12/2016 The Grotto – Ft. Worth, TX
8/13/2016 The Lost Well – Austin, TX
8/14/2016 The Elbow Room – Wichita, KS
8/15/2016 The Blue Note – Oklahoma City, OK
8/16/2016 The Underground – Santa Fe, NM
8/17/2016 The Launchpad – Albuquerque, NM
8/18/2016 Flycatcher – Tucson, AZ
8/19/2016 The Merrow – San Diego, CA
8/20/2016 The Complex – Los Angeles, CA
8/27/2016 Doom Over T.O. Fest – Toronto, ON
9/07/2016 Katacombes – Montreal, PQ
9/08/2016 Envol at Macadam Fest – Quebec City, PQ
9/09/2016 Panic Room – St. John, NB
9/10/2016 Gus Pub – Halifax, NS
9/11/2016 Baba's – Charlottetown, PEI
9/12/2016 Capitol Complex – Fredericton, NB
9/13/2016 Ti-Petac – Trois Rivieres, PQ
9/14/2016 House Of Targ – Ottawa, ON
9/16/2016 Black Pirates Pub – Thunder Bay, ON
9/17/2016 King's Hotel – Winnipeg, MB
9/18/2016 TBA – Saskatoon, SK
9/19/2016 Starlite Room – Edmonton, AB
9/20/2016 Fernando's – Kelowna, BC
9/21/2016 The Office Pub – Kamloops, BC
9/22/2016 Funky Winkerbeans – Vancouver, BC
9/23/2016 Logans Pub – Victoria, BC
9/24/2016 Palomino – Calgary, AB
9/26/2016 The Club – Regina, SK
9/28/2016 New American – Sault Ste. Marie, ON
9/29/2016 Call The Office – London, ON
10/05/2016 TBA – Prague, CZ
10/06/2016 Durer Kert – Budapest, HU
10/07/2016 Old Grave Fest V – Bucharest, RO
10/09/2016 Death Disco – Athens, GR
10/11/2016 Titty Twister – Parma, IT w/ Universe217
10/12/2016 Blue Rose – Milan, IT w/ Universe217
10/13/2016 White Rabbit Club – Freiburg, DE w/ Universe217
10/15/2016 Little Devil – Tilburg, NL w/ Universe217
10/16/2016 Desertfest Belgium – Antwerp, BE
10/17/2016 AZ – Aachen, DE
10/18/2016 Urban Spree – Berlin, DE
10/19/2016 Coq d'Or – Olten, CH
10/20/2016 UT Connewitz – Leipzig, DE
10/22/2016 Truckstop Alaska – Gothenburg, SE w/ Year of the Goat
10/26/2016 Gerber3 – Weimar, DE
w/ Guevnna:
12/08/2016 El Puente – Yokohama, JP
12/09/2016 Earthdo – Tokyo, JP
12/10/2016Osaka – Hokage, JP
12/11/2016 Huck Finn – Nagoya, JP
12/12/2016 Ruby Room – Tokyo, JP
# w/ Disenchanter
* w/ Brimstone Coven
^ w/ Blizaro
"They're the kind of band who could make you believe in heavy metal… their righteously individualized blend of thrash, traditional metal, doom, heavy rock 'n' roll, etc., speaks to some mystical bygone era when metal was about not compromising, putting a fist in the air against expectation and going on tour forever. CASTLE were so deep into what they were doing that I think they could've been anywhere and it would've been the same, that trance taking hold early on as they locked in and holding sway for the duration of their set, which seemed short when it was over." – The Obelisk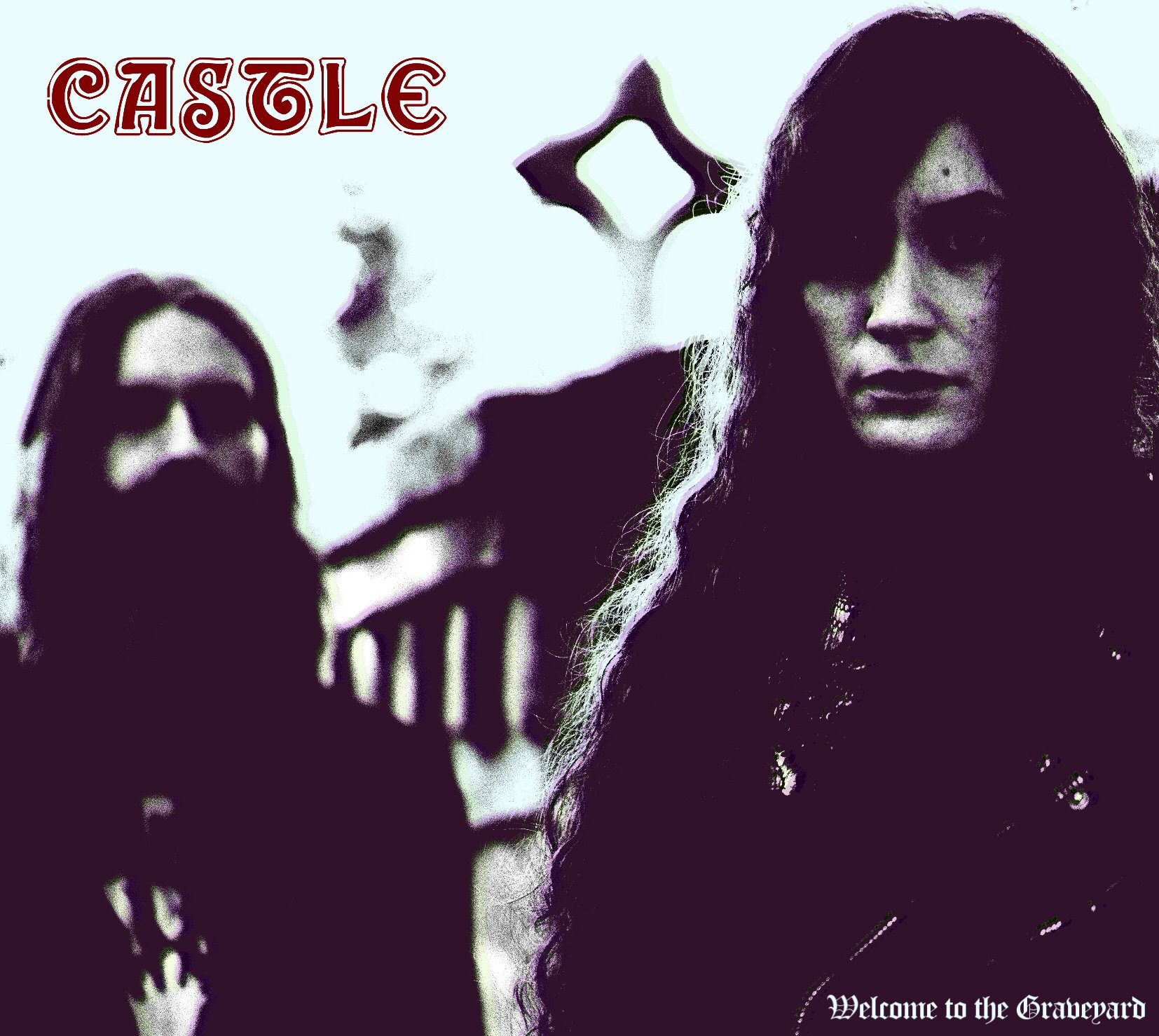 http://www.heavycastle.com
http://www.facebook.com/CastleSF
http://ww.twitter.com/heavycastle
http://www.facebook.com/Vánrecs/?fref=ts
http://www.Ván-records.de