Fresh off a Canadian run, the occult rock alchemists in CASTLE today return to the road for a twenty-two-date European takeover. The latest stretch of onstage conjurings follows CASTLE's massive North American trek, which commenced on June 15th and has rolled steadily through the Fall months. The band's overseas journey includes performances at Old Grave Fest V in Romania Desertfest Belgium and Old Grave Fest V in Bucharest. Upon their return, the band will take a short break to recharge before joining Washington state riff rockers, Mos Generator, for a short West Coast tour. In December the tireless duo will return to the stage, this time in Japan with Guevnna!
To mark today's tour kick off, CASTLE, in cooperation with The Obelisk, is pleased to unveil their new video for "Down In The Cauldron Bog." The hymn comes by way of the band's Welcome To The Graveyard full-length issued earlier this year via Ván Records.
Elaborates The Obelisk, "With death as the central theme for its imagery, the track offers hooks, shred, groove, and melody all in kind, all in a package of songwriting that most bands would collapse on themselves even trying to replicate. I'm sorry, but after seeing them live this Summer, I'm not sure I'll ever be able to talk about CASTLE again without thinking of them as being woefully underappreciated and if you don't believe me, just do yourself a favor and really dig into Welcome To The Graveyard and go catch them when they invariably roll through wherever you live, if not on this tour, then the next one or the one after that. They'll get there sooner or later, no doubt."
Adds the band, "It's fitting that we're releasing the video for 'Down In The Cauldron Bog' as we kick off our European tour since we actually wrote it while we were in Europe last year. It was the first track we wrote for the new album and was really the catalyst that set the mood musically. The haunted melody seemed to come from the landscape and the inspiration for the words were from a book we were reading at the time, The Bog People. That idea mushroomed into a larger concept of death and rebirth that we used throughout the album and also serves as a backdrop to the video."
See for yourself, courtesy of The Obelisk, at THIS LOCATION.
CASTLE:
10/05/2016 Modra Vopice – Prague, CZ
10/06/2016 Durer Kert – Budapest, HU
10/07/2016 Old Grave Fest V – Bucharest, RO
10/08/2016 Lab Art – Volos, GR
10/09/2016 Death Disco – Athens, GR
10/11/2016 Titty Twister – Parma, IT w/ Universe217
10/12/2016 Lo Fi Club – Milan, IT w/ Universe217
10/13/2016 White Rabbit Club – Freiburg, DE w/ Universe217
10/14/2016 Hammerschmeide – Kassel, DE w/ Universe217
10/15/2016 Little Devil – Tilburg, NL w/ Universe217
10/16/2016 Desertfest Belgium – Antwerp, BE
10/17/2016 AZ – Aachen, DE
10/18/2016 Urban Spree – Berlin, DE
10/19/2016 Coq d'Or – Olten, CH
10/20/2016 UT Connewitz – Leipzig, DE w/ Conan
10/21/2016 Bambi Galore – Hamburg, DE
10/22/2016 Truckstop Alaska – Gothenburg, SE w/ Year Of The Goat
10/23/2016 KB18 – Copenhagen, DK w/ Year Of The Goat
10/25/2016 Freihafen – Gottingen, DE
10/26/2016 Gerber3 – Weimar, DE
10/27/2016 Ciemna Strona Miasta – Wroclaw, PL
10/28/2016 U Bazyla – Poznan, PL
w/ Mos Generator:
11/25/2016 Funhouse – Seattle, WA
11/26/2016 The Shakedown – Bellingham, WA w/ Year Of The Cobra
11/27/2016 Obsidian – Olympia, WA w/ Year Of The Cobra
11/28/2016 High Water Mark – Portland, OR
11/29/2016 Old Nick's – Eugene, OR
11/30/2016 G Street – Grant's Pass, OR
12/01/2016 Thee Parkside – San Francisco, CA
12/02/2016 Blue Lagoon – Santa Cruz, CA
12/03/2016 The Garage – Ventura, CA
12/04 /2016The Complex – Los Angeles, CA
w/ Guevnna:
12/08/2016 El Puente – Yokohama, JP
12/09/2016 Earthdo – Tokyo, JP
12/10/2016Osaka – Hokage, JP
12/11/2016 Huck Finn – Nagoya, JP
12/12/2016 Ruby Room – Tokyo, JP
Welcome To The Graveyard was captured by Billy Anderson (Sleep, Neurosis, Brothers Of The Sonic Cloth, Eyehategod, Ommadon et al) at Type Foundry Studios in Portland, Oregon and is currently available at THIS LOCATION. You can also check out videos for "Flash Of The Pentagram" and "Hammer And The Cross" below.
Welcome To The Graveyard has reaped critical accolades from fans and critics alike. Metal Hammer hails the band's "irrepressible combination of '70s doom, NWOBHM, musty-yet-in-your-face production courtesy of famed Neurosis/Melvins producer Billy Anderson, and the smoky, whiskey-stained vocals of Liz Blackwell," while Slug Magazine notes, "Welcome To The Graveyard is evocative of the heavy music I grew up on. 'Black Widow' is almost as if Lemmy's wraith returned to Motörhead for one last reunion track, epitomized through a youthful throat. Often, a doom metal group attempts to reach back into the Book Of The Dead and revive a slice of the style only to sound like a hopeless knock-off. CASTLE exemplify our generation's appreciation for the metal genre's foundation while providing a multitude of unique and eclectic intricacies that make their sound distinctive." Metal Bandcamp concurs, "Skulking like wraiths in a blackened landscape, the band charges through eight fairly short songs (only one squeaks past the five-minute mark) that grab you, rough you up, and leave you battered and bruised." In a 4.5/5 rating, Metal Riot names Welcome To The Graveyard, "a must own heavy metal purchase for 2016," furthering, "Through constant touring and refining of their bluesy witchy minimalist but raw powered thrash these champs of heavy metal bang for your buck have only gotten better with each release." The Sludgelord notes, "This is fantastic heavy metal of the most traditional kind, forged, I can only assume, in the fires of hell." Adds Angry Metal Guy, "If you haven't caught onto CASTLE yet, you're not taking a thing about your career as a metal fan seriously… Hear this, feel the power and glory and put on the vest!"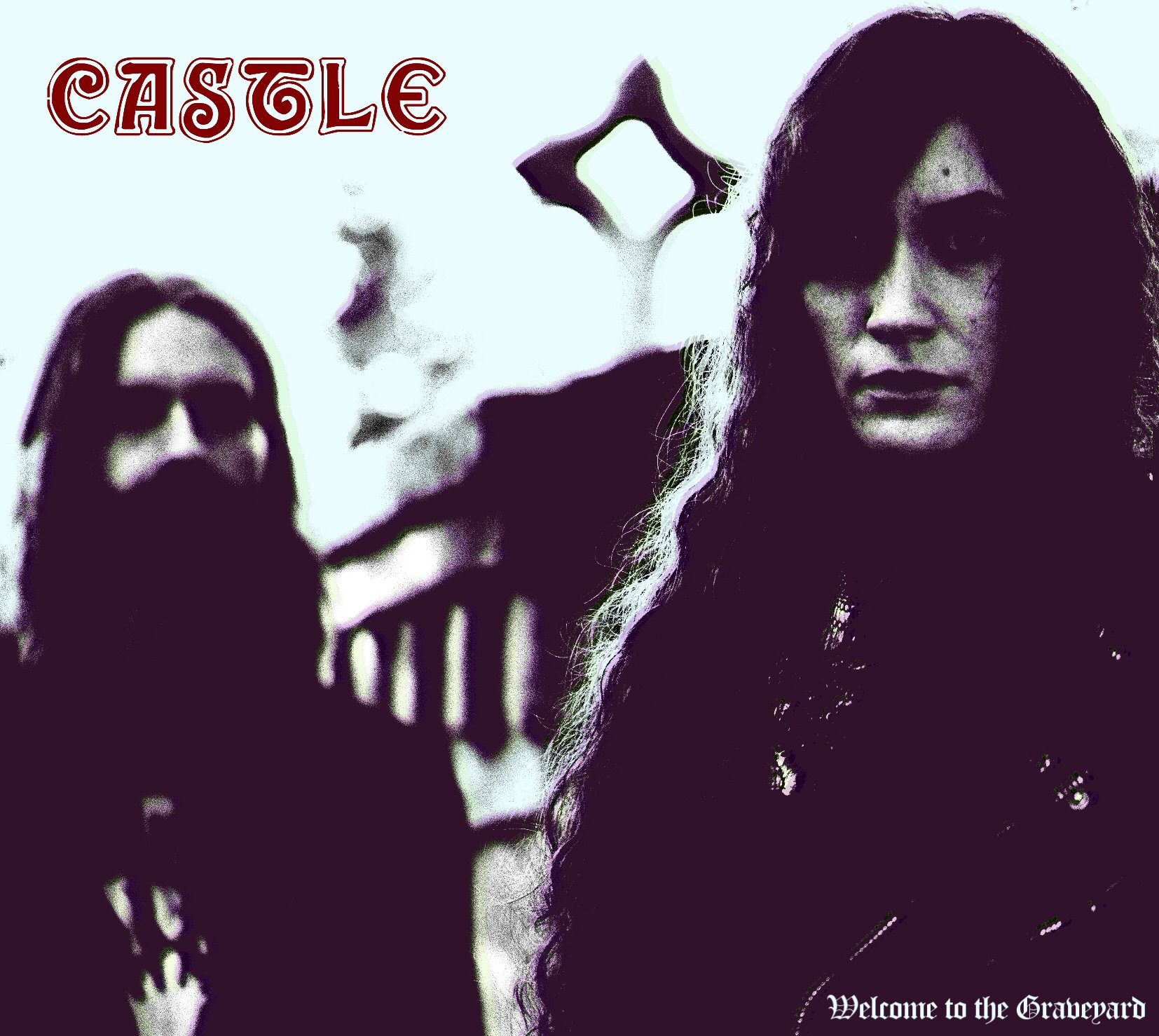 http://www.heavycastle.com
http://www.facebook.com/CastleSF
http://www.twitter.com/heavycastle