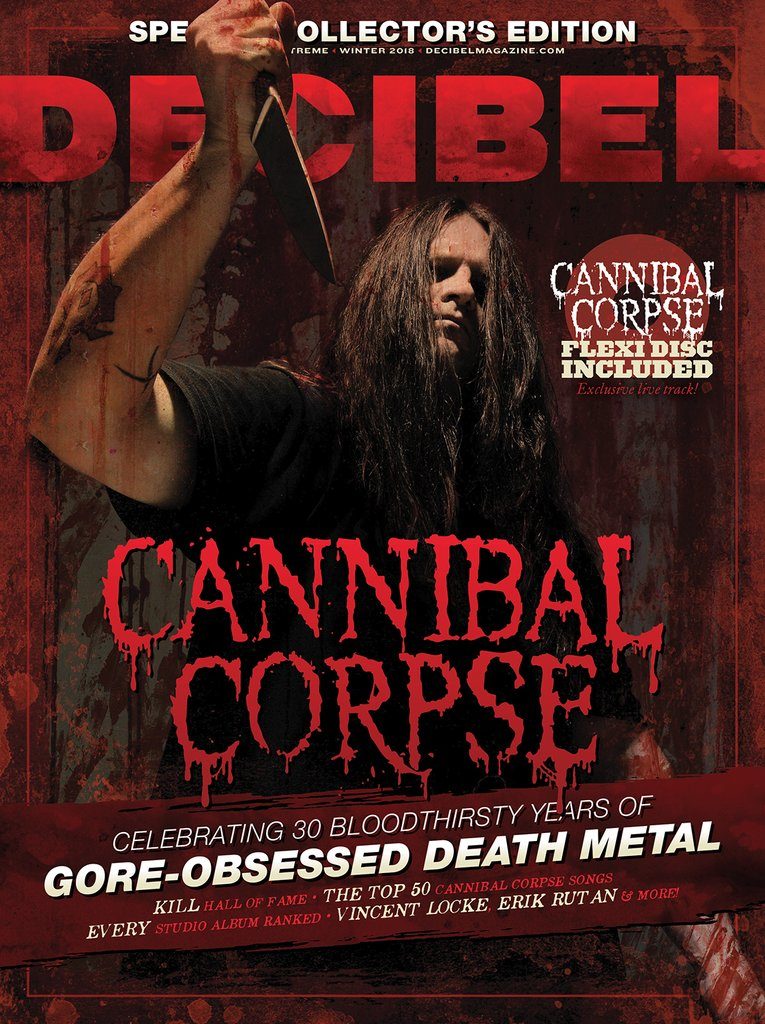 For thirty years, CANNIBAL CORPSE has sodomized you with meat hooks, mummified you in barbed wire and, of course, smashed your face in with a hammer. This year, Decibel Magazine is here to document every gruesome moment, with a limited-edition special issue dedicated to the band. Read up on how five horror maniacs went from amusing a certain pet detective to standing on top of the proverbial corpse pile of death metal, including:
— An Exclusive CANNIBAL CORPSE Flexi Disc
— Kill Hall Of Fame
— The Top 50 CANNIBAL CORPSE Songs Of All Time
— Every Studio Album Ranked
–Cover Artist Vincent Locke Interviewed
— Much, Much More!
This issue is NOT part of a Decibel subscription and the only way to get it is from the Decibel store. Purchase your copy now at: https://store.decibelmagazine.com/collections/special-issues/products/the-cannibal-corpse-special-issue-includes-flexi-disc
CANNIBAL CORPSE is currently on the road with Hate Eternal and Harm's Way. The band will return to US stages next year, coheadlining the Decibel Magazine Tour 2019 with Morbid Angel. Support will be provided by Blood Incantation and Necrot. See all confirmed dates below.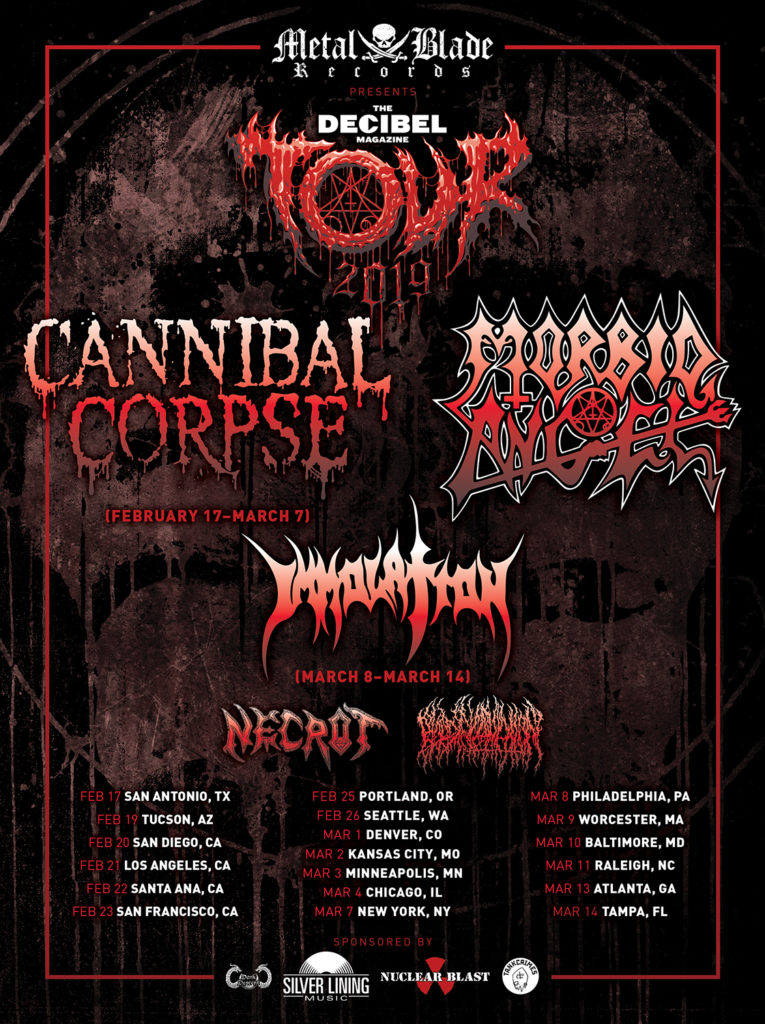 CANNIBAL CORPSE w/ Hate Eternal, Harm's Way [remaining dates]:
11/20/2018 The Waiting Room – Omaha, NE
11/21/2018 Diamond Ballroom – Oklahoma City, OK
11/23/2018 House Of Rock – Corpus Christi, TX
11/24/2018 Warehouse Live – Houston, TX
11/25/2018 The Varsity Theater – Baton Rouge, LA
11/27/2018 Cosmic Charlies – Lexington, KY
11/28/2018 Mr. Smalls Theatre – Pittsburgh, PA
11/29/2018 The Vogue – Indianapolis, IN
11/30/2018 Delmar Hall – St. Louis, MO
12/01/2018 The Blue Note – Columbia, MO
12/03/2018 Growlers – Memphis, TN
12/04/2018 Georgia Theater – Athens, GA
12/05/2018 The Abbey – Orlando, FL
12/06/2018 The Culture Room – Ft. Lauderdale, FL
Decibel Magazine Tour 2019 w/ Morbid Angel, Blood Incantation, Necrot:
2/17/2019 Alamo Music Hall – San Antonio, TX
2/19/2019 Club Xs – Tucson, AZ
2/20/2019 The Observatory – San Diego, CA
2/21/2019 The Fonda Theater – Los Angeles, CA
2/22/2019 The Observatory – Santa Ana, CA
2/23/2019 The Regency Ballroom – San Francisco, CA
2/25/2019 Roseland Ballroom – Portland, OR
2/26/2019 Showbox Market – Seattle, WA
3/01/2019 The Oriental Theater – Denver, CO
3/02/2019 The Truman – Kansas City, MO
3/03/2019 Skyway Theater – Minneapolis, MN
3/04/2019 The Concord – Chicago, IL
3/07/2019 Playstation Theater – New York, NY
CANNIBAL CORPSE released their acclaimed Red Before Black full-length last year via Metal Blade Records. Many words come to mind when you hear the name CANNIBAL CORPSE, but only one truly defines the soon-to-be thirty-year death metal veterans: Unstoppable. Produced by Erik Rutan (Hate Eternal, Goatwhore), Red Before Black serves to not only reiterate this but to once more raise the stakes, making it abundantly clear who sets the standard when it comes to manifesting consistently compelling music that is as brutal as it is complex. "Throughout our career, we've tried to improve the precision of both our musical execution and our album production, while still maintaining full-on aggression. Red Before Black continues in that direction, but might go even further on the aggressive side of things. It's definitely precise, but it has a rawness to it that goes beyond anything we've done recently," asserts bassist Alex Webster. "We really worked super hard crafting these songs, practicing them, and getting them where we wanted to be more so than on any of our previous albums," adds drummer Paul Mazurkiewicz. "And as Alex said, musically I think it's the rawest sound we've had – and at the same time I think it's our most focused, tightest, and catchiest record."
To preview and purchase Red Before Black, visit: metalblade.com/cannibalcorpse
http://cannibalcorpse.net
http://www.facebook.com/cannibalcorpse
http://twitter.com/CorpseOfficial
http://www.youtube.com/user/cannibalcorpse
http://www.metalblade.com
http://www.facebook.com/metalbladerecords