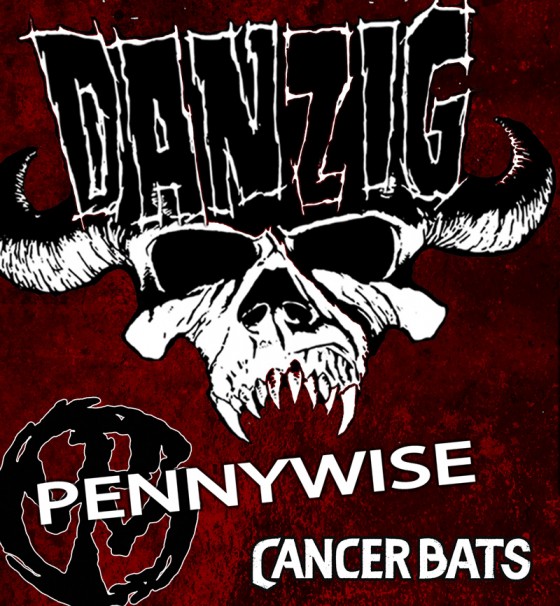 Canadian hardcore punk metallers, CANCER BATS, who are currently on tour in Europe, are ecstatic to announce theeir inclusion on a string of North American dates with Danzig and Pennywise this July! The tour will commence July 11th in Pomona, California and run through fourteen cities, coming to a close on July 31st in Las Vegas, Nevada.
Vocalist Liam Cormier commented via e-mail from Switzerland: "Were so excited to be heading out with Danzig and Pennywise! Both bands have been our favorites since we first got into punk and metal so to have a chance to tour with both is like a dream come true! We'll be ripping the pit and headbanging until we puke every night!!"
CANCER BATS' previously announced performances on June 25th and 26th in Calgary and Edmonton had to be cancelled. Cormier clarifies: "Calgary and Edmonton, I'm so sorry that we have to cancel our upcoming shows in June! You know how much we love you ripping babes and bros and we wouldn't do it if we didn't have good reason. The reason we can't play is because are coming back in July to party with fucking Danzig and Pennywise! It's going to be fuckin amazing! Sorry for June and see you in July!"
In the meantime, previously released CANCER BATS videos for the "Arsenic In The Year Of The Snake," "Satellites," and "True Zero" are currently streaming now at cancerbats.com. Fans in the US can order copies of Searching For Zero now at metalblade.com/cancerbats.
CANCER BATS w/ While She Sleeps:
4/15/2015 Dynamo – Zurich, CH
4/16/2015 Batschkapp – Frankfurt, DE
4/17/2015 Substage – Karlsruhe, DE
4/19/2015 Rockhal – Luxembourg, LU
4/20/2015 Petit bain – Paris, FR
4/22/2015 The Institute – Birmingham, GB
4/23/2015 The Ritz – Manchester, GB
4/24/2015 The Nick Rayns LCR, UEA – Norwich, GB
4/25/2015 Hit the Deck Festival – Bristol, GB
4/26/2015 Hit the Deck Festival – Nottingham, GB
4/28/2015 University – Newcastle, GB
4/29/2015 O2 ABC – Glasgow, GB
4/30/2015 Forum – London, GB
5/01/2015 Groezrock Festival – Meerhout, BE
w/ Danzig, Pennywise:
7/11/2015 Fox Theater Pomona – Pomona, CA *no Pennywise
7/12/2015 Pepsi Amphitheater at Fort Tuthill Park – Flagstaff, AZ
7/14/2015 Bayou Music Center – Houston, TX
7/15/2015 Aztec Theatre – San Antonio, TX
7/17/2015 South Side Ballroom – Dallas, TX
7/18/2015 Club Brady – Tulsa, OK
7/19/2015 Arvest Bank Theatre at The Midland – Kansas City, MO
7/21/2015 The Fillmore Auditorium – Denver, CO
7/24/2015 MacEwan Hall – Calgary, AB
7/25/2015 Shaw Conference Centre – Edmonton, AB
7/27/2015 Queen Elizabeth Theatre – Vancouver, BC
7/28/2015 Showbox SODO – Seattle, WA
7/30/2015 The Warfield – San Francisco, CA
7/31/2015 Brooklyn Bowl – Las Vegas, NV

During the summer of 2014, Toronto's CANCER BATS spent several weeks with legendary multi-platinum producer Ross Robinson (At The Drive-In, Slipknot, The Cure, Sepultura, Glassjaw) at his studio in Venice, California. The Canadian act was pulled out of their normal, more winter-y element to the beaches of California for the tracking of Searching For Zero. Robinson and the band shared a singular vision to create a personal, vibrant album and the results are apparent. In the series of four studio videos, the CANCER BATS — Liam Cormier, Scott Middleton, Jaye Schwarzer, and Mike Peters — will share their experiences during tracking, what it was like to work with Robinson and what made this recording session different from their previous records. Jaye Schwarzer stated in one episode, "Let everything that's fake and bullshit fall to the wayside, and you're left with like a raw, open wound." Watch episode 1 now at youtube.com/cancerbatsofficial and pre-order your copy on iTunes!
The beloved multiple-JUNO nominated hardcore punk metal band's fifth studio album, Searching For Zero, features ten tracks that are simultaneously the most melodic, yet menacing CANCER BATS tunes compositions to date. The record incorporates the crude hardcore punk of their 2006 debut, Birthing The Giant, and the more metal leanings of 2008's Hail Destroyer, while pushing the heavy hybrid sounds of 2010's Mayors Bears Scraps And Bones and 2012's darker Dead Set On Living to a new plateau. The choruses are hookier, the screams more savage, the riffs more vicious, the songs more powerful. This is CANCER BATS at their pinnacle – their "True Zero."
http://metalblade.com/cancerbats/
http://www.facebook.com/cancerbats
http://twitter.com/cancerbats
https://www.youtube.com/cancerbatsofficial