Spoken arts and deluxe vinyl label Cadabra Records, in arrangement with Bleak December Inc., is extremely proud to announce the impending release of one of the defining stories in the history of horror literature and culture, with BRAM STOKER's Dracula. The LP features an incredible cast, most notably highlighting Hollywood veteran Tony Todd reading as Count Dracula himself. Bloody-Disgusting is now hosting an exclusive audio clip of this new adaptation of the horrifying classic.
Celebrating three decades since making his professional acting debut in 1986, Tony Todd has starred in nearly 200 feature films and television productions in his career, including major action blockbusters including The Rock, Platoon, The Crow, Final Destination, and most notably, his infamous lead role as The Candyman. Todd's tone and delivery capture the portentous and ominous nature of Count Dracula with chilling effects on this shortened adaption of the famous Bram Stoker novel, which bridges the most horrifying scenes from the nearly one-hundred-twenty-year-old classic. Dracula was adapted for audio by actor/director Anthony D.P. Mann, who stars as Dr. Van Helsing. Mann is widely known for acting and directing recent film adaptations of A Christmas Carol, Phantom Of The Opera, Terror Of Dracula, and more. The story is scored with music by Brent Holland, which, combined with the cast's Broadway-style delivery, carries a dramatic, visceral, immersive quality to the entire presentation.
Issues Tony Todd of his participation in the project, "I'm so proud to lend my voicings to Bram Stoker's Dracula. 'I walk among men…' I wish to add to Lugosi's legacy. Stay tuned."
Bloody-Disgusting has hosted an audio stream of a sample of the A-side of Dracula, the write-up accompanying the clip noting of Tony Todd's frightening performance, "He brings a sinister yet hypnotic presentation, his gravelly voice perfectly representing the age and mystery of the infamous vampire."
Experience the clip of Bleak December's Dracula adaptation, as performed by Tony Todd and cast, only at Bloody-Disgusting RIGHT HERE.
Cadabra Records will issue preorders for Dracula tomorrow, Friday, December 2nd, at 12pm EST, at THIS LOCATION. The records will ship on or by February 24th.
The limited first pressing of Dracula will be delivered on 150-gram vinyl in a run of 500 copies, with 160 on red and black swirl, 40 in hand-dipped blood splatter, and 300 on grey marble. The records are housed in a deluxe gatefold tip-on jacket, the art printed with metallic silver ink over black, with spot varnish, and contain an insert with liner notes by producer Anthony D. P. Mann, all shrouded in newly-commissioned art by Dylan Garrett Smith.
Dracula Cast:
Tony Todd … Count Dracula
Anthony D.P. Mann … Dr. Van Helsing
Steve Spencer … Detective Holmwood
Becca Fryer … Lucy Seward
Dave Hudson … Dr. Seward
Nikolas Yuen … Marcus Renfield
Richard Boyer … Attendant
Robin DeKleine-Stimpson … Beggar Woman
Ilke Hincer … Ship Captain
Lisa Mann … Woman in Crowd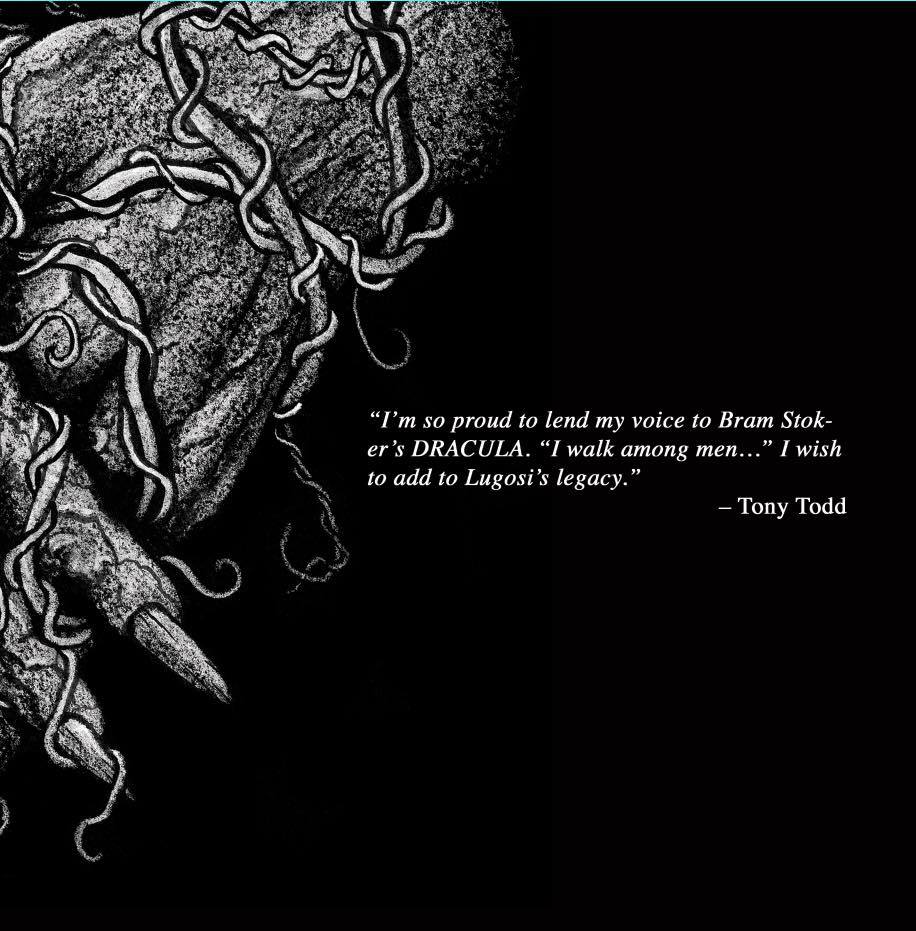 http://www.facebook.com/cadabrarecords
http://www.cadabrarecords.com
http://www.twitter.com/cadabra_records
http://www.instagram.com/cadabrarecords