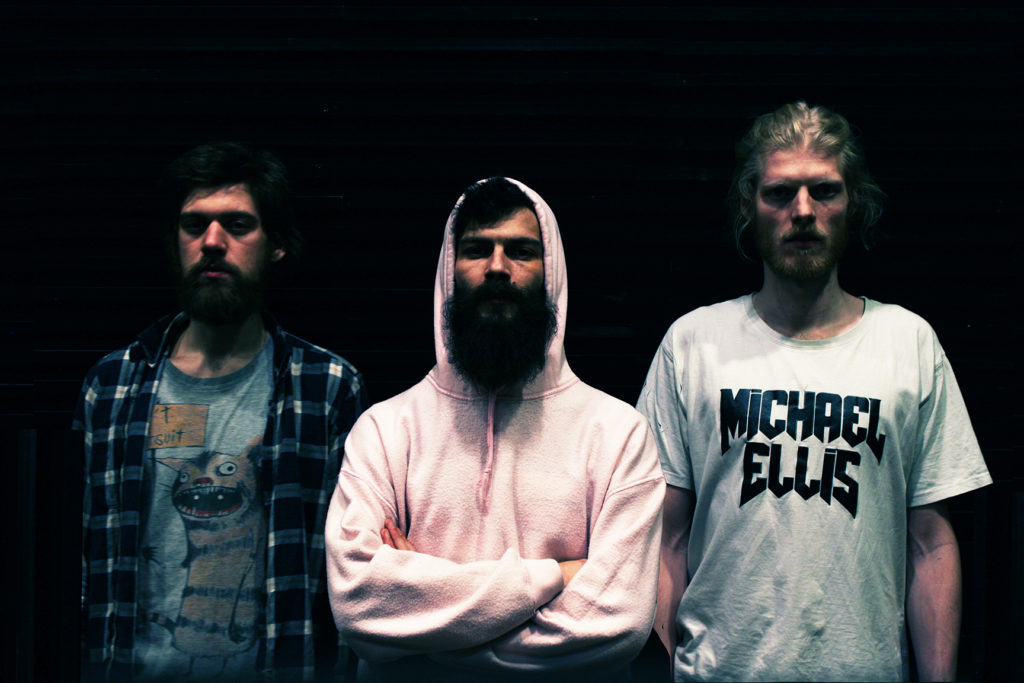 photo by Aurelijus Užameckis
Following the Nefarious Industries release of their eponymous debut early this year, Copenhagen-based experimental metal/pop trio BYE BYE TSUNAMI presents a new video for the record's title track, hosted through an exclusive premiere at PopMatters.
Recorded in Copenhagen in September 2020, BYE BYE TSUNAMI's debut EP sees the core trio – Lorenzo Colocci (flute, flaubosax, electronics), Søren Høi (drums), and Uldis Vitols (bass) – joined by guest vocalist Praytell, the record mixed by Marco Colocci and completed with art by Nathan L.
With the new video, Colocci reveals, "'Bye Bye Tsunami' was one of the first compositions of the band and the only one including more elaborate lyrics expressing and reinforcing the aesthetic of the group. For the voice, we contacted Danish emerging artist Praytell and we were impressed by his edgy productions and unique voice style: it secretes all the despair and sense of futility of the modern beings, and as we listened to the first take, he made on the song, we were excited and disturbed, it was unusual, and therefore we knew it was exactly what we wanted."
About the track's visual accompaniment he continues, "The video clip was filmed only one evening, by myself and bassist UldisV, and it was supposed to include animation and massive editing, but we were so fascinated by the first spontaneous result, that we decided to keep it like that: either you get, and love it, or not, and you will never. The banana appearing in the video on the part of the protagonist, despite it may look like a common banana, is an experienced fruit that took an active part in the artistic direction of the production, and it is from the beginning one of BYE BYE TSUNAMI's most trusted advisor and collaborator."
PopMatters writes with the video's premiere, "One of the most pleasant surprises in the extreme/experimental music sphere dropped at the very beginning of the year. Hailing from Copenhagen, BYE BYE TSUNAMI encapsulate our age's chaotic and frenetic spirit in their self-titled EP, released through the ever-fascinating Nefarious Industries… the trio rushes through an exquisite array of sounds and genres. The noise rock of Lightning Bolt is right there, the structures punishing all, but so is a pop sensibility. It is stunning to see how easily they can change from the harsh and relentless to moments of introspective IDM influence or freestyle, mutated folk-infused flutes. And do not even get me started on this self-built instrument of chaos they have created, the entropic flaubosax!"
Watch BYE BYE TSUNAMI's new video first through PopMatters now at THIS LOCATION.
Bye Bye Tsunami is out now on Nefarious Industries digitally and as a limited cassette at the landing page where the "Holdin' Banana Spiders Through The Folds Of Time/Space" and NSFW "Pornceptual" videos are playing HERE.
BYE BYE TSUNAMI's experi-metal/post-mental sounds hail from planet 無, by way of Denmark. The group is formed by three sick individuals who thrive in uncertainty and find delight in the entropy of noise, employing disrupted rhythms, unique/self-built futuristic wind instruments, and heartbreaking cyborg screams to expand the musical language beyond its wildest horizons. Scavenging the distressing remnants of a future no one wished for, the band is redefining the new era of post-real. The members first met in pre-pandemic Copenhagen after being respectively active in the noise/experimental/jazz/metal scenes of Berlin and Amsterdam in addition to their home city. Willing to realize their life dream of forming a dysfunctional boy band, in 2020 they finally give birth to BYE BYE TSUNAMI: monsters giving birth to other monsters.
The band immediately captured the attention of the public with its unique sound imprint, their compositions based on the Flaubosax: a unique self-built futuristic wind instrument conceived by Colocci's twisted mind. Generating new soundscapes with the use of a personal asymmetrical tonal system and interacting with complex powerful drum rhythms, they lead the music through disrupted absurd forms and post-industrial spiritual textures. The aesthetic and video works, curated by fictional audiovisual artist Nathan L., merge meticulously in a truly visionary dystopian universe, which, despite its frenetic nature, possesses a paradoxical sense of poetic and emotional sensibility, raising highly relevant questions about the role of social media, advertisement, and gender in contemporary society.
https://byebyetsunami.bandcamp.com
https://nefariousindustries.com
https://nefariousindustries.bandcamp.com
https://facebook.com/nefariousIndustries
https://instagram.com/nefarious_industries
https://twitter.com/nefariousInd