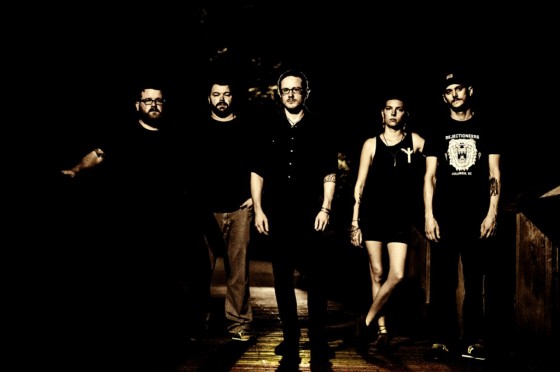 [photo by Sean Rayford]
Closing a two-year gap since their debut album, Columbia, South Carolina's ultra-avant/eclectic punk antagonists, BURNT BOOKS, have hooked up with independent label Retro Futurist, founded by members of Kylesa, for the release of their recently completed second full-length, Where There's Smoke There's Fire.
BURNT BOOKS formed in October 2011, its members hailing from a variety of local bands. Matt Thompson and Troy Thames of Guyana Punch Line and Thank God joined Joey Parker and Chuck Sligh of Tunguska to create the blended driving force of Burnt Books, and the addition of Zoe Lollis brought beautiful yet brutal vocals to the fold adding another force all together. After touring on their self-titled debut album which rocketed forth through At A Loss Recordings in January 2013, the band started writing with a more refined vision and focus, and having known the band for some time and seen their tight yet emotionally raw live shows, Retro Futurist Records proposed to release their follow-up album.
As with their debut, BURNT BOOKS once again enlisted Phillip Cope (Kylesa, Baroness, Lazer/Wulf) to produce their follow-up LP, Where There's Smoke There's Fire, at The Jam Room Recording Studio in the band's hometown. Having envisioned a musical scope of intense emotions and vitality within their songwriting and delivery, the group takes the listener on a musical roller coaster with Where There's Smoke There's Fire, blending their own mix of noisy hardcore, post-punk, mesmerizing and angular riffing and Lollis' skin-crawling growls, wails, and mocking tones.
Cvlt Nation has released the BURNT BOOKS' dynamic "Stupid Game" in an exclusive premiere; listen now at THIS LOCATION.
The CD and digital versions of Where There's Smoke There's Fire will be available March 20th through Retro Futurist Records and BURNT BOOKS directly, with vinyl and cassette versions to follow this Summer. Preorders for the CD are available HERE.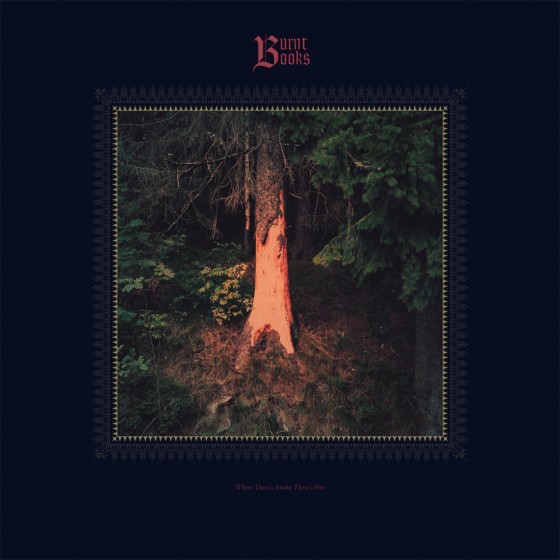 Where There's Smoke There's Fire Track Listing:
1. Escape
2. Shadow I Cast
3. Useless Emotions
4. Those Arms
5. Bridges
6. Stupid Game
7. The Harm We've Done
8. Burn Virgin
9. La Rosa
Following the recording of Where There's Smoke There's Fire, Troy Thames left the band, but the new four-piece lineup of BURNT BOOKS is already set to hit the road in support of the new album, having secured a local record release show on March 20th, the day of the album's release. Just two weeks later the band hits the road for an eleven-city run with labelmates Crazy Bag Lady — who also has a new release pending through Retro Futurist — running from April 2nd through 12th and including shows with Sea of Storms (ex-Wow, Owls, Mouthbreathers, Tigershark, Torturess (ex-Racebannon, Medusa) Cinemechanica (ex-Manray) and more.
BURNT BOOKS Tour Dates:
3/20/2015 New Brookland Tavern – Columbia, SC *record release show w/ Glittoris, UnInhabitable, more
4/02/2015 Milestone – Charlotte, NC w/ Crazy Bag Lady, Sea Of Storms, Pig Mountain [info]
4/03/2015 Odditorium – Asheville, NC w/ Crazy Bag Lady, Sea Of Storms, Uninhabitable, Spliff
4/04/2015 25 Watt – Richmond, VA w/ Crazy Bag Lady, Sea Of Storms, Slowing [info]
4/05/2015 The Ottobar Upstairs – Baltimore, MD w/ Crazy Bag Lady
4/06/2015 Legion Of Doom – Columbus, OH w/ Crazy Bag Lady, Checkmate [info]
4/07/2015 Fifth Quarter Lounge – Indianapolis, IN w/ Crazy Bag Lady, Torturess, Voidweaver [info]
4/08/2015 The Bishop – Bloomington, IN w/ Crazy Bag Lady, Torturess, Wounded Knees [info]
4/09/2015 The Stone Fox – Nashville, TN w/ Crazy Bag Lady. Sky Burial, Thetan, Subject/Rulers [info]
4/10/2015 Poison Lawn – Knoxville, TN w/ Crazy Bag Lady
4/11/2015 Caledonia – Athens, GA w/ Crazy Bag Lady, Cinemechanica, Harsh Words, Savagist
4/12/2015 New Brookland Tavern – Columbia, SC w/ Crazy Bag Lady, Cinemechanica
5/02/2015 Caledonia – Athens, GA
5/19/2015 TBA – Atlanta, GA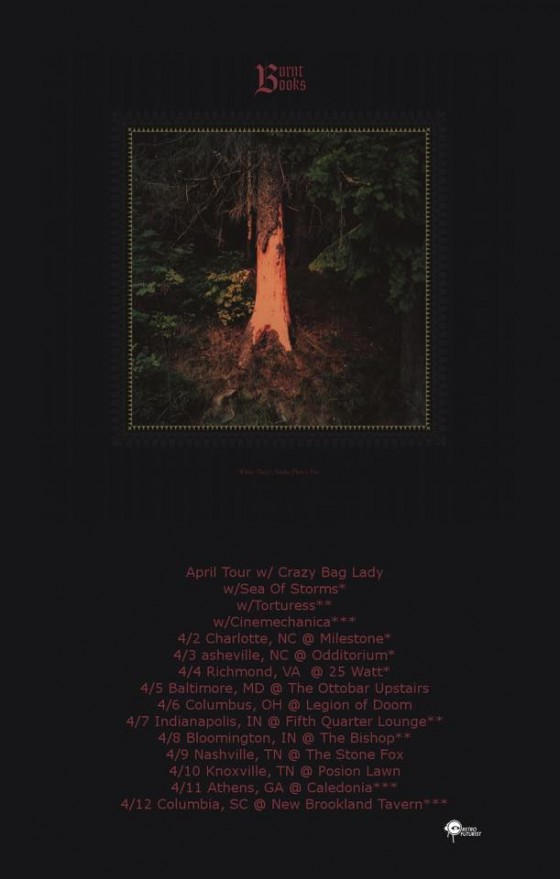 http://www.facebook.com/Burntbooks
http://retrofuturistrecords.com
http://retrofuturist.bandcamp.com