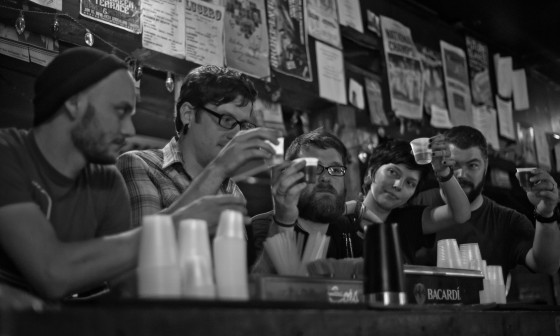 Today, Decibel Magazine jams the jagged opening track from Columbia, South Carolina's BURNT BOOKS' self-titled debut album, set for CD and digital release via At A Loss Recordings worldwide on January 29th, with a vinyl version to follow later in the year.
BURNT BOOKS formed in October of 2011 born from musicians from a vast array of previous and current local bands. Guitarist Matt Thompson and drummer Troy Thames came from both the "smashist revolutionaries" Guyana Punch Line and experimental punkers Thank God (Thompson as bassist in both). Troy also participated in ex-Antischism/Initial State killers .fuckingcom. Bassist Joey Parker and guitarist Chuck Sligh helped provide the heavy riffage and crazy time signatures of Tunguska. Finally, Zoe Lollis had previously been performing solo shows utilizing only her banjo and voice.
On their first album, BURNT BOOKS' noisy hardcore/punk comes to life with Lollis' growls, wails, and mocking tones coalescing with the high-paced and artistically-reconfigured punk/noise rock constructed of angular riff madness, with interludes of simply Zoe's clean vocals and banjo, all help expand the band's whole approach. The nine-track album was recorded at The Jam Room with Phillip Cope (Kylesa, Baroness, Dark Castle), was mastered by Colling Jordan (YOB, Twilight), and bears cover art by Sam Ford (Black Cobra's Invernal, etc.).
Get scorched by the opening track from Burnt Books with "Selfish Friend" via the Deciblog RIGHT HERE.
BURNT BOOKS' previously announced East Coast tour has undergone some reconstruction since previous announcements, and the newest itinerary is listed below, with additional live ambushes to be conducted sporadically and incessantly into the coming year.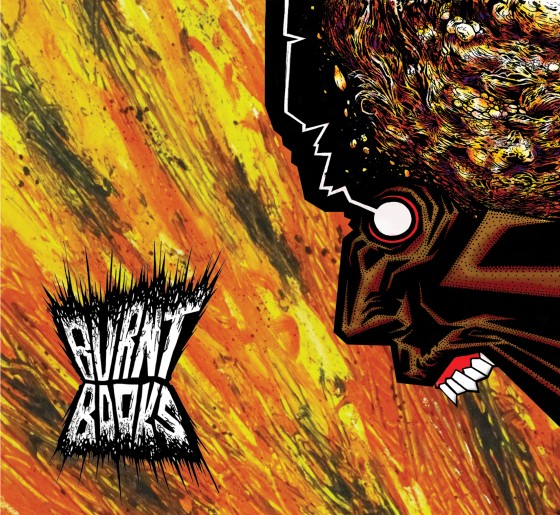 Burnt Books Track Listing:
1. Selfish Friend
2. Empty Eyes
3. Dig A Little Deeper
4. Materialist Conspiracy Theorist
5. Abandoned
6. In A Shallow Grave
7. Unforgiven
8. Liar
9. Golden Gates, Golden Streets
10. Pretty Daughters
BURNT BOOKS East Coast Live Actions:
12/12/2012 New Brookland Tavern – West Columbia, SC
12/13/2012 Nile Ethiopian Restaurant – Richmond, VA w/ The Catalyst
12/14/2012 The Sidebar – Baltimore, MD w/ Congenital Death, Nothing Is Over
12/15/2012 The Bikery – South Philadelphia, PA w/ Old Lines
12/16/2012 Death By Audio – Brooklyn, NY w/ Old Lines
12/17/2012 The Place – Brooklyn, NY
1/25/2013 Tin Roof – Charleston, SC
1/26/2013 New Brookland Tavern – West Columbia, SC
http://deadlanguage803.bandcamp.com
http://www.facebook.com/Burntbooks
http://www.atalossrecordings.com
https://www.facebook.com/atalossrecordings