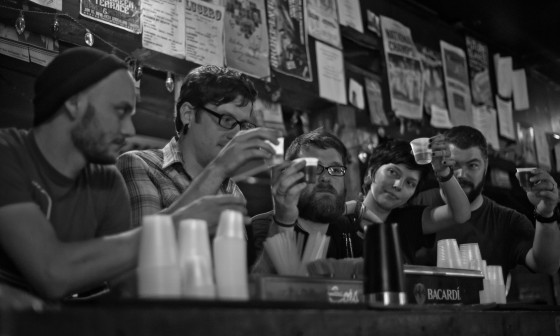 Following its digipak/digital release in January via At A Loss Recordings, this week the label releases the info for the pending LP and cassette versions of the self-titled debut full-length from Columbia, South Carolina's BURNT BOOKS. Both new formats are set to hit on September 24th, the first pressing of the wax will be made available in a run of 322 on clear gold wax with orange and black marble and 105 copies on black, and the cassette manufactured in bright yellow, so both heighten the bold cover art by Sam Ford (Black Cobra, Wizard Rifle, etc.). Preorders for both formats are up and running here.
BURNT BOOKS have been persistently playing throughout the Southeast in support of the album all year and the tradition continues with more shows confirmed for the remainder of Summer and well into the Autumn months. One of the highlights coming up is a slot on the 12th annual installment of The Fest in Gainesville, Florida the first weekend of November where BURNT BOOKS will join the dozens and dozens of bands performing at the massive punk festival including All, Ann Beretta, The Bouncing Souls, Boy Sets Fire, Code Orange Kids, Paint It Black, Samiam, Torche and tons more. View the current tour itinerary below and stay tuned for more updates to be delivered shortly.
View BURNT BOOKS' official "In A Shallow Grave" video and live footage below, and stream all of Burnt Books at Invisible Oranges.
Featuring a cast of locals who have done time in Guyana Punch Line, Thank God, .fuckingcom, Tunguska and more, BURNT BOOKS' smoldering message has been spread over recent months due to their heavy touring in support of their self-titled debut, released in late January via At A Loss Recordings. The frenetic energy of the quintet's live shows carries through on the album, the whirlwind of eclectic punk, angular post-hardcore riffage and noise rock elements infiltrated by elements of artistic Americana where mangled, wailing and mocking vocals coalesce with angst-ridden guitars and even banjo segments. Burnt Books was captured at The Jam Room with Phillip Cope (Kylesa, Baroness, Dark Castle) and mastered by Colling Jordan (YOB, Twilight).
BURNT BOOKS Tour Dates:
8/31/2013 The Atticus at WVRM Fest – Jacksonville, FL
9/01/2013 The Barbershop – Savannah, GA
9/02/2013 529 – Atlanta, GA
9/19/2013 New Brooklyn Tavern – West Columbia, SC
9/20/2013 The Odditorium – Asheville, NC
9/21/2013 The Courtroom – Rock Hill, SC
10/31/2013 New Brooklyn Tavern – West Columbia, SC
11/01/2013 TBA
11/02/2013 TBA
11/03/2013 The Atlantic – Gainesville, FL @ The Fest [info]
"This is a very promising starting point for Burnt Books. Chaotic hardcore riffage, quirky vocals and banjos are a match made in heaven apparently…a complete mind eradicator in the best possible way. 9/10" – American Aftermath
"…a searing experiment in the fusion of noise, hardcore and punk. While the instrumentation is wild and rollicking – the familiar energy of punk chords shading into an atonal frenzy – it is Zoe Lollis's vocal performance that takes centre stage. Incorporating eerie clean singing, hardcore growls, ghostly wailing and the snotty tone of schoolyard taunts, it's a nimble and varied performance that serves as the burning nucleus of the record. 8/10" – Exclaim!
"South Carolina sludge-punk crew Burnt Books take notes from bands like Mastodon, Melvins, Today is The Day, and Kylesa to form their odd and toxic brew of maleficence." – Invisible Oranges
"This debut release proves that there are still punk bands out there that not only find interesting ways to communicate their message sonically, but also lyrically, too." – Verbicide Magazine
"Everything that the band has brought to the table has given them a distinction that is desperately needed in these times of metal redundancy… one of the most impressive metal debuts in years." – Lithium Magazine
"Exhilarating doesn't even begin to describe this groups energy and technical achievements. One of the best out in 2013." – Sound Colour Vibration
http://deadlanguage803.bandcamp.com
http://www.facebook.com/Burntbooks
http://www.atalossrecordings.com
https://www.facebook.com/atalossrecordings