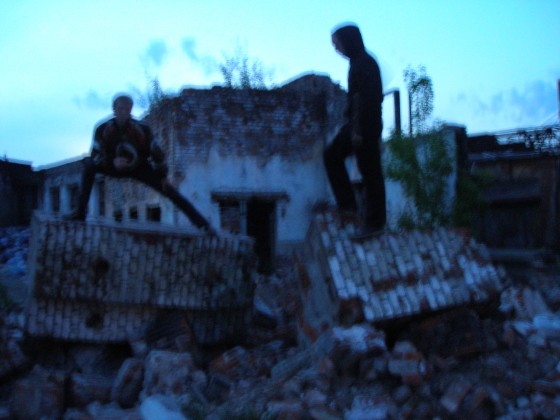 As Selfmadegod Records releases the debut recordings from new cutting edge Norwegian grindcore duo, BRUTAL BLUES, Invisible Oranges cross-examines the band on their blazing tactics, the interrogation now running alongside a stream of the entire self-titled debut mini-album.
Comprised of guitarist/vocalist Steinar (Psudoku, Parlamentarisk Sodomi, BxSxRx) and drummer/vocalist Anders (Blodsprut, Moha!, Noxagt, Ultralyd), BRUTAL BLUES unleashes blisteringly fast, raw, revolutionary grindcore for diehard fanatics of Antigama, Discordance Axis, Human Remains and the like, with as much finesse applied to dissonant, swirling elements as the simply pulverizing topical devastation which thunders directly at the listener with tsunami-like speed and force. Recorded DIY at the legendary Rifferiet in Norway and mixed by Anders, and the artwork designed by Steinar and Leon Tomatis, those familiar with the members' previous acts should expect nothing less than sonic devastation.
"It's a complimentary match," the detailed questionnaire accompanying the BRUTAL BLUES stream includes. It continues, "The duo display a sort of rhythmic ESP without losing their own distinguishing characteristics. Anders has a knack for evolving repetitive grooves with subtle variations. Steinar's off-kilter downstrokes and discordant spasms manage to swing while being bewildering. Combined, it's the best of both worlds.
Get down with the full debut BRUTAL BLUES experience at Invisible Oranges now RIGHT HERE.
US extremists into purchasing the Brutal Blues MCD can do so now ahead of street date at THIS LOCATION, while European fans can order HERE. An LP version will see release through Drid Machine Records (Norway) and Nerve Altar Records (USA). Don't forget to watch the amazing trailer on the release HERE.
Having just completed a two-week European tour in support of the release, BRUTAL BLUES will continue to inundate the masses with new live shows through the rest of the year.
BRUTAL BLUES Tour Dates:
10/01/2014 Bei Ruth – Berlin, Germany w/ Batalj
10/09/2014 Cave 12 – Geneva, Switzerland
10/10/2014 Gaffer Fest – Lyon, France
10/17/2014 Bloodshed Fest – Eindhoven, Netherlands
10/18/2014 OCCII – Amsterdam, Netherlands
10/19/2014 Worm – Rotterdam, Netherlands
http://zkam.org/bb
https://soundcloud.com/brutal-blues
http://www.selfmadegod.com
http://www.facebook.com/selfmadegod
https://www.soundcloud.com/selfmadegodrecords
http://www.youtube.com/user/SelfmadegodRecords