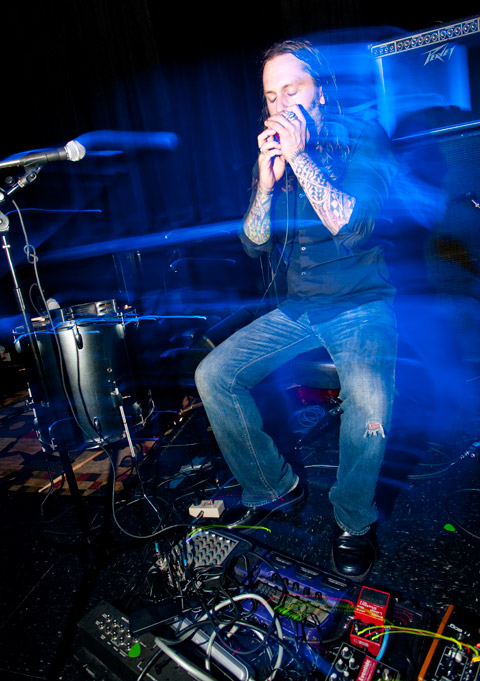 Multi-instrumentalist and vocal sorcerer BRUCE LAMONT (Yakuza, Bloodiest, Circle Of Animals, Led Zeppelin 2) has confirmed a string of solo tour dates for this month, leading up-to and following his action-packed and diverse set of shows at this year's annual SXSW congregation in Austin.
LAMONT will be collaborating with random other musicians and artists on several of the shows — similar to the impromptu live sets he pulled-off at last year's SXSW with Eyehategod's Mike Williams and Castevet's Andrew Hock, and just last month with Scott Kelly of Neurosis/Shrinebuilder on his current solo tour. Additionally the tour will showcase LAMONT performing with an array of artists during the run, including Rwake, Zoroaster, Andrew W.K., Alcest and more, including supporting Nachtmystium and The Atlas Moth on a majority of the appearances.
On these upcoming appearances BRUCE LAMONT will be performing versions of some of the material on his debut solo album Feral Songs For The Epic Decline — which received massive media praise including Alarm Press, Decibel, Stereogum, Terrorizer and even a place in Spin Magazine's 2011 year-end metal lists — as well as newer material he's been concocting since the album's release in January 2011. As with his previous solo tours over the past two years, LAMONT will be executing multiple instruments and a plethora of vocal styles, with an incredibly layered looping system that culminates into some of the most entrancing live solo artist work one could ask for. Rumor has it fans can also find LAMONT guest bartending and otherwise partying hard throughout the SXSW circuit when he's not performing.
Check out live BRUCE LAMONT footage — including a full solo set filmed in Moscow last May as well as recent footage of him performing a cover of Neil Young's "Cortez The Killer" with Scott Kelly — below the dates:
BRUCE LAMONT solo tour dates:
3/11/2012 Fubar – St. Louis, MO w/ Nachtmystium, The Atlas Moth
3/12/2012 Downtown Music – Little Rock, AR w/ Rwake, Zoroaster
3/14/2012 Stephen F's Bar – Austin, TX @ SXSW show w/ Eric Harvey
3/15/2012 Elysium – Austin, TX @ SXSW Reggie's Rock Club Showcase
3/16/2012 Longbranch – Austin, TX @ SXSW Century Media showcase w/ Andrew W.K., Nachtmystium, The Atlas Moth, more
3/17/2012 Lovejoys – Austin, TX @ BrooklynVegan SXSW showcase w/ Alcest, Nachtmystium, more
3/18/2012 Lovejoys – Austin, TX w/ Nachtmystium, The Atlas Moth
3/19/2012 Queen City Hall – Dallas, TX w/ Alcest, Nachtmystium, The Atlas Moth
http://www.myspace.com/brucelamont
http://www.atalossrecordings.com
https://www.facebook.com/atalossrecordings