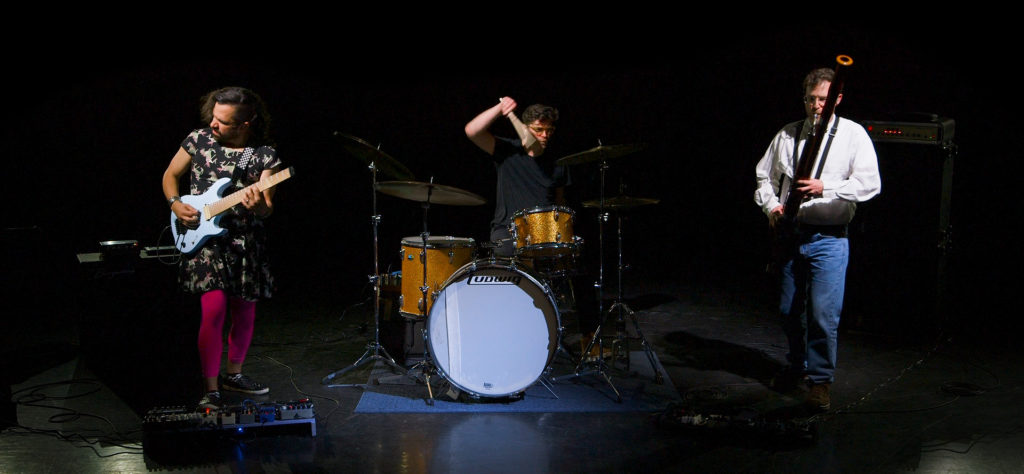 photo by WellSaidMedia
Nefarious Industries presents The Cataclysmic Engine, the electrifying fifth studio full-length from Ithaca, New York-based experimental rock trio, BRIAN!, confirming the album for a late October release and issuing its cover art, track listing, preorders, and lead single/video, "Rose."
Bassoon driven avant-garde trio BRIAN! covers a variety of introspective themes and sonic concepts on The Cataclysmic Engine. Nine angular and heavy compositions blend whole-tone, non-western, modal scales with frenzied meter and tempo while taking inspiration from finding queer identity ("Rose"), the awe of passionate relationships blossoming out of childhood trauma ("Intemperate to Death"), and embracing brevity when dealing with vulnerability ("Smol").
BRIAN! was formed in 2009 by classically trained bassoonist David Resig and experimental multi-instrumentalist Bubba Crumrine (Amok & OK, solo, Mouth To Mouth To Mouth). The duo released the playful and explorative EEEEP in 2010 prior to inviting percussionist Willie B (Tzar, Johnny Dowd, Black Castle, Jaimie Lidell, Eszter Balint, Jayne County) to fill out the vision for their self-titled second release featuring five Rock In Opposition, free jazz, and prog-inspired tracks, including the nearly sixteen-minute epic, untitled closer.
In the past decade since their formation, BRIAN! has shared the stage with Guerilla Toss, Kayo Dot, Giraffes? Giraffes!, Tyondai Braxton, Behold The Arctopus, Upsilon Acrux, Bangladeafy, Desertion Trio, Les Rhinoceros, Many Arms, Charlie Looker, Amirtha Kidambi/Elder Ones, Sarah Hennies, Powerdove, Too Many Zooz, Zevious, and many more.
The 2015 full-length Wooden Circuitry became the trio's most subtle release, splitting between less distorted instrumentals and vocally driven free form tracks such as "The Eternal Spiral Of Consequence" and "Subsequent Mastery Of One's Own Disposition." The album is a step out of depression and a question of what comes next.
Chasms Of Color And Thought was released in 2018 and found BRIAN! embracing a heavier ferocity, writing in full collaboration mode, issuing an angular to ambient adventure which oscillates between rock and avant-garde. Armed with new effects, adding baritone guitar, and the return of synth and samplers, the ambitious release includes the eleven-minute title track, a bassoon solo titled "vs. Goliath", and the sixteen-minute closer "Into Dust" to evoke a journey through the new, the old, and the unexplored.
In August 2018, with drummer Willie B overseas, Emily Jackson (Oxtet) and Alejandra Marie Diemecke (La Llorona, The Ilium Works) graciously brought their talents to BRIAN! for an exclusive live performance raising funds for local not-for-profit Ithaca Underground and released in January 2019 as Minimum Donation. Armed with vibraphone, rototoms, goat hooves, violin, voice, and more, this one-time-only quartet performance brought the band into new sonic landscapes with an adaptation of "Into Dust" and the improvised "Marimshot Cavalcade."
Inspiration struck in the summer of 2019 to forge the next LP after recording and performing the punishing composition "Quartermaster" for Josh Oxford's OXified. The result is a coalescence of the band's characteristic sounds distilled to their purest, most direct, and urgent form. Resig and Crumrine trade lead, rhythm, and low-end responsibilities while Willie B propels the trio with deft creativity on the kit. The band is joined by saxophonist Keir Neuringer (Irreversible Entanglements, Dromedaries) who performs saxophone on "Wholed" and bass clarinet on "Vibrato." The Cataclysmic Engine was recorded, mixed, mastered by Matthew Saccuccimorano at Electric Wilburland Studio, and completed with artwork by Sam "Skullboy" Mameli.
The album's lead single "Rose" is delivered through a video created by WellSaidMedia. The song is a tight, instrumental, Crimson-esq track delivered with prog-punk spirit. Amplified bassoon and metallic guitar trade whole-tone riffs over propelling percussion, culminating in a head-nodding, meter-shifting breakdown. Inspired by the path of finding queer identity, "Rose" is an expression of guitarist/vocalists Bubba Crumrine's journey of discovery, the push and pull of transformation, expression, and the becoming of the self we envision.
Watch BRIAN!'s "Rose" video and stream the song now at THIS LOCATION.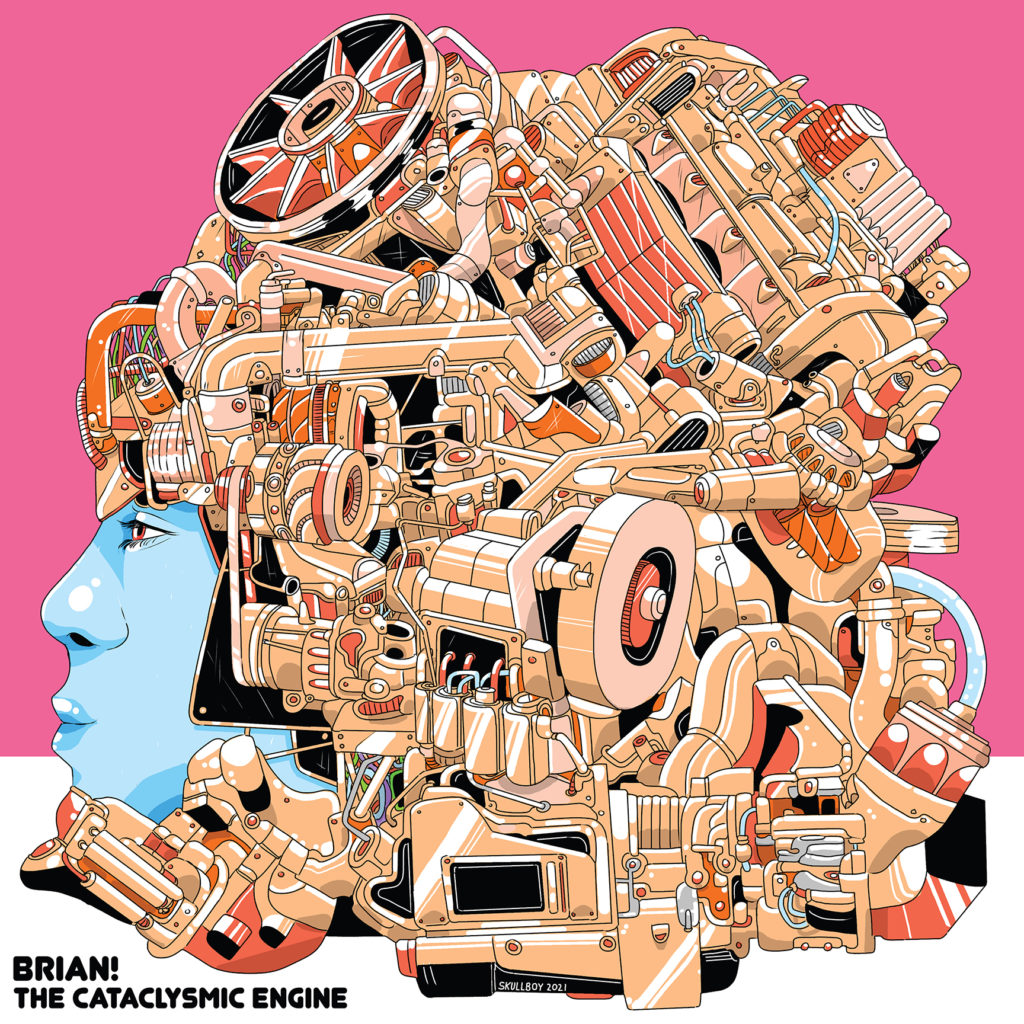 Nefarious Industries will release The Cataclysmic Engine on Royal Blue vinyl LP and all digital platforms on October 28th. Find preorders including multiple merch options and more at the label webshop HERE.
The Cataclysmic Engine Track Listing:
1. Rose
2. Wholed
3. Smol
4. The Eye
5. Uluru
6. Cascade
7. Grotto
8. Intemperate To Death
9. Vibrato
BRIAN! has also booked a hometown record release show for The Cataclysmic Engine on the day of the LP's release, with additional shows across Upstate New York, Ohio, and New York City in early November.
Watch for additional videos and previews of the album to post over the weeks ahead alongside new live announcements.
BRIAN! Tour Dates:
10/28/2022 The Cherry – Ithaca, NY *The Cataclysmic Engine release show w/ Motherwort, La Llorona [tickets]
11/04/2022 Zephyr Pub – Ken, OH w/ Obnox, Hiram-Maxim, St. James & The Apostles
11/05/2022 Duende – Buffalo, NY
11/06/2022 The Spirit Room – Rochester, NY
11/10/2022 The Broadway – Brooklyn, NY w/ Astrometer, Endless, The Phantom Eye
https://brianbassoon.bandcamp.com
https://instagram.com/brianbassoon
https://facebook.com/brianbassoon
https://nefariousindustries.com
https://nefariousindustries.bandcamp.com
https://facebook.com/nefariousIndustries
https://instagram.com/nefarious_industries
https://twitter.com/nefariousInd