Oakland sludge practitioners BRAINOIL – featuring current and past members of Deathgrave, Laudanum, Graves At Sea, Stormcrow, Grimple, and Watch Them Die, among others – have booked a pair of Pacific Northwest appearances this May which will find them sharing the stages with the likes of Hell and Dark Castle in Portland, and Bell Witch and Fetid in Seattle. Later in the month the band will play The Elbo Room in Oakland with labelmates Kicker and Alone. Additional live abrasions are in the plotting stages.
BRAINOIL released their long-anticipated Singularity To Extinction full-length last fall via Tankcrimes. Their first output since 2011's punishing Death Of This Dry Season was captured at Earhammer Studios by bassist/vocalist Greg Wilkinson (Deathgrave, ex-Laudanum, ex-Graves At Sea), mastered at Audisiege by Brad Boatright (Tragedy, Necrot), and offers up seven ravenous hymns of gnarly audio antagonism all swathed in the apocalyptic cover art of John Santos (Torche, Neurosis, Irata, Noisear). Infusing their signature sludge with unorthodox time signatures, Singularity To Extinction stands as BRAINOIL's fastest, crustiest, and most monolithic offering to date.
Singularity To Extinction is available on CD, limited LP, and digital formats via Tankcrimes. For CD preorders go to THIS LOCATION. For vinyl go HERE and for digital purchases, go HERE where the record can be streamed in its entirety.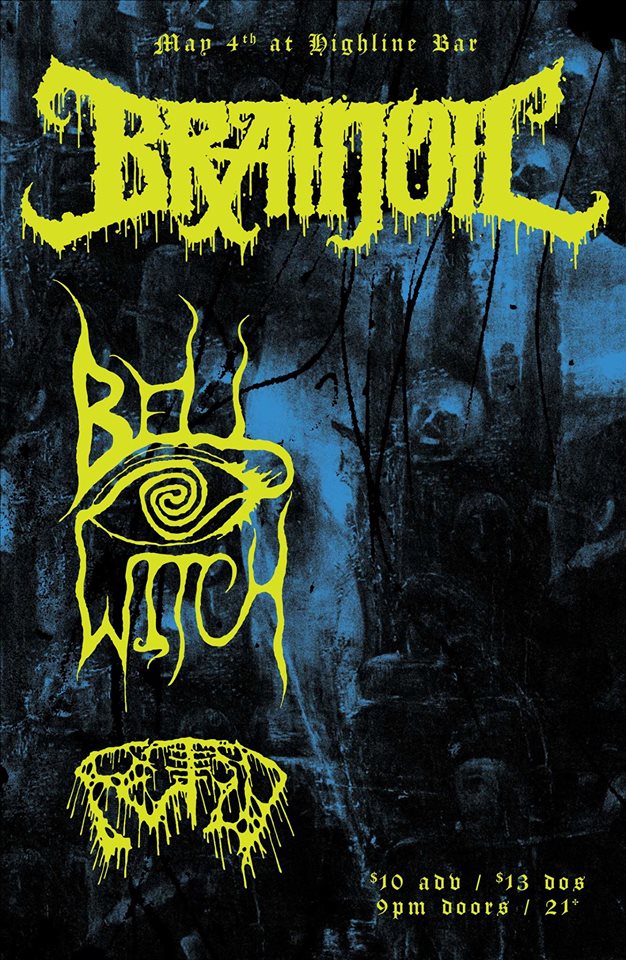 BRAINOIL:
5/03/2019 Tonic Lounge – Portland, OR w/ Hell, Dark Castle [info]
5/04/2019 Highline – Seattle, WA w/ Bell Witch, Fetid [info]
5/17/2019 The Elbo Room – Oakland, CA w/ Kicker, Alone
In 1998, Greg Wilkinson began playing shows with a drum machine, bass, and circuit-bent noise generators while singing under the moniker MrBrainoil. The vision was to have a noisy sludge rock band fused with crust and hardcore music. By early 2000, Nathan Smith (ex-Destroy!, ex- Nigel Peppercock, ex-Stormcrow) joined on guitar followed by Ira Harris (ex-Grimple, ex-Watch Them Die) who was recruited to the drum position later that year. The band changed its name to BRAINOIL.
BRAINOIL would go on to contort its music into a more straight forward sludge/crust sound, usually dabbling in odd time signatures, while ditching the noise aspects. The band released one demo cassette before going on to rampage their way through West Coast venues. Splits with Cruevo and Iron Lung soon followed. In 2003, BRAINOIL unleashed their now-iconic self-titled debut full-length via Life Is Abuse in the US and Throne Records in Spain. More shows ensued.
By 2005 however, BRAINOIL coiled up to work on other projects, performing locally on occasion, until 2009 when schedules shifted and shows became more frequent. BRAINOIL suddenly reared its maniacal head again, sharing stages with the likes of Ghoul, Eyehategod, Cannabis Corpse, Municipal Waste, Deviated Instinct, Buzzo*ven, Doom, Dropdead, Rorschach, and many more.
The band's second full-length, Death Of This Dry Season, was released in 2011 on 20 Buck Spin (LP, digital) and Tankcrimes (tape, CD) effectively making the statement: "We are back!" The music was equally heavy while bringing a notably faster, crustier flavor to the proceedings. The seven years to follow were dedicated to shows, tours, and composing the sonic savagery that comprises Singularity To Extinction.
"Describing Singularity To Extinction as misanthropic would be an understatement; abrasive guitar tones and vocals combined with glacially slow tempos put BRAINOIL's latest in the same league as Dystopia, Grief, and Noothgrush." – Decibel Magazine
"Formed 20 years ago, BRAINOIL exemplifies what sludge and doom meant during its original creation – misanthropic, hateful, unrelenting and, without fail, totally and completely brutal." – Revolver
"You don't have to be a sludge freak, stoner or degenerate to enjoy Singularity To Extinction. Admittedly, it wouldn't hurt if you were any or all of those things, but all you really need is an undying love of The Riff and The Haymaker, plus the grimy grit that often comes packaged with that particular twosome. Ultimately, Singularity To Extinction represents BRAINOIL doing what BRAINOIL does best: slay with sludge." – Last Rites
"…a powerful, full-sounding, brute of a thing, and one that demands your immediate, undivided attention." — Collective Zine UK
"…some the heaviest riffs and most dynamic vocal performances…" – Metal Utopia
"The riffs are sick, the vocals are gnarly, and the rhythm section pulls it all together in spectacular fashion… We've been waiting since 2011 to get new BRAINOIL and god damn do they deliver right here!" — The Metal Wanderlust
"Singularity To Extinction swoops in to kick in your face and make sure you didn't forget why BRAINOIL have come to be so revered within the heavy music community. Unapologetically heavy and constantly leaning into the next sonic twist, this is brutal music for a bastard race." – Two Guys Metal Reviews
"From the cosmic black-and-white world eater cover art to the heavy pre-The IVth Crusade death metal snort applied to this new sound, I was an immediate fan of Singularity To Extinction. No longer easily compared to Eyehategod or Iron Monkey… BRAINOIL achieve greater distinction and dynamics by pulling in old school death metal and enthused grindcore/punk influences to amplify their classic sludge metal sound." – Grizzly Butts
http://www.brainoil.com
http://www.facebook.com/brainoil
http://www.twitter.com/brainoil
http://www.instagram.com/brainoiloakland
http://brainoil.bandcamp.com
http://www.tankcrimes.com
http://www.facebook.com/tankcrimes
http://www.tankcrimes.merchtable.com