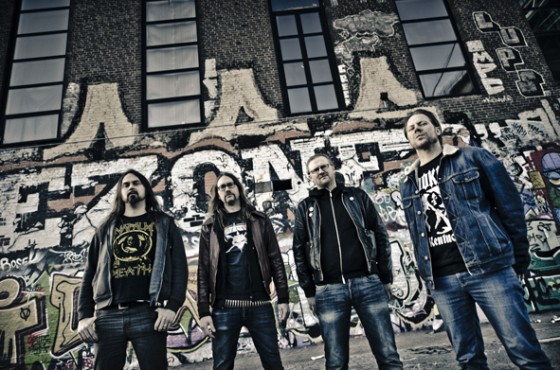 Swedish deathcrust ensemble BOMBS OF HADES have unveiled the cover art and track listing for upcoming new full-length, The Serpent's Redemption. The follow-up to 2010's Chambers Of Abominations offers up eight tracks of sonic wreckage and features cover art by by Polish illustrator Rafal Kruszyk (Interment, Hooded Menace, Machetazo, Cianide, etc.).
Spawned in 2002 as a crustpunk act, BOMBS OF HADES quickly mutated into a gristly old-school Swedish death metal direction, while still retaining a strong d-beat/crust vibe. The band is fronted by Jonas Stålhammar (ex-God Macabre, ex-Utumno, etc), who recently served briefly with legendary Swedish thrashers The Crown.
The Serpent's Redemption will be released via Pulverised Records. Official release date to be announced in the coming weeks.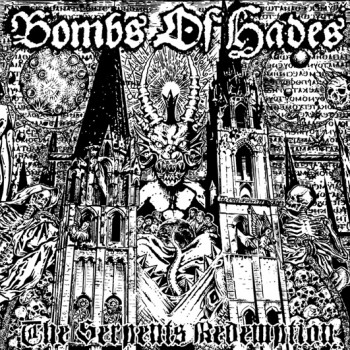 The Serpent's Redemption Track Listing:
1. Crawl Away And Bleed Forever
2. Darkness, My Soul
3. Burn
4. The Serpent's Redemption
5. Forgotten In Graves
6. Incubus Descending
7. Skull Collector
8. Scorched Earth
Part 1: Into Chaos
Part 2: The Throne Of Flesh
Part 3: Rapture
BOMBS OF HADES:
Jonas Stålhammar – Vocals / Guitars
P-O Söderback – Guitars
Magnus Forsberg – Drums
Anders Ekman – Bass
http://www.bombsofhades.com
http://www.facebook.com/bombsofhades
http://www.pulverised.net