Florida's favorite deathcore outfit BODYSNATCHER are readying for their month-long Big Team Battle US headlining tour. Set to commence on March 1st in West Palm, Florida and run through March 29th in Worcester, Massachusetts, the trek features support from Angelmaker, Paleface, and Distant.
Beginning on March 30th, the band will support Lorna Shore on their upcoming US Spring run. The Pain Remains Tour begins in Albany, New York and winds its way through fourteen cities, coming to a close on April 16th in Seattle, Washington. Additional support will be provided Shadow Of Intent, Boundaries, and another act still to be announced. Following the Lorna Shore dates, the band will continue on with Shadow Of Intent and Boundaries as well as Brand Of Sacrifice for eight more shows through April 26th. See all confirmed dates.
Comments vocalist Kyle Medina, "BODYSNATCHER is so stoked to be part of this tour. Everyone on this tour is all such good friends so this run is going to be a lot of fun for all of us. We have toured with Lorna many times in the past and can't wait to do it again!"
See all confirmed dates below.
BODYSNATCHER w/ Angelmaker, Paleface, Distant:
3/01/2023 Respectables – West Palm, FL
3/02/2023 The Abbey – Orlando, FL * Sold Out
3/03/2023 Masquerade (Heaven) – Atlanta, GA
3/04/2023 Hangar 1819 – Greensboro, NC * Sold Out
3/05/2023 The End – Nashville, TN * Sold Out
3/06/2023 Red Flag – St. Louis, MO
3/07/2023 The Rino – Kansas City, MO * Sold Out
3/08/2023 89th Street – Oklahoma City, OK * Sold Out
3/09/2023 Trees – Dallas, TX
3/10/2023 The Rock Box – San Antonio, TX
3/11/2023 Warehouse Live – Houston, TX
3/13/2023 Nile Underground – Mesa, AZ * Sold Out
3/14/2023 Chain Reaction – Anaheim, CA * Sold Out
3/15/2023 Strummer's – Fresno, CA
3/16/2023 Goldfields – Roseville, CA
3/17/2023 Neck Of The Woods – San Francisco, CA
3/18/2023 American Legion Post 8 – Las Vegas, NV
3/19/2023 The Complex – Salt Lake City, UT
3/20/2023 HQ – Denver, CO * Sold Out
3/21/2023 1867 Bar – Lincoln, NE
3/22/2023 Subterranean – Chicago, IL * Sold Out
3/23/2023 The Sanctuary – Detroit, MI * Sold Out
3/24/2023 The Winchester – Cleveland, OH * Sold Out
3/25/2023 Preserving Underground – Pittsburgh, PA * Sold Out
3/26/2023 Lovedraft's – Mechanicsburg, PA * Sold Out
3/27/2023 The Brooklyn Monarch – Brooklyn, NY
3/28/2023 Webster Underground – Hartford, CT
3/29/2023 The Palladium Upstairs – Worcester, MA * Sold Out
w/ Lorna Shore, Shadow Of Intent, Boundaries:
3/30/2023 Empire Live – Albany, NY * Sold Out
4/01/2023 Piedmont Hall – Greensboro, NC * Sold Out
4/02/2023 Hooligans Music Hall – Jacksonville, NC
4/03/2023 Music Farm – Charleston, SC * Sold Out
4/05/2023 Janus Live – St. Petersburg, FL
4/06/2023 Club LA – Destin, FL * Sold Out
4/07/2023 House Of Blues – New Orleans, LA * Sold Out
4/08/2023 The Hall – Little Rock, AR
4/10/2023 The Intersection – Grand Rapids, MI * Sold Out
4/11/2023 Evansville Coliseum – Evansville, IN
4/12/2023 Alliant Energy PowerHouse – Cedar Rapids, IA
4/14/2023 Pub Station – Billings, MT
4/15/2023 Knitting Factory – Spokane, WA * Sold Out
4/16/2023 Showbox SODO – Seattle, WA
w/ Shadow Of Intent, Brand Of Sacrifice, Boundaries:
4/17/2023 Peter's Room – Portland, OR
4/19/2023 Marquis Theatre – Denver, CO
4/20/2023 The Black Sheep – Colorado Springs, CO
4/22/2023 The Waiting Room – Omaha, NE
4/23/2023 The Forge – Joliet, IL * No Brand Of Sacrifice
4/24/2023 Hi-Fi – Indianapolis, IN
4/25/2023 The Foundry – Cleveland, OH *No Brand Of Sacrifice
4/26/2023 Mr. Smalls – Millvale, PA
BODYSNATCHER's latest full-length, Bleed-Abide, was released last year on MNRK Heavy. Recorded by the band's Chris Whited at 1776 Recordings with drums engineered by Neil Westfall and Bud Phillips at The Unicorn Room, and guitars re-amped by Phil Pluskota at Sonic Assault Studio, the record is callously grim, ferocious, and threatening, crackling beneath the weight of its own fury and power. BODYSNATCHER's Bleed-Abide puts the "core" back in deathcore.
Bleed-Abide is available now on CD, LP, cassette, and digital formats at THIS LOCATION.
Watch BODYSNATCHER's videos for "Wired For Destruction," "Absolved Of The Strings And Stone," "E.D.A.," and "Behind The Crowd" at the band's official YouTube page HERE.
"…it rips…" – BrooklynVegan
"BODYSNATCHER are clearly gifted with the power of the pummeling riff and hard-hitting, hardcore-infused lyrical prowess." – Decibel Magazine
"Complete with string bends and sub bass drops, 'Behind The Crowd' doubles down on BODYSNATCHER's embrace of pure deathcore. Where others might pepper their songs with progressive rhythms or guitar solos to win over the elitists, these guys aren't afraid to run with a less-is-more philosophy — relying on concussive menace instead of self-important shredding." – Metal Injection
"These thirteen tracks of straight Floridian tough-guy deathcore are filled to the brim with unadulterated rage and hostility. There's no shortage here of hairy knuckle slams, jarring grooves, and pit-stomping two-steps." – New Noise Magazine
"…their most comprehensive release to date. Stopping at nothing to absolutely obliterate the listener, BODYSNATCHER provides a robust full-length record with practically no filler, steamrolling the listener between a cavalcade of crushing aggression." – New Transcendence
BODYSNATCHER:
Kyle Medina – vocals
Kyle Carter – guitar
Kyle Shope – bass
Chris Whited – drums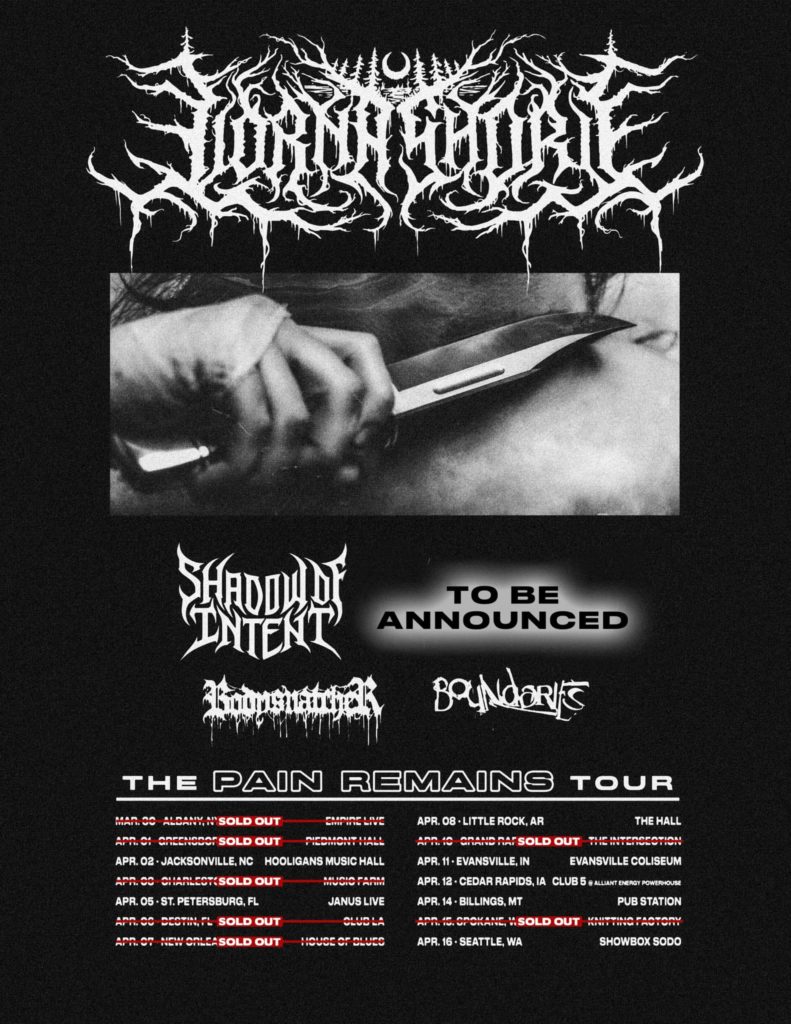 http://www.facebook.com/BODYSNATCHERfl
http://www.twitter.com/BODYSNATCHERfl
http://www.instagram.com/BODYSNATCHERfl
http://www.mnrkheavy.com
http://www.facebook.com/MNRKHeavy
http://www.twitter.com/MNRKHeavy
http://www.instagram.com/MNRK_heavy