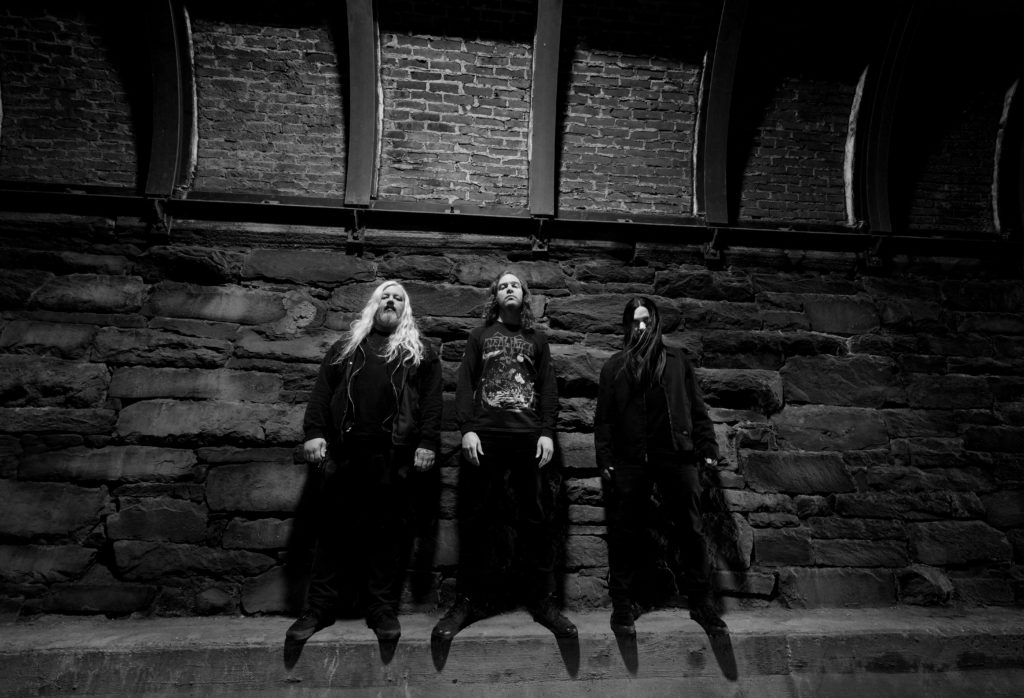 20 Buck Spin today unveils a new audio clip from West Coast blackened death metal trio ULTHAR, a final warning shot from the band's paired Anthronomicon and Helionomicon LPs which see release next week.
Anthronomicon embodies the continued progression of ULTHAR's mastery over its art – always evolving, refining, and pushing forward. From the opening blasts and twisting mania of "Cephalophore," ULTHAR baffles with angular warped riffage, dipping in and out of various dimensional spheres. Off-kilter, multi-directional turns veer swiftly and violently as though about to come apart at the seams only to reshape again and again into ever more monumental forms. Each of Anthronomicon's eight tracks represent a fractious piece of a larger puzzle, each a maze unto itself that when taken together allows one to traverse this inverted surrealist conundrum.
Where its sister album Anthronomicon presents an eight-piece puzzle of labyrinthine tumult, Helionomicon takes those elements and creates two towering twenty-minute monoliths of radiant avant-garde immensity. Each track, appropriately titled "Helionomicon" and "Anthronomicon," transports the listener on a vast journey of psycho-cerebral spectacle where hitherto unimagined landscapes take shape and strange intangible structures pierce the disintegrating firmament. Despite the substantial length of these two tracks, it's never a tedious ride; each visits countless new vistas and perspectives across time. In essence, Helionomicon becomes a synthesis of all ULTHAR's recorded output to this point across two climactic, ambitious epics.
Stream an approximately five-minute section of the nearly twenty-minute track "Anthronomicon" from the Helionomicon LP at THIS LOCATION.
Anthronomicon and Helionomicon were each recorded in April 2022 at Developing Nations in Baltimore, Maryland by Kevin Bernsten and mastered at Signaturetone in Minneapolis, Minnesota by Adam Tucker. Each album cover is half of a larger original piece created for ULTHAR by Ian Miller (Stormkeep, Bolt Thrower, Games Workshop). Additional artwork was created by Steve Peacock. Fans of Atrocity, Absu, Enslaved, Gorguts, Demilich, Krallice, Deathspell Omega, Voidceremony, Tomb Mold, Suffering Hour, and the like, pay heed.
Anthronomicon and Helionomicon will be released next Friday, February 17th on CD, LP, cassette, and digital formats. Find physical preorders at THIS LOCATION. Stream previously released singles alongside digital preorders for Anthronomicon HERE and Helionomicon HERE.
http://www.facebook.com/Ulthar
http://www.instagram.com/ulthar_oakland
http://ulthar666.bandcamp.com
http://www.20buckspin.com
http://www.facebook.com/20buckspin
http://twitter.com/20buckspinlabel
http://www.instagram.com/20buckspinlabel
http://listen.20buckspin.com