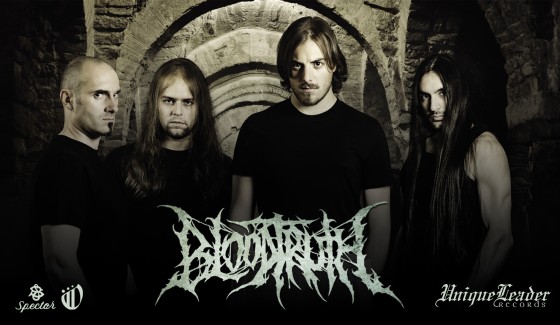 Italian death metal collective, BLOODTRUTH, released their Obedience full-length earlier this Fall via Unique Leader Records. An auditory smorgasbord of limb-removing, guttural metal, shrouded in unalloyed lyrical abhorrence, Obedience was engineered by Francesco Paoli and Cristiano Trionfera (both of Fleshgod Apocalypse) at Sonic Hammer Studios, mixed and mastered by Italian death metal producer Stefano Morabito of 16th Cellars Studios (Hour of Penance, Fleshgod Apocalypse, Eyeconoclast, Inherit Disease), and continues to reap critical approvals from fans and media outlets both stateside and abroad.
In an 8/10 review Dead Rhetoric notes, "despite the blitzkrieg that is invoked through these nine tracks (the album opens to some cool chanting), there is a flow and careful precision to the album and the fusion of the vocals and guitar riffs will keep you quite intrigued. 'Quench Your Thirst,' 'Firesworn,' and 'Surrounded By Blind Bigots' should all convey this message effectively: riff fast and furious, but with purpose (and tasteful solos)," The Sludgelord concurs, "BLOODTRUTH gets it very right, and if you want fast, grossly talented, brutal death metal, give Obedience it's due. In blood," while Selective Memory opines, "Obedience begins like a Mexican horror film filled with anti-Catholic sentiments by being bonded by traditionalism, but ends up sounding like Mario Bava film on hyperspeed. One killing right … after … another with brutal detail and excruciating voyeurism, BLOODTRUTH creates a dark and twisted underbelly with blistering metal effects."
Commemorating its release we have a BLOODTRUTH double shot of extreme, first with a vicious play-through video featuring drummer Giacomo Torti destroying his kit to "Surrounded By Blind Bigots," courtesy of SickDrummer at THIS LOCATION and then a stream of Obedience in all its relentless brutality at Metalitalia HERE. Brutalize your Friday right.
Initially forged in 2009 as the side project of Fleshgod Apocalypse members Francesco Paoli and Paolo Rossi and now featuring the updated lineup of vocalist Luigi Valenti, guitarist Stefano Rossi Ciucci, bassist Riccardo Rogari and drummer Giacomo Torti, BLOODTRUTH heaves forth a sonic fireball of speed, brutality and straight hate. Fusing the cryptic atmosphere of early '90s death metal and evocative Gregorian chant, representing the band's homeland and history, with methodical technicality, BLOODTRUTH are ceaseless in their ear-lacerating capabilities.
Obedience is out now on Unique Leader. Order your copy at THIS LOCATION.
http://www.facebook.com/pages/Bloodtruth/205949072801419
http://twitter.com/#!/BloodtruthBand
http://bloodtruth.bandcamp.com
http://www.youtube.com/user/bloodtruthband
http://www.uniqueleader.com
http://www.facebook.com/UniqueLeaderRecords