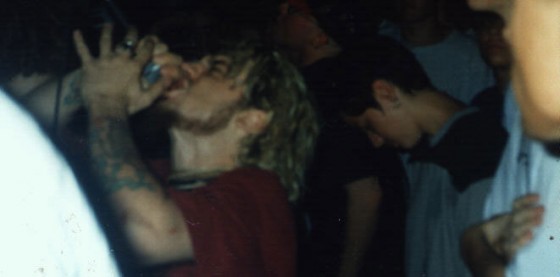 Following the recent proclamation that defunct metalcore pioneers, BLOODLET, will make a special one-time appearance — reuniting for the A389 X Bash in January — today, the label also proudly confirms two special pending releases from the band in 2014.
First up, A389 will release an unreleased BLOODLET demo, recorded in 1994! The track, called "Embrace," was recorded with several other songs prior to the release of the band's debut LP, Entheogen. A track which ran astray from the others recorded in the same sessions — "Shell" and "Cheribum" appearing on the band's Shell 7″, and then re-appeared on their Eclectic singles compilation LP — BLOODLET's early, completely inventive style of ominous, swamp-born metalcore is relived once again in "Embrace." The lost track was discovered by hardcore webzine XStuckInThePastX and shared the masters with A389 Recordings, who will now release an official 7″ version of the track in January 2014. The Embrace 7″ will tie directly into band's first performance in over ten years, with their one-time reunion at the A389 X Bash the weekend of January 17th and 18th in Baltimore, Maryland, joining the reunion of Integrity's Systems Overload lineup, All Out War, Infest, Haymaker, Noisem, Full Of Hell, Empire of Rats and tons more.
In addition, A389 is also collaborating with Victory Records on a special reissue of BLOODLET's landmark debut LP, Enthogen, which Victory initially released in early 1996. The new edition will be released in a deluxe 2xLP in the coming months pending the completion of the remastering sessions, currently going down at Audiosiege.
BLOODLET vocalist Scott Angelacos currently remains busy with his present bands Junior Bruce — who is working on the follow-up to their The Headless King LP, released in 2012 by A389 — and Hollow Leg, which just released Abysmal on Last Anthem Records
Further details on the impending Embrace 7″, the 2014 2xLP re-release of Enthogen and all other BLOODLET-related actions will be leaked in the coming weeks.
https://www.facebook.com/BloodletBand
http://www.a389records.com
https://www.facebook.com/a389recordings
https://twitter.com/a389recordings