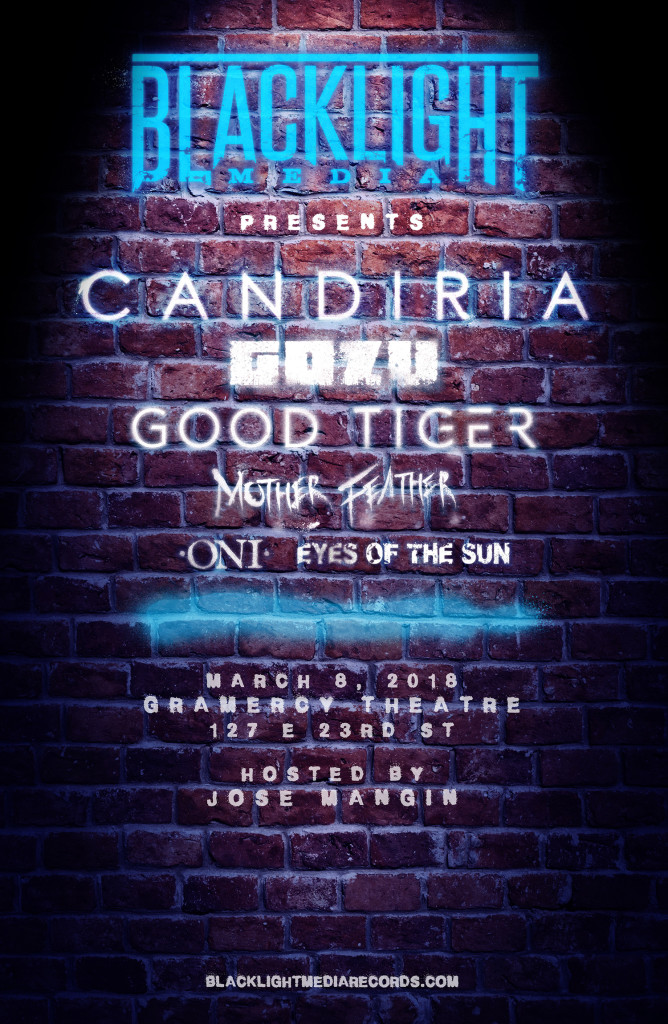 On March 8th, Blacklight Media Records will present its first ever label showcase. Hosted by Jose Mangin, the showcase will take place at the Gramercy Theatre in New York City and feature Blacklight Media artists GOZU, GOOD TIGER, MOTHER FEATHER, ONI, and EYES OF THE SUN as well as very special guest headliner, Metal Blade Records recording artists CANDIRIA! Tickets go on sale this Friday, January 19th at: http://concerts1.livenation.com/event/0000542CF9749429.
Blacklight Media Records' Chris Santos comments, "I could not be more excited to announce the very first Blacklight Media Showcase! To say this is a lifelong dream come true doesn't begin to articulate how proud I am of this show and more importantly, how proud I am of the bands who call Blacklight Media and Metal Blade Records their home. This is truly a once in a lifetime show for all of us and for all the amazing fans of these talented artists. Having Jose Mangin as the Master of Ceremonies is icing on the cake! We can't wait to celebrate a night of crushing multi-genre metal with you on March 8th. Long live metal!"

About Blacklight Media Records:
Blacklight Media is a hard rock and heavy metal label founded in February 2016 by Chris Santos, executive chef and managing partner of New York City restaurants VANDAL, The Stanton Social, and Beauty & Essex, in partnership with Brian Slagel, founder of Metal Blade Records. Blacklight has a distinct focus on releasing music that possesses an extensive amount of melody, mixed with heavy ebbs and flow.
About CANDIRIA:
Since their inception in 1992, the name CANDIRIA has become synonymous with the kind of experimentation and genre-bending not often associated with the hard/metalcore community, a testament to the band's skillful musicianship and intelligent sonic aesthetic. Born in Brooklyn, New York, CANDIRIA has been lauded for their ability to mesh decidedly different styles in a seamless way. They were named one of the 10 Most Important Bands in Metal by Rolling Stone back in 1999 for consistently releasing music that challenges listeners, thrills critics, and – most importantly – attracts a legion of dedicated, diehard fans. Their latest release While They Were Sleeping certainly continues that legacy, with Pitchfork hailing the band as one of the, "most convincingly flexible acts that metal and hardcore have ever seen." It's a concept album that tells the tale of a failed musician who rises up against a NYC monarchy. To preview and purchase While They Were Sleeping, visit: metalblade.com/candiria.
About GOZU:
Formed in 2010, GOZU has released one EP and three full-lengths to-date, and are currently writing their fourth studio album, set for a 2018 release via Blacklight Media. Fronted by Marc Gaffney on vocals and guitar, Doug Sherman on guitar, Joe Grotto on bass, and Mike Hubbard on drums, the band's sound is tailor-made for blasting out the car speakers. Having already been aired on national television via MTV (Road Rules, Dudesons, Real World), NBC, and NASCAR, GOZU aims to take their critical and commercial success to new heights on their upcoming debut for Blacklight Media, with worldwide touring to follow. Previously, the group shared the stage with the likes of St. Vitus, Pallbearer, Lo Pan, Storm Of Light, Helmet, Elder, Mos Generator, and Fu Manchu in the States, as well as Yob, Church of Misery and Kvelertak in Europe at Roadburn (Netherlands) and DesertFest Berlin (Germany). 2018 will surely see GOZU back on the road again, and at the forefront of the heavy rock and metal world.
About GOOD TIGER:
Comprised of guitarists Derya "Dez" Nagle and Joaquin Ardiles, bassist Morgan Sinclair, drummer Alex Rudinger, and vocalist Elliot Coleman, GOOD TIGER has raised the stakes across the board on their upcoming sophomore effort, We Will All Be Gone. Every track on the album has a definitive character of its own, and none stay in a single gear, all of them dynamic and textured as they evoke various tones and moods. Tracking at Middle Farm Studios in southwest England, the band recruited producer Forrester Savell (Karnivool,Dead Letter Circus), and engineer/mixer Adam "Nolly" Getgood (Periphery/Animals As Leaders). "We worked with Nolly on the last album. We had a great working relationship, and wanted to explore that further in a more developed situation," Dez explains. "Forrester has made some of our favorite albums, and is someone we could trust steering the ship. Having self-produced for so long it can be at times quite difficult to let go, so it was important we found people we could fully entrust to help create the album we wanted to make." To preview and preorder We Will All Be Gone, please: metalblade.com/goodtiger.
About MOTHER FEATHER:
MOTHER FEATHER will release their upcoming album in 2018 via Blacklight Media. "The newest songs for the album were written last fall and winter in the midst and aftermath of the US presidential election," vocalist Ann Courtney comments. "The political climate and outcome were personally devastating, but it also reignited my sense of purpose. I locked myself away to write, face my depression, and stare down some uncomfortable feelings. Truthfully, I went to some very dark and lonely places, so there's a lot of fever – and intimacy – in the new music. When I emerged from my self-exile, I discovered my band waiting for me on the other side, so there's exuberance and catharsis there too. It's good to have friends, ya know? Together, we worked to develop the songs and shape them into some of MOTHER FEATHER's best, most eclectic work yet." To preview and purchase MOTHER FEATHER's previous release, the band's self-titled debut, visit: metalblade.com/motherfeather.
About ONI:
With their influences rooted in progressive metal, ONI's sound can be compared to the genre's heavy hitters – The Human Abstract, Protest The Hero, and Between The Buried And Me – yet they remain truly unique. With Jake Oni handling vocal duties, Martin Andres and Brandon White on guitar, Chase Bryant on bass and Joe Greulich on drums, they are also perhaps the first metal band to feature a xylosynth player — Johnny D — which adds an intriguing dynamic to the nine tracks found on their debut, Ironshore. Produced by Josh Wilbur (Lamb Of God, Gojira), the album takes listeners on an absorbing ride that provides ample opportunity for headbanging, singing along and deep introspection. To preview and purchase Ironshore, visit: metalblade.com/oni.
About EYES OF THE SUN:
EYES OF THE SUN was conceived in early 2007 by bassist/vocalist Jeff Blanchard. Long-time friend and guitarist Miguel De Jesus Jr. joined the ranks a few months later. Within a few years, and after a couple of past members on second guitar and drums, Chris O'Neil joined as the permanent drummer. As a trio, they performed countless shows over the past decade, delivering their unique brand of doom metal which leaves listeners with a range of emotions, that the band themselves experience and extract from. The band explains, "It is known throughout the laws of science and nature that the sun creates and sustains life…Now it stands witness to the atrocities, depletion, and vile consumption manifested by mankind, which it originally sustained life for. In our way, we portray what is seen through the EYES OF THE SUN."
http://www.metalblade.com
http://www.facebook.com/metalbladerecords
http://www.blacklightmediarecords.com
http://www.facebook.com/BlacklightMediaOfficial
http://www.facebook.com/candiria
http://www.facebook.com/GOZU666
http://www.facebook.com/GoodTigerOfficial
http://www.facebook.com/motherfeather
http://www.facebook.com/TheOniBand
http://www.facebook.com/eyesofthesun