Vancouver volume dealers, BLACK WIZARD, will kick off a month-long Canadian tour tomorrow, June 2nd with Dead Quiet. The trek will commence in Victoria at Logan's Pub and run through June 28th in Kamloops at The Dirty Jersey. From there, the band will take a short breather before supporting Volbeat and Killswitch Engage this August followed by a march through Europe this Fall with Joy. A full listing on onstage debauchery will be revealed in the coming weeks.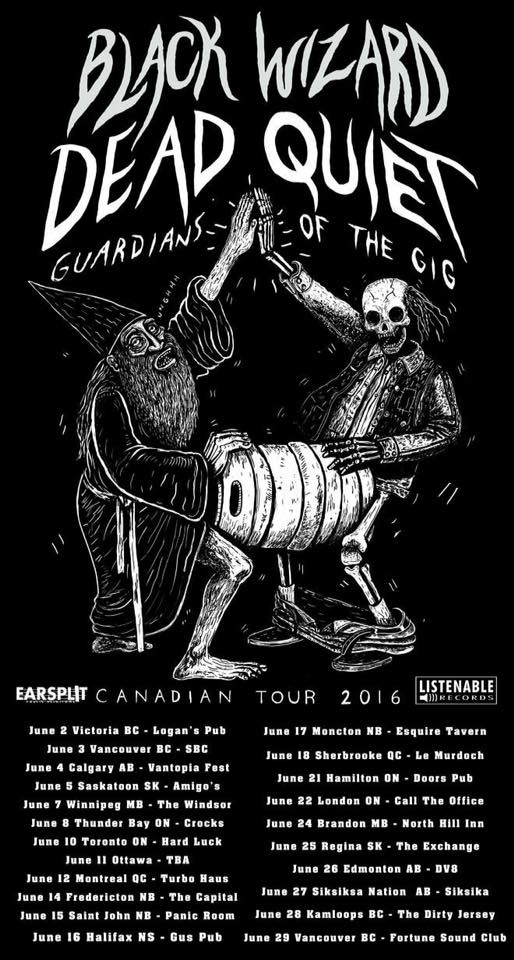 BLACK WIZARD w/ Dead Quiet:
6/02/2016 Logan's Pub – Victoria, BC
6/03/2016 SBC – Vancouver, BC
6/04/2016 Vantopia Fest – Calgary, AB
6/05/2016 Amigo's – Saskatoon, SK
6/07/2016 The Windsor – Winnipeg, MB
6/08/2016 Crocks – Thunder Bay, ON
6/10/2016 Hard Luck – Toronto, ON
6/11/2016 Turbo Haus – Montreal, QC
6/14/2016 The Capital – Fredericton, NB
6/15/2016 Panic Room – Saint John, NB
6/16/2016 Gus Pub – Halifax, NS
6/17/2016 Esquire Tavern – Moncton, NB
6/18/2016 Le Murdoch – Sherbrooke, QC
6/19/2016 Scanner – Quebec City, QC
6/21/2016 Doors Pub – Hamilton, ON
6/22/2016 Call The Office – London, ON
6/24/2016 North Hill Inn – Brandon, MB
6/25/2016 The Exchange – Regina, SK
6/26/2016 DV8 – Edmonton, AB
6/27/2016 Siksika – Siksika Nation, AB
6/28/2016 The Dirty Jersey – Kamloops, BC
BLACK WIZARD will be touring in support of their New Waste full-length, released via Listenable Records this past February and currently streaming at THIS LOCATION. Boasting nine tracks of red-eyed, road-raging, retro-riff worship, the record continues to earn approval from media outlets globally. BeatRoute Magazine champions BLACK WIZARD for being, "the only band in town that will add inches to your dick," while The Obelisk offers, "While basking in the hazy light of an increasingly prevalent (particularly in the Pacific Northwest) post-Red Fang neo-dude party vibe, the four-piece… also pay due homage to Thin Lizzy, Iron Maiden's gallop and Judas Priest's fist-pump-ready groove. Their tones and upbeat style find breadth in the inclusion of organ on the slower 'Laughing And Lost' and the Spanish guitar ending of 'Vivian Girls,' the plus-sized riffing of 'Unnecessary Evil,' but they never go too far from that metallic underpinning, tying the album together as a unified whole even as individual songs stand out across its span." Unholy Music lauds the band's, "slow, adventurous and twistedly dark psychedelic sound," while Hellbound.ca notes, "For a new label debut, Listenable couldn't have asked for a better album of catchy, crunchy and exciting songs."
Elsewhere the sentiment echoes. In a 4/5 score, Sea Of Tranquility gushes, "With plenty of modern as well as vintage influences seeping in, New Waste has something for every metal/hard rock fan. Doomy, bluesy, proggy, psychedelic, and just plain old heavy…it's all here." RVA Magazine concurs, "New Waste hits on a number of things I like to hear in metal: groovy bass, rocking licks and gloomy drums. You'll hear some epic harmonized sections in between screeching solos and that's all you can really hope for these days." Adds Heavy Blog Is Heavy in a 4/5 review, "From the very beginning, New Waste wraps you in a thick blanket of distorted grooviness, all galloping bass lines and guitar that seems to switch from shred to riff and back on the drop of hat, warm and fuzzy from the get-go and never quite letting up."
New Waste is out on Listenable Records. Secure your copy today at THIS LOCATION.
BLACK WIZARD was forged in 2009 by four high school friends. Founding members Adam Grant and Eugene Parkomenko were both working underwhelming construction jobs at the time, passing the days to the sounds of Thin Lizzy, Deep Purple, Witch, and Electric Wizard. Heavily motivated by the thick, weight sounds of bands like Bison and 3 Inches Of Blood monopolizing the scene at the time, "The Wiz" was born. Having followed a true DIY aesthetic, the band has released two full length LPs along with a 7″ single independently and sold over five thousand copies worldwide.
For BLACK WIZARD coverage in North America contact liz@earsplitcompound.com.
http://www.facebook.com/blackwizardband/
http://www.facebook.com/listenablerecs
http://www.listenable.net