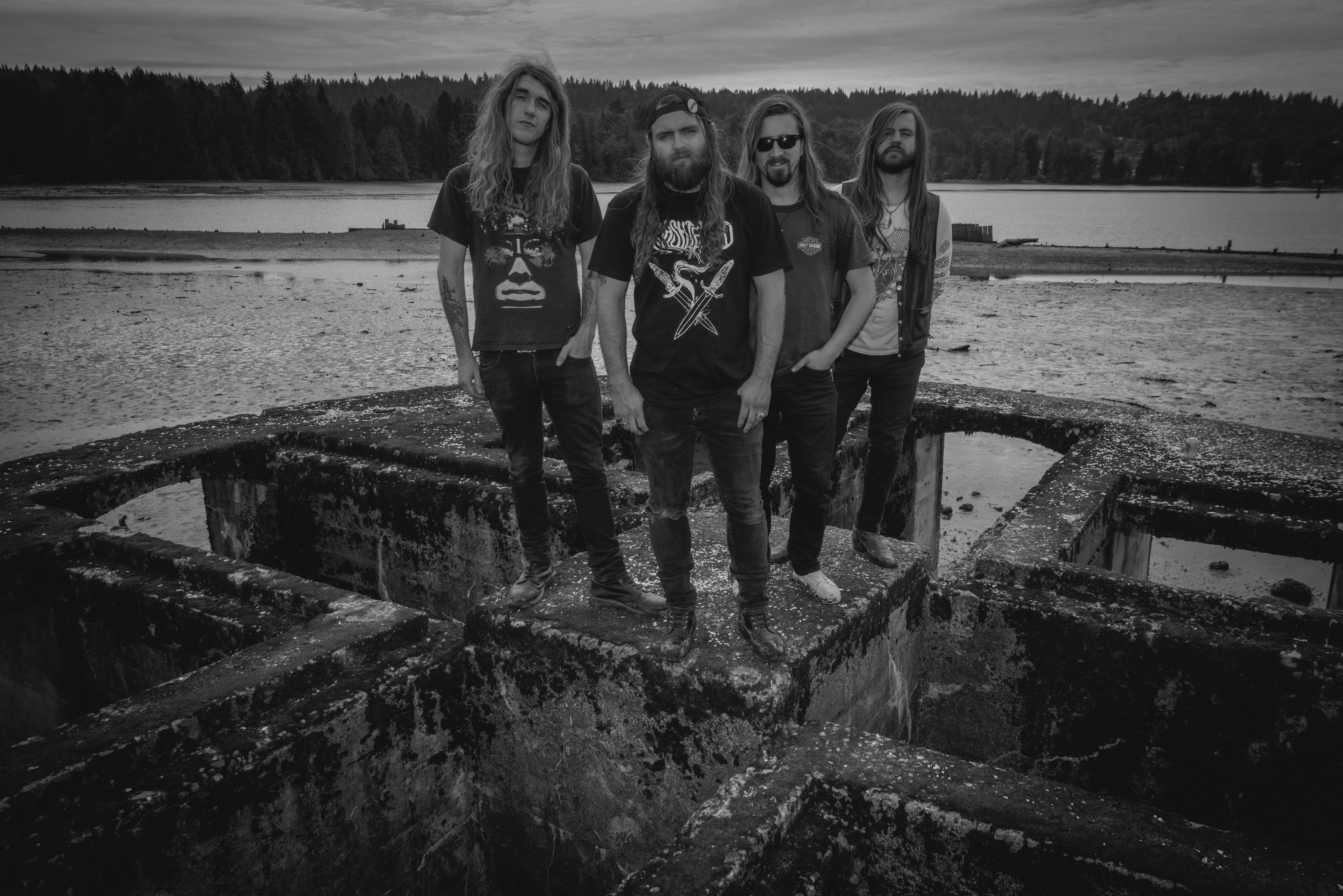 Canadian heavy metal/stoner rock collective BLACK WIZARD will release their brand new full-length Livin' Oblivion this February via France's Listenable Records. Their second release on Listenable and fourth album overall was produced and engineered by Michael Kraushaar in Vancouver, BC, and comes sheathed in the cover art of renowned Berlin, German-based illustrator Eliran Kantor (Testament, Crowbar, Satan).
Livin' Oblivion centers itself on the obliteration or slow decay of one's self, morals, and life as we know it. "We are living in an age where the powers of the World are taking steps backwards and moving away from a positive future," the band elaborates. "There is a large number of disenfranchised youth and young adults that would rather live their lives in oblivion — drinking, drugs, partying etc. — than chasing any kind of future or dreams, simply because the rest of the world seems to be falling apart around them."
Further info on BLACK WIZARD's Livin' Oblivion, including final release date, teaser tracks, and preorders, to be released in the coming weeks. Stand by.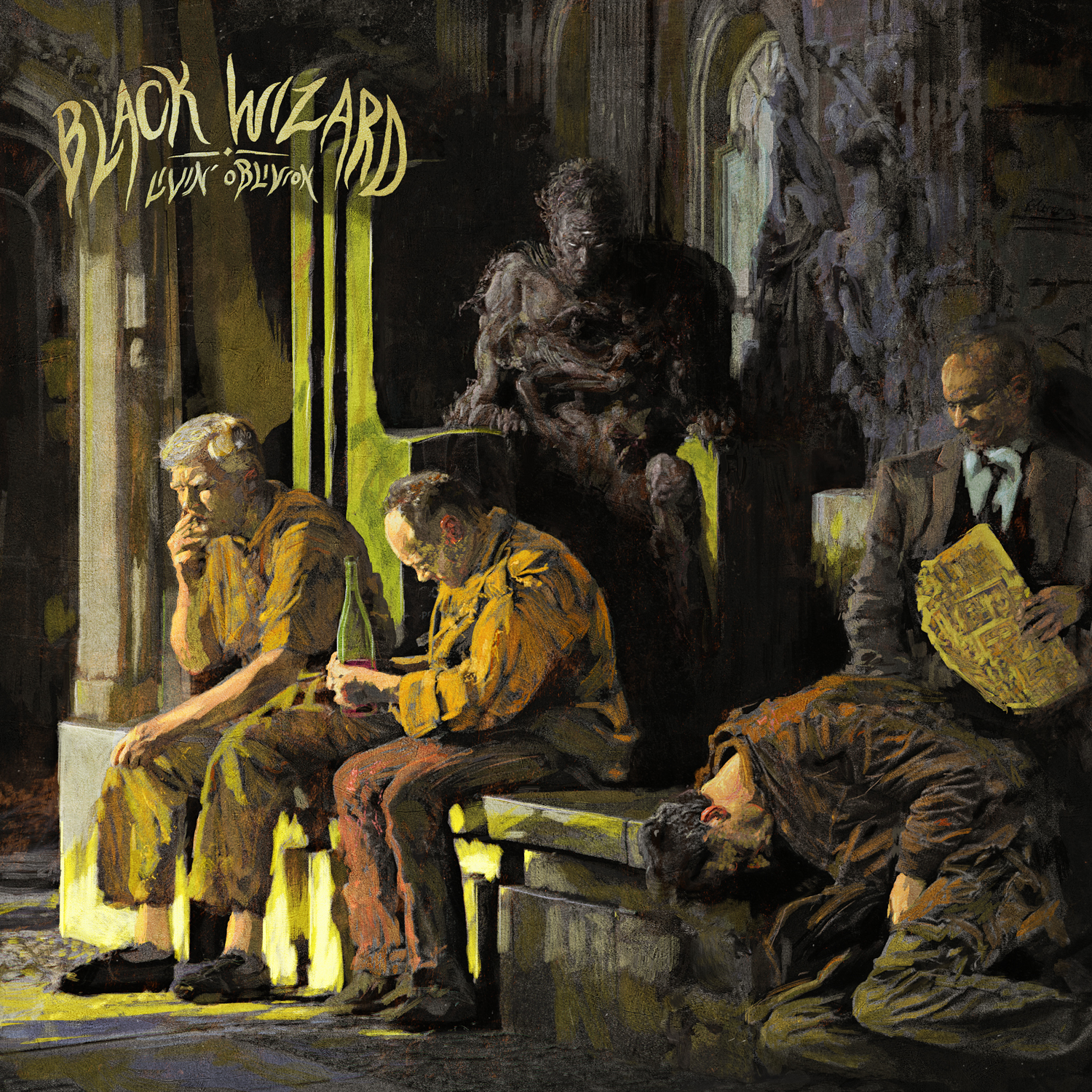 Livin' Oblivion Track Listing:
Two Of These Nights
Feast Or Famine
James Wolfe
Livin Oblivion
Cascadia
Portraits
Poisoned Again
Heavy Love
Eternal Illusion
Hailing from Vancouver, BC, BLACK WIZARD was forged in 2009 between high-school friends. Some years and personnel changes later, the band is going stronger than ever. Founding members vocalist/guitarist Adam Grant and drummer Eugene Parkomenko were both working underwhelming construction jobs at the time, passing the days to the sounds of Thin Lizzy, Deep Purple, Witch, and Electric Wizard. Today, Parkomenko and Grant are accompanied by guitarist Danny Stokes and basisst Evan Joel. Having followed a true DIY aesthetic, the band has released three full-length LPs along with a 7″ single independently and sold over five thousand copies worldwide. In classic WIZ fashion, Livin' Oblivion has evolved from their previous efforts boasting a bigger, heavier, sharper, and louder approach than ever before. Faster thrash elements have been added, while staying true to that sultry, Thin Lizzy-esque twin lead vibe throughout.
Since their first Listenable album release, New Waste, in early 2016, the band has toured non-stop including a Canadian mini-tour with Red Fang, a six-week stadium tour with Killswitch Engage and Volbeat, a month-long US tour supporting Brant Bjork and Royal Thunder, a month-long North American tour supporting Weedeater, and so much more. At home on the road, BLACK WIZARD is ready to take to the streets again kicking 2018 off with their fourth European run.
BLACK WIZARD is:
Adam Grant – vocals/guitar
Eugene Parkomenko – drums
Danny Stokes – guitar
Evan Joel – bass
http://www.facebook.com/blackwizardband/
http://www.facebook.com/listenablerecs
http://www.listenable.net