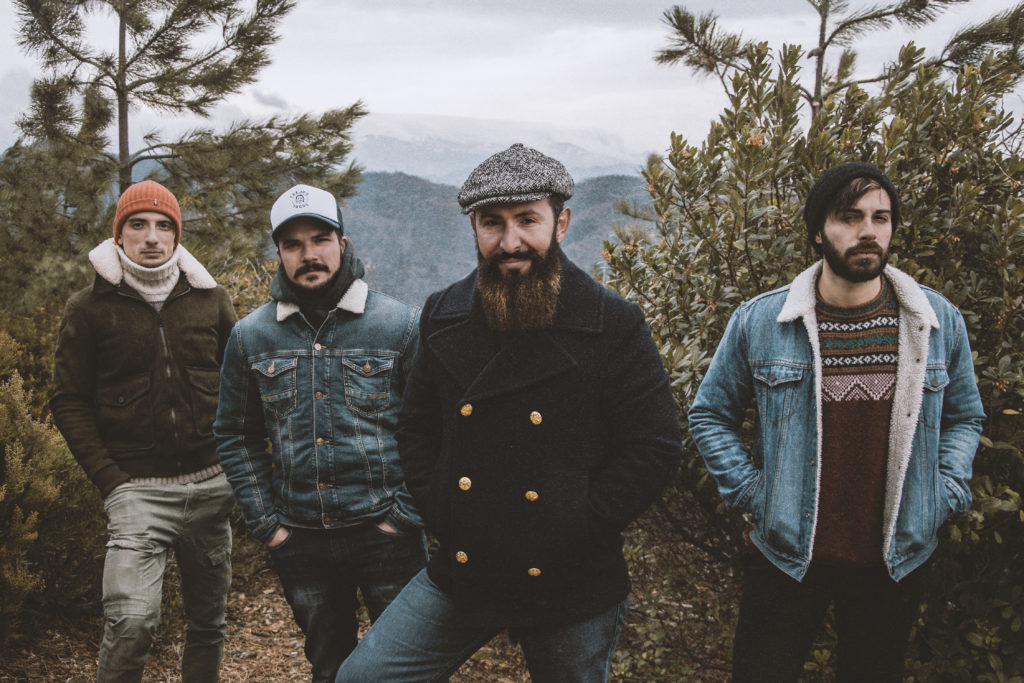 Next week, Italian psychedelic fuzz/heavy rock unit BLACK ELEPHANT will release their impending new studio offering, Cosmic Blues. As a precursor to its release, New Noise Magazine is currently offering up the riff rocking sounds of "Helter Skelter" for public consumption.
Offers the band of the track, "'Helter Skelter' is the name of a Beatles song. It's what Charles Manson used to write on walls. It's our chaos and mental maze."
Stream "Helter Skelter" now via New Noise at THIS LOCATION.
And if you missed it, check out the band's visual accompaniment to "Walking Dead" below.
BLACK ELEPHANT's Cosmic Blues was recorded and mixed by Giulio Farinelli, mastered by Maurizio Giannotti, and comes wrapped in the cover design of Robin Gnista. The sound on 'Cosmic Blues' ranges from psychedelic rock to blues, to southern sludge with psychic insertions from the '70s and plenty of Hendrixian trips. Offers Sea Of Tranquility in a recent investigation of the record, "Opener 'Cosmic Soul' hits like a freight train, images of Cactus, Jimi Hendrix, and Black Sabbath all popping up, and the almost heavy southern rock vibes of 'Helter Skelter' also pack quite a punch, the guitars sizzling, especially when the wah-wah kicks in. 'Chase Me' is a quick instrumental, another excuse for some funky wah-wah laced leads, while 'Walking Dead' is pure booze driven, heavy blues rock aand boogie, again bringing to mind Cactus and even Black Label Society. Things slow down for the lean and mean 'Baby Eroina,' the guitar and bass riffs fat and dripping with bluesy fuzz, and the band dips into Samsara Blues Experiment styled jams for the wild 'Cosmic Blues For Solitary Moose.' 'Inno' closes out the album with some heavy stoner riffs and pounding drums, the band set to smash your head to smithereens."
Cosmic Blues will see release on July 20th on CD, digitally, and limited edition purple vinyl. For preorders, go to the Small Stone Bandcamp page at THIS LOCATION where album opener "Cosmic Soul" can be streamed.
One would be hard-pressed to come up with a better descriptor for BLACK ELEPHANT's Cosmic Blues full-length than the title of the album itself. Based in Savona, Italy, the four-piece have conjured ghosts of '70s heavy fuzz and '90s riff mongering offering up a sonic brew that's both potent and thoroughly modern. Cosmic Blues follows 2014's Bifolchi Inside and 2012's Spaghetti Cowboys (get it?) and marks their debut on Small Stone Records. Comprised of lead vocalist/lead guitarist Alessio Caravelli, rhythm guitarist Massimiliano Giacosa, bassist Marcello Destefanis, and drummer Simone Brunzu, BLACK ELEPHANT makes their mark in their home country's booming heavy rock underground with memorable songs and a sound that's just as comfortable getting funky on "Chase Me" as it is re-imagining Soundgarden as a riff rock outfit à  la peak-era Dozer, rolling out huge grooves en route to "Cosmic Blues For Solitary Moose," loaded with fuzz and scorching solos.
Given a brisk, live sound in its production – fitting for a group with hundreds of shows under their collective belt – Cosmic Blues comes across natural and at times maintains the intensity of BLACK ELEPHANT's earlier work (closer "Inno" walks by and waves), while simultaneously exploring more spacious realms in the not-a-cover "Helter Skelter" and the takeoff jammer "Baby Eroina," which eases into and out of its nodding rhythm with a smoothness worthy of a group's third album and a fluidity that typifies the record's entire thirty-four-minute run. Leaving their own tracks in the footsteps of bands like Small Stone's own Isaak, BLACK ELEPHANT hits a new level of craft with Cosmic Blues, and if the righteous drive of opener "Cosmic Soul," the flowing progression of the LP that ensues, and the name they've given the whole affair are anything to go by, they know it for sure. All the better.
https://www.facebook.com/blackelephantitaly
http://www.smallstone.com
http://www.facebook.com/smallstonerecords