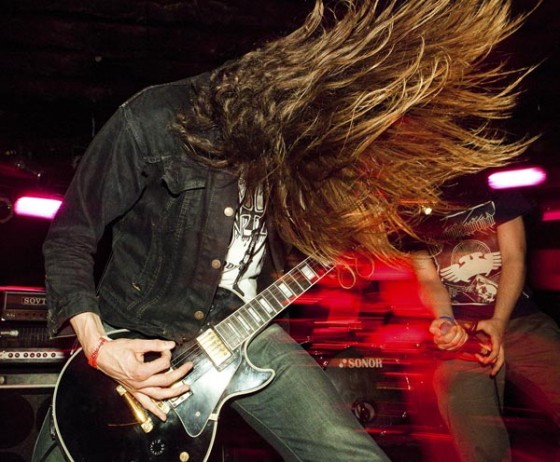 Northwestern metallic hardcore assassins BLACK BREATH have announced an upcoming rash of live attacks in North America for the coming months, kicking off with the Scion Rock Fest in Pomona, California March 5th alongside labelmates Nails, as well as Morbid Angel, Integrity, Obituary, Bastard Noise, Atheist and countless more.
BLACK BREATH also now unveil new tour dates for as they forge their way across the Midwest and Northeast US on a return trip to Massachusetts' God City Studios (Converge, Trap Them, The Secret, Disfear) to have Kurt Ballou again put the BLACK BREATH sound to tape for their second full-length album as with their Heavy Breathing debut. To once again be released via Southern Lord Recordings, more info on the album and recording updates will be issued over the coming weeks.
Confirmed BLACK BREATH Live Assaults:
3/05/2011 The Glass House – Pomona, CA @ Scion Rock Fest
3/16/2011 Albion House – Chicago, IL
3/17/2011 Revolution – Toledo, OH
3/18/2011 Sugar City – Buffalo, NY
3/19/2011 PA's Lounge – Boston, MA
4/02/2011 The Studio At Webster Hall – New York, NY w/ Ken Mode
4/03/2011 Warren Legion Hall – Warren, NJ w/ Ken Mode
4/04/2011 Strange Matter – Richmond, VA w/ Ken Mode
4/05/2011 Chestnut House – Louisville, KY
4/06/2011 Fubar Lounge – St. Louis, MO
4/07/2011 Scion Lab -Kansas City, MO
4/08/2011 Blast O Mat – Denver, CO
Like Entombed fighting Wolfpack in a Poison Idea cover song competition after soaking in bourbon for a year, BLACK BREATH's tonal massiveness is as crushing and dominating as it is upbeat and empowering. The Seattle-based quintet's heavy sound integrates elements invented by Swedish death metal and hardcore legends, yet still flowing with plenty of pissed-off American blood, as proven on their potent Razor To Oblivion EP — released in early 2009 then re-released by Southern Lord later in the year — and then even more impressively on their debut full-length Heavy Breathing, which infiltrated endless best of 2010 lists everywhere.