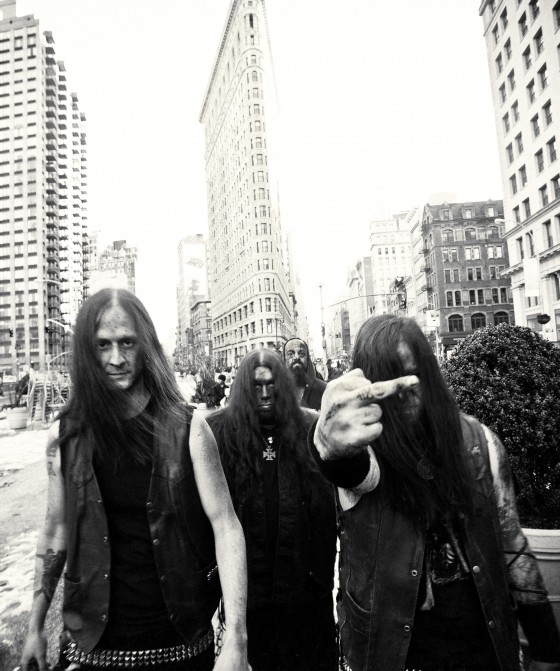 Following the official unveiling of their mammoth Hail Death full-length last week, today New York City black metal syndicate, BLACK ANVIL, offer up a thorough, behind-the-scenes look at the making of the record with a thirty-three minute documentary now playing exclusively at Decibelmagazine.com.
Blowing minds and eardrums since forming in 2007, BLACK ANVIL's aptly titled Hail Death is their most epic and fully realized album to date. Crowned the most "vicious and satisfying black metal laid to tape in the last few years," by Noisey, the sonic fury encompassing Hail Death was captured at Magpie Cage by J. Robbins of Jawbox, who, although best known for recording punk and post-hardcore acts, perfectly understood the band's creative vision. "He's got a really good style of making records and I knew he would understand that we wanted to make this sound live and organic as opposed to tight and compressed," relays bassist/vocalist Paul Delaney, citing Kiss' Destroyer and Metallica's Master Of Puppets as inspiration. "I wanted it to be a little more rock 'n' roll sounding because I felt the songs were a little bigger and structured. It tells a story from beginning to end and the recording reflects that."
The sharply filmed, Jason Shevchuk narrative, takes fans deep into the mental and musical landscape of composing Hail Death. Check it out in full, courtesy of Decibel Magazine, at THIS LOCATION.
At once epic and predatory, Hail Death is an expertly crafted manifestation of hate-fueled misanthropy set to the key of Hell. In a 4/5 rating of the offering, MetalSucks gushes, "BLACK ANVIL have boiled their brand of muscular black metal down to a venomous reduction, creating a grinding, cutthroat sound that has more to do with hard concrete than the freezing moon," Stereogum notes, "Hail Death is a pure metal album that relishes in the genre's conventions without feeling conventional: It's simply anthemic, aggressive, bombastic, thrilling, and fucking heavy," while Metal Injection commends, "an ebb and flow of riffage, slow and grinding, fast paced and ruthless, one of the best records of the year." Mass Movement notes, "Underneath the cold, scarred and burnt skin of BLACK ANVIL beats a friendly, intelligent heart. It's that combination of frostbitten riffs, and words of wisdom that makes Hail Death different from its peers." Adds About.com, "The scope of these songs is outrageous, eclipsing anything the band have done to date. The hatred and contempt still pulses within, though the method of distribution on Hail Death has far greater wealth to it than their approach on their first two albums."
In related BLACK ANVIL intel, the band will bring their corrosive compositions to the stage of Brooklyn's Saint Vitus Bar where they'll perform Hail Death in full. Sponsored by Vice's music portal, Noisey, the band will be joined by Psalm Zero, Fantom Warior and Yellow Eyes with additional live infiltrations to be announced in the weeks to come.
BLACK ANVIL Live 2014:
7/20/2014 Saint Vitus – Brooklyn, NY *playing Hail Death in its entirety w/ Psalm Zero, Fantom Warior, Yellow Eyes
Hail Death is out now via Relapse Records. Recommended for iniquitous souls who worship at the altars of Celtic Frost, Metallica, Bathory, Watain, Emperor, Marduk, and Deströyer 666.
Order Hail Death today HERE. For iTunes orders, point your browser HERE.