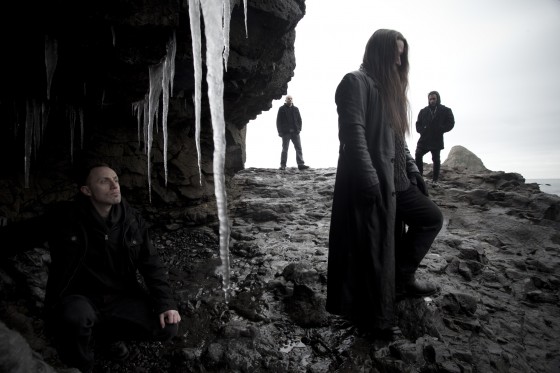 [photo by Veleda Thorsson]
Portland's AGALLOCH is readying to embark upon a full North American Summer excursion. Set to commence June 18th in Minneapolis, Minnesota, the Serpens In Cvlmination tour will wind its way through nearly two-dozen cities, coming to a ceremonial close on July 8th in Denver, Colorado. The band will be joined by Obsidian Tongue, Vex, Jex Thoth and Thrones on select dates.
AGALLOCH will be touring in support of the recently unleashed The Serpent & The Sphere opus. The follow-up to 2010's critically-adored Marrow Of The Spirit full-length, The Serpent & The Sphere delivers some of the band's most forward-thinking and intriguing compositions to date elevating their progressive musical oeuvre to a challenging new level whilst still maintaining true to their signature sound.
Dark, meticulously crafted, and atmospherically potent, The Serpent & The Sphere was captured by legendary producer/engineer Billy Anderson at Cloud City Studios in Portland, Oregon (and mixed by Anderson at Everything Hz) and includes a guest appearance by guitarist Nathanaël Larochette of Canadian neofolk trio, Musk Ox, who composed the album's acoustic interludes. Pitchfork crowns the record "their most refined and generous album to date, an elegant trip to unexpected ends," while Spin concludes, "Whereas their triumphant previous album was painted in dark blues and glittering black, this one comes draped in muted grays and browns, calming earth tones that soothe rather than awe. If Marrow of the Spirit was a storm, The Serpent & The Sphere is the stillness that descends over damp stones and battered branches once the howling winds have quieted." Adds Metal Injection, "After a few listens, some words definitely come to mind: 'Dense,' 'Cosmic' and 'Spacey.' AGALLOCH has always had a strong folk theme flowing through their music, a reflection of their heritage in the woods of the American Northwest. But on many of the songs here, the listeners eyes and ears are drawn away from the rivers and the trees and up towards the night sky… a fantastic addition to the band's legacy and a brilliant set of work on its own."
AGALLOCH Serpens In Cvlmination North American Tour MMXIV:
6/18/2014 Triple Rock – Minneapolis, MN w/ Obsidian Tongue, Blood and Sun
6/19/2014 High Noon – Milwaukee, WI w/ Obsidian Tongue
6/20/2014 Reggie's – Chicago, IL w/ Obsidian Tongue
6/21/2014 Beachland – Cleveland, OH w/ Obsidian Tongue
6/22/2014 Southgate House – Newport, KY w/ Obsidian Tongue
6/23/2014 Bottletree – Birmingham, AL w/ Vex
6/24/2014 The Earl – Atlanta, GA w/ Vex
6/25/2014 Oerpheum – Tampa, FL w/ Vex
6/26/2014 Jinx – Savannah, GA w/ Vex, Blackrune
6/27/2014 King's Barcade – Raleigh, NC w/ Vex
6/28/2014 Empire – Springfield, VA w/ Vex
6/29/2014 Underground Arts – Philadelphia, PA w/ Jex Thoth
6/30/2014 Irving Plaza – New York, NY w/ Jex Thoth
7/01/2014 Brighton – Boston, MA w/ Jex Thoth, Obsidian Tongue
7/02/2014 La Salla Rosa – Montreal, QC w/ Jex Thoth
7/03/2014 Mavericks – Ottawa, ON w/ Jex Thoth, Musk Ox
7/04/2014 Opera House – Toronto, ON w/ Jex Thoth
7/05/2014 Majestic Theater – Detroit, MI w/ Jex Thoth
7/06/2014 Firebird – St Louis, MO w/ Thrones
7/07/2014 Waiting Room – Omaha, NE w/ Thrones
7/08/2014 Gothic Theater – Denver, CO w/ Thrones
Purchase The Serpent & The Sphere at THIS LOCATION.
http://www.profoundlorerecords.com
http://www.agalloch.org
http://agalloch.bandcamp.com
http://www.facebook.com/AgallochOfficial
http://twitter.com/AgallochBand