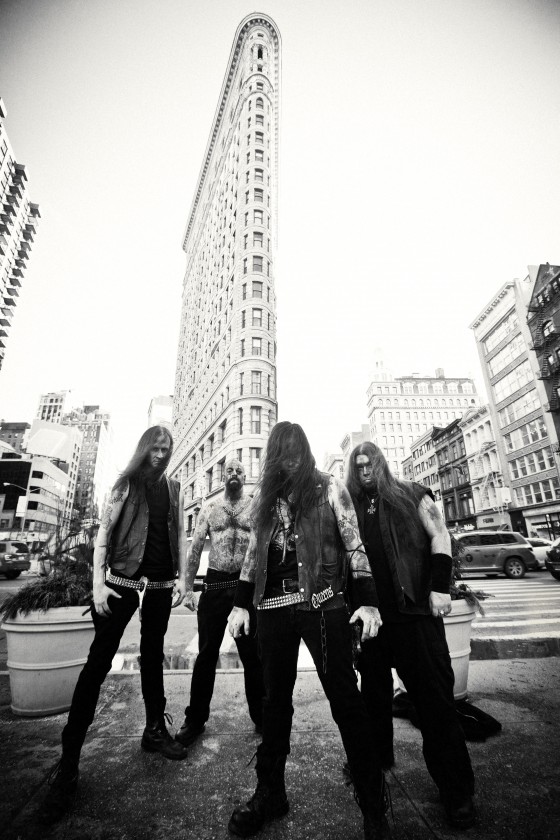 New York black metallers, BLACK ANVIL, are gathering their ammo for a live infiltration alongside Skeletonwitch and Ghoul. Set to embark on September 5th in Chicago, the nefarious caravan will blister its way through seventeen cities, coming to a close on September 24th in San Francisco. From there, BLACK ANVIL will perform four additional headlining shows in Salt Lake City, Denver, St. Louis and Covington with more live incursions to be announced in the coming weeks.
BLACK ANVIL will be touring in support of their recently unleashed Hail Death full-length. Championed by Pitchfork for its, "impressive balance of progressivism and putridity," commended by Noisey for delivering some of the most, "vicious and satisfying black metal laid to tape in the last few years," and called, "an epic piece of black/thrash metal," by Metal Underground, the audio vehemence comprising Hail Death continues to rouse listeners both Stateside and beyond for its expansive pallet of influences that pay homage to the likes of Celtic Frost, Metallica, Kiss, Bathory and Watain. Wandering Sound notes, "Hail Death isn't merely eclectic, it's epic – a coherent assemblage of songs that provide unanticipated rewards around every corner," Stereogum boasts, "Hail Death is a pure metal album that relishes in the genre's conventions without feeling conventional: It's simply anthemic, aggressive, bombastic, thrilling, and fucking heavy," while About.com adds, "The scope of these songs is outrageous, eclipsing anything the band have done to date. The hatred and contempt still pulses within, though the method of distribution on Hail Death has far greater wealth to it than their approach on their first two albums."
Check out live footage of the band performing Hail Death in its infernal entirety at their official record release show held last month at Brooklyn's Saint Vitus Bar below.
BLACK ANVIL w/ Skeletonwitch, Ghoul:
9/05/2014 Double Door – Chicago, IL
9/06/2014 Agora Ballroom – Cleveland, OH
9/07/2014 The Waiting Room – Buffalo, NY
9/08/2014 The Sinclair – Boston, MA
9/10/2014 Underground Arts: Black Box – Philadelphia, PA
9/11/2014 Mr. Smalls – Pittsburgh, PA
9/12/2014 The Empire – Springfield, VA
9/13/2014 The Broadberry – Richmond, VA
9/15/2014 The Orpheum – Tampa, FL
9/16/2014 Masquerade – Atlanta, GA
9/17/2014 One-Eyed Jacks – New Orleans, LA
9/18/2014 Fitzgerald's – Houston, TX
9/19/2014 Trees – Dallas, TX
9/20/2014 Red 7 – Austin, TX
9/22/2014 Club Red – Phoenix, AZ
9/23/2014 Roxy Theatre – Los Angeles, CA
9/24/2014 DNA Lounge – San Francisco, CA
9/26/2014 Woodshed Bar – Salt Lake City, UT*
9/27/2014 Moon Room – Denver, CO*
9/29/2014 Fubar – St Louis, MO*
9/30/2014 The Parlor @ Thompson House – Covington, KY*
*BLACK ANVIL headlining
Order Hail Death today HERE. For iTunes orders, point your browser HERE.