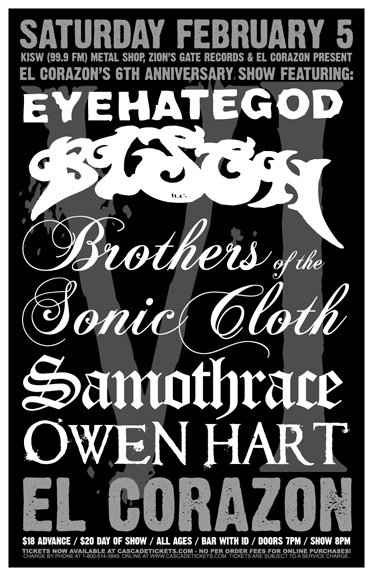 Canadian stoner metallers BISON b.c. will play a special one-off show in Seattle, Washington at El Corazon this February with NOLA sludge heathens Eyehategod. The performance will coincide with the club's six-year anniversary.

Who: BISON b.c. w/ Eyehategod + special guests
When: Saturday February 5th (All Ages/Bar wID)
Where: El Corazon
109 Eastlake Ave. East Seattle, WA 98109
$18 ADV/$20 DOS
Doors: 7:00pm
Show: 8:00pm
Tickets are available at CascadeTickets.com – no per order fees for online purchases! Charge by phone at 1-800-514-3849. Tickets are subject to a service charge.
Comments guitarist/vocalist James Farwell: "It is a fucking honor to be sharing the stage with Eyehategod. Seattle should be in for a great time witnessing the carnage. I'm especially happy because I couldn't afford to go otherwise."
In related news, the bionic power of the band's Dark Ages full-length, issued last year via Metal Blade Records, continues to annihilate unsuspecting listeners with its level of riff urgency. Dark Ages made its way on to a host of Year End lists including Revolver Magazine's Top 20 of 2010 where the band was commended for releasing, "the best meat-and-potatoes stoner-metal record this year."
"These Canucks have this genuine, but we-don't-give-a-rat's-ass attitude to them that permeates Dark Ages and the still very imposing Quiet Earth. Two albums into the 'major' label career and they've yet to misfire. Look the fuck out." — Blistering
"…intense, guitar heavy thrash that would make even Municipal Waste step back in awe." — Alternative Press
"…unpretentious, mountainous rock…frequently sound like Mastodon at their most straightforward, coming impressively close to that band's mastery of the riff." — Terrorizer Magazine
"BISON b.c . thinks as epic as prehistoric predecessor Mastodon, with Thin Lizzy corollaries and a hardcore fifth gear with vocals to match" — The Austin Chronicle
"Dark Ages is not the sound of the earth moving off its axis; it is the sound of BISON b.c. shoving it off with contemptuous rage." — Blabbermouth
"Heavy, man. Real heavy. Jean-jacket heavy… If Mastodon had spent more time listening to Anthrax, they might sound like Vancouver's BISON b.c.." — Rollingstone.com
http://www.myspace.com/bisoneastvan
http://www.facebook.com/bisonbc
http://www.twitter.com/bison_bc
http://www.metalblade.com