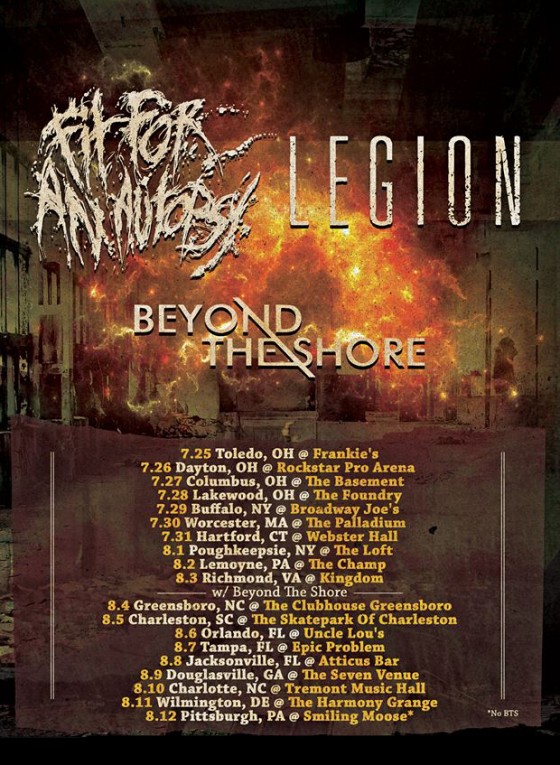 Lexington, Kentucky's BEYOND THE SHORE, who recently returned from The Blackest Hearts Tour where they played direct support to Bermuda, is pleased to announce Jonathon Pugh as their new full-time drummer. Jonathan joined BEYOND THE SHORE on the road for The Blackest Hearts Tour where he delivered a commanding performance at each stop of the eighteen-date trek and proved he was not only a perfect fit for the band stylistically, but also gelled well with all the band members. The 22-year-old drummer from Shelby, North Carolina previously played for the band Lions of Winter.
"All of us in BEYOND THE SHORE are very excited to announce that we've brought in Jonathon Pugh to be our new full-time drummer. We all met him in North Carolina while recording our current release Ghostwatcher and had stayed in touch. Here, we are almost later and we couldn't be happier to have him sitting behind the kit for us. Jonathan's a very talented drummer, but more importantly he fits well with us and that's invaluable when making music and touring together," comments the band.
Catch BEYOND THE SHORE live with Pugh behind the kit when they join Fit For An Autopsy and Legion for the second half of their upcoming US tour. The tour began on July 25, with BEYOND THE SHORE hopping on board on August 4 in Greensboro, North Carolina through the conclusion of the tour on August 12 in Pittsburgh, Pennsylvania.
BEYOND THE SHORE's video for "Homewrecker," directed by Coleman Saunders for Americus Studios, was the most shared and viewed video on Alternative Press' website when it was debuted back in February. Check it out HERE.
BEYOND THE SHORE w/ Fit For An Autopsy, Legion:
8/05/2013 The Skatepark Of Charleston – Charleston, SC
8/06/2013 Uncle Lou's – Orlando, FL
8/07/2013 Epic Problem – Tampa, FL
8/08/2013 Atticus Music – Jacksonville, FL
8/09/2013 The Seven Venue – Douglasville, GA
8/10/2013 Tremont Music Hall – Charlotte, NC
8/11/2013 The Harmony Grange Hall – Wilmington, DE

AP Recommends, issue #299 – "positive vibes…scream-heavy sound" — Alternative Press
"Far and away their greatest asset lies in the gorgeous fluid and emotive leads… conjuring plaintive tones that are steeped in melancholy over the top of the hammering attack, and in doing so imbuing them with greater emotional impact." — Outburn Magazine
"Could this be a metalcore album from the future? It sounds like one… there's heaps of melody in the guitar work, turning tracks like 'Glass Houses' and 'Ghostwatcher' into progressive epics without losing that hardcore intensity." — Rock Sound Magazine (UK)
"a talented bunch of canonical misfits procuring a positive message…BEYOND THE SHORE have been constructed to impress." — Power Play Magazine (UK)
"BEYOND THE SHORE have unleashed a fresh sound with this album: one that fans of death metal and metalcore alike are sure to enjoy" — HellhoundMusic.com
"BEYOND THE SHORE really are a breath of fresh air in the genre and are a great addition to the Metal Blade roster." — New-Transcendence.com


http://facebook.com/beyondtheshore
http://twitter.com/officialbtsband
http://youtube.com/xbeyondtheshore
http://instagram.com/beyondtheshore