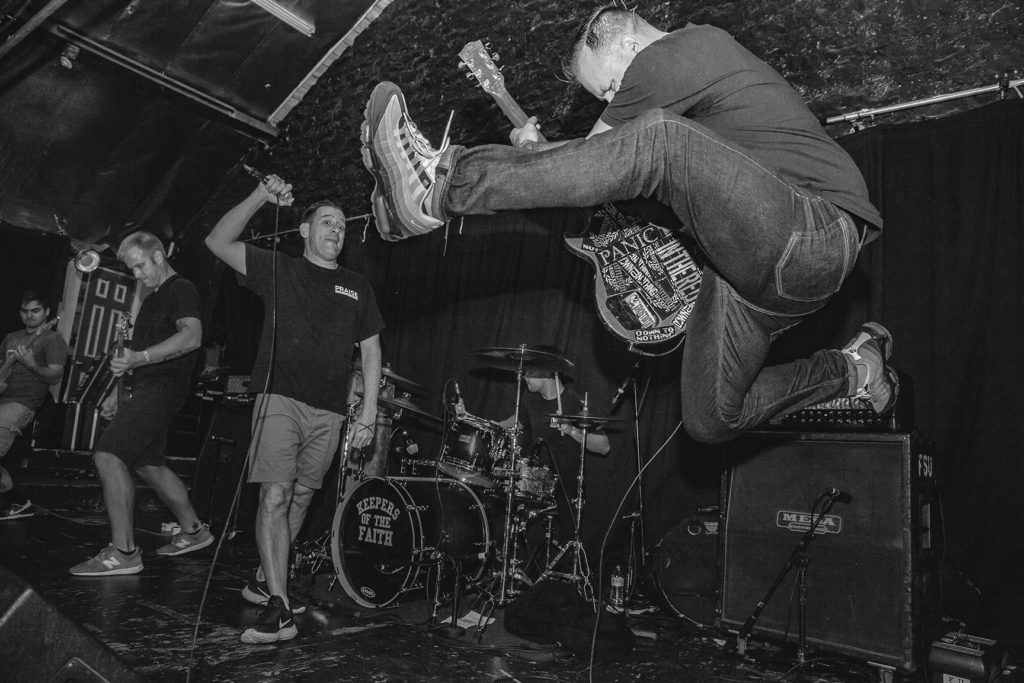 [photo by Tyler Ross]
Los Angeles straightedge hardcore outfit BERTHOLD CITY, featuring members of Strife, World Be Free, Internal Affairs, Allegiance, and more, has released a new video for the title track to their debut EP, Moment Of Truth. The "Moment Of Truth" video was directed and edited by John "Eightclip" Jenkins for What We Do Collective, and makes is public debut through a premiere at No Echo.
See BERTHOLD CITY's "Moment Of Truth" video at No Echo RIGHT HERE.
BERTHOLD CITY's Moment Of Truth 7″ was tracked by Aaron Jamili at Wormhole Studios and mastered by Don Fury, the NYHC legend who has worked with everyone from Gorilla Biscuits to Agnostic Front to Youth Of Today. The 7″ includes three songs from the band's demo, plus three additional cuts tracked during the same session.
Moment Of Truth is out now thorugh WAR Records; find options for physical copies at the label webshop HERE, the digital at iTunes HERE and Bandcamp HERE, and see the previously-released "Walls Of Hate" video HERE.
BERTHOLD CITY continues to support the record live, playing shows in Los Angeles and Berkeley this week with Strife and others, a show in Oakland in September, and more gigs being booked.
BERTHOLD CITY Tour Dates:
8/23/2018 The Roxy – Los Angeles, CA w/ Strife, Criminal Instinct, Dead Heat, Fixation
8/24/2018 924 Gilman – Berkeley, CA w/ Strife, Dead Heat, Drain
9/22/2018 Good Mother Art Gallery – Oakland, CA w/ Cutting Through, Defend, Dying For It, Clueless
Formed in 2017 by vocalist Andrew Kline (guitarist for Strife and World Be Free and WAR Records owner), BERTHOLD CITY's lineup is rounded out by guitarists Dennis McDonald (Internal Affairs) and Devin Vale (Final Fight), drummer Adam Galindo (One Choice), and bassist John Eightclip (Allegiance). The straight edge band released a three-song demo last July and have been keeping busy playing shows with such bands as Terror, Judge, Decline, Regulate, Dare, and Fall Silent, among others. Written in the musical and lyrical spirit of the seminal Judge 7″, Kline wrote all the songs and recorded them with Galindo.
https://bertholdcityhc.bandcamp.com
https://www.instagram.com/berthold_city
http://www.war-rec.com
http://www.facebook.com/WARRECORDS.HC
http://www.instagram.com/WARRECORDS
http://www.twitter.com/WARRECORDS1